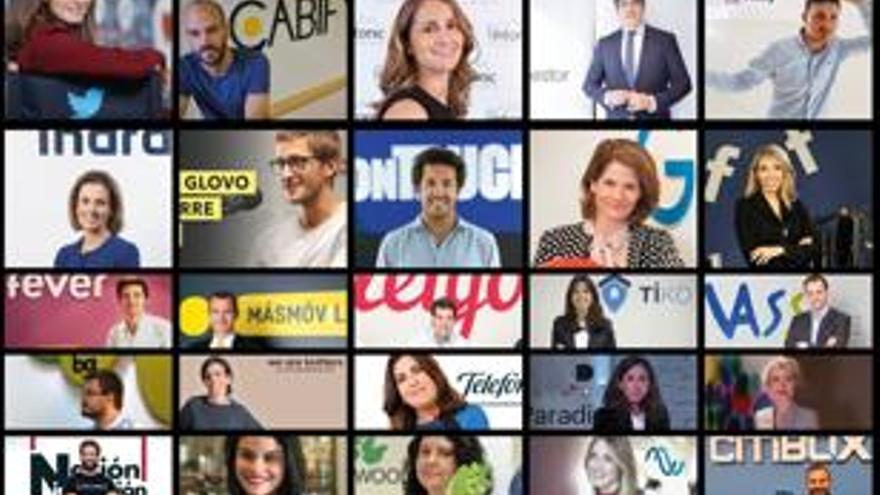 The Institute Coordinates has developed a ranking with the twenty-five managers most prominent of companies that are leading the transformation of their companies and achieving notable achievements in management.
The Coordinates Institute's New Perspectives for a Different World Discussion Group points out that thanks to digitization they are optimizing the operational efficiency of their businesses; they are co-investing data into raw materials for new business opportunities; advance in the generation of competitive advantages; are envisioning new sources of income and "all are moving towards a rapid adaptation to new business scenarios as the market changes", creating added value to their businesses and to society in general, within their work areas. The vast majority of these digital leaders work in the environment of the most innovative startups.
They indicate that the transformation towards digital management models is already a reality that does not admit discussion in the world of 'management', so that either companies move in digital environments in all their operational phases or are condemned to a painful loss of competitiveness which leads to irrelevance when not to its disappearance.
In this sense, they highlight that digital transformation does not refer only to the design of business strategies based on optimal use of technological tools, but essentially refers to a change of business culture with a radical transformation, to a reinvention of the forms of management on the part of the people who lead the corporations.
"It is about assuming a digital mindset that is capable of combining technology and business process optimization. They have to get digital talent to lead transformative projects. Companies need digital leaders, in short," add the analysts.
In a recent debate within the Coordinates Institute of Governance and Applied Economics, the digital transformation that is currently taking place in Spanish companies has been monitored. The data revealed allow "a remarkable optimism" on the matter. About 70% of the managers of the most advanced companies fully assume the concept of corporate digitization and implement it in their business models, details the work.
The Institute's analysts corroborated the results of recent surveys showing that companies with digital models They are increasing their income by up to 40%.
The Coordinates Institute says that behind these efforts there are people who "implement this revolution" and has drawn up a list of managers who "are leading the digital transformation of companies in Spain", which it calls the 'Top 25 digital guru 2021'.
TOP 25
At number 1 he places Nathalie-Sophie Picquot. Until quite recently directed the operations of Twitter in Spain and Portugal and "in the time that it has assumed its leadership, it has managed to optimize all the relationship options with practically all of its potential market, so that there is no digital operator that does not have more than thirty analysis, programming or monitoring tools at its disposal. with the Twitter stamp ". He recently announced his departure from Twitter "due to inconsistency in the national and international blockade policy. of the company and this reaffirms its track record of success and the value of its independence, "says the Institute.
Number 2 occupies it Juan de Antonio. Founder and CEO of Cabify. "Digital talent in its purest form that has known how to adapt to the real needs of users and plant business proposals that not only meet those demands, but do so in such a way that they represent a radical change in the way of life of our society" , he points out.
Number 3 is Lupina Iturriaga. CEO of Fintonic, the platform that has changed the way of relationship with financial institutions, to which the client can speak. "At last. From you to you. It has promoted an optimized model of knowledge of the operations of its users that allows it to react in real time to the slightest changes in trend", points out the analysis group.
The 4 is Carlos Aso. Has positioned Myinvestor, the neobank participated by Andbank, The English Court and Axa, "at the head of this fintech business niche with around 800 million euros of business in 2020 and among the fifteen largest in Europe. Its greatest success has been to efficiently launch an unbeatable offer of investment products and launch the first mortgage that does not require a bond or domicile the payroll. "
Pep gomez ranks number 5. Founder of Reby, one of the main urban shared mobility operators with its fleet of scooters. "With a long-term digital vision with the perspective of converting the enormous volume of information on mobility that it accumulates into an urban planning and management tool in the very near future."
The 6 is Cristina Ruiz placeholder image. CEO of TI of Indra. Under the Minsait brand, he leads a team of 27,000 professionals "who form the leading Spanish company in technology and digital transformation, at the forefront of innovative end-to-end solutions that generate a positive impact on companies and institutions and with a strong commitment and sustainability. ".
Oscar Pierre is 7. In front of Glovo has included new paradigms in digital management, beyond data management and mobility, such as agility and speed in the field in which it operates. Factors that have allowed it to settle in markets that seemed closed for delivery.
The 8 is Iñigo Juantegui. CEO of On Truck, the online platform that connects companies with road carriers. The digital transformation is approached from the perspective of automation, already implemented in a good part of the logistics processes, but which had yet to be introduced in the last mile of the transport system.
The 9, Fuencisla Clemares. Directs Google Spain, a complex company in a volatile market. It faces the transformation from the point of view of managing the knowledge of teams close to and not so close to detect and take advantage of any change that allows us to go a step further.
In the 10 is Irene Cano. CEO of Facebook Spain and Portugal. He assumes the digital transformation directly and as the maximum responsibility of his position, with the idea that the essential thing is to organize business around people, identifying the needs of each one of them and obtaining the best possible performance.
The other positions in the ranking prepared by the Coordinates Institute are occupied by: 11, Meinrad Spenger, MasMovil; 12, Enrique Linares, Let Go; 13, Ana Villanueva, Tiko; 14, Javier Latassa, Vass; 15, Alberto Méndez, BQ; 16, Pepita Marín, We Are Knitters; 17, María Jesús Almanzor, Telefonica Tech; 18, Carmen Vidal, Digital Paradigm; 19, Carmen Artigas, Mineco; 20, Alejandro Artacho, Spotahome; 21, María Laura Mosqueda, TechHero; 22, Arancha Yáñez, Feltwood; 23, Andrea Barber, Rated Power; 24, Ignacio Bachiller, Fever, and 25, David Bernabéu, Citibox
Jesús Sánchez Lambas, executive vice president of the Coordinates Institute, assures that "promoting digital talent is the main challenge for companies that have already understood the imperative need to advance through this new business space. Digital leaders are scarce and we need to create a business ecosystem, from society and regulators, where they can grow, develop and expand their potential ".

www.informacion.es
Eddie is an Australian news reporter with over 9 years in the industry and has published on Forbes and tech crunch.