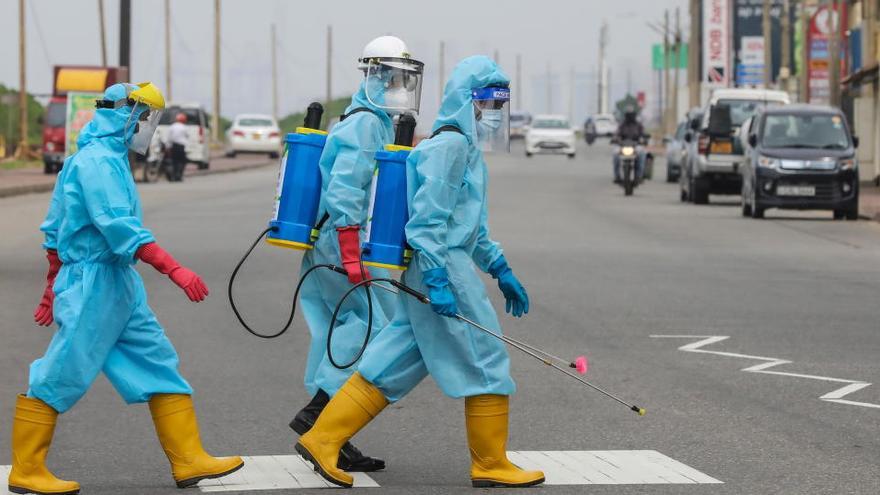 The new coronavirus pandemic accumulates more than 58 million cases worldwide after adding more than 570,000 new infections in the last 24 hours, a figure that breaks the last two days of records that had registered more than 600,000 global infected, according to the global balance of Johns Hopkins University updated to this Sunday.
Specifically, all over the world 579,309 cases have been registered in the last day new while the global death toll stands at 1,381,130. More than 37.2 million people have managed to overcome the disease worldwide.
United States has registered in recent days the worst case data of the entire pandemic and this Sunday it has once again approached record figures with more than 175,000 infections, with which it raises the total of cases above 12 million. The fatalities from Covid-19 on American soil amount to 255,899.
IndiaOn the other hand, the downward trend in the infection rate in recent weeks continues, although it already exceeds 9 million cases and accumulates 133,227 deaths. The Asian country is the one that has registered the most recoveries to date, more than 8.45 million.
Brazil it remains in third position of this classification that is configured from the data of 190 countries and territories with coronavirus cases. The South American giant has registered more than 6 million cases and 168,989 deaths.
In the fourth position, France It accounts for 2.17 million cases with 48,593 fatalities, while Russia has exceeded two million infected people and 34,980 deaths.
Spain is listed below, with more than 1.55 million cases and 42,619 fatalities, ahead of the United Kingdom, which has 1.47 million people with coronavirus and 54,721 deaths.
As a note to highlight, Italy has overtaken Argentina in the last hours with 1.38 million cases and 49,261 deaths, while the Latin American country registers 1.36 million infected, and accumulates 36,902 deaths from the disease.
Over a million positives Colombia is also located, with 1.24 million positives and 35,104 fatalities; and Mexico, which recorded 1.02 million positives and exceeded 100,000 deaths (100,823).
Below a million
Next, Peru registers 948,081 infected people and 35,549 fatalities, ahead of the 927,990 infected and the 14,061 deaths that are counted in Germany. Poland registers 843,475 cases and 13,288 deaths, ahead of Iran, which has 841,308 cases and 44,327 deaths. South Africa, the most affected country in Africa, has 765,409 infected and 20,845 deaths.
Ukraine accumulates 641,929 cases of COVID-19 with 11,287 deaths, while Belgium -556,904 positives and 15,522 deaths-, Chile -539,143 infections and 15,030 deaths- and Iraq -533,555 positives and 11,925 deaths- also appear above the threshold of half a million.
With more than 400,000 positives there are Indonesia, with 493,308 positives and 15,774 fatalities; Czech Republic, with 490,750 cases and 7,095 deaths; The Netherlands, with 486,820 infections and 8,946 deaths; Bangladesh, with 445,281 cases and 6,350 deaths; Turkey, with 440,805 positives and 12,219 deaths; The Philippines, with 416,852 infected and 8,123 fatalities; and finally Romania, the latest addition in recent hours, with 412,808 cases and 9,916 deaths.
Already in the arc of 300,000 infections are found in Pakistan (374,173), Saudi Arabia (355,034), Canada (329,084), Israel (328,397), Morocco (320,962), while in the range of 200,000 to 300,000 infections are Switzerland (290,601), Portugal (255,970) , Austria (241,962), Nepal (218,639) and Sweden (208,295).
Over 100,000 positive are Ecuador (184,876); Jordan (178,161); Hungary (170,298); United Arab Emirates (157,785); Panama (153,577); Bolivia (143,922); Kuwait (139,734); Dominican Republic (137,770); Qatar (137,062), Japan (131,464); Costa Rica (129,418); Armenia (126,224); Kazakhstan (125,466); Belarus (122,435), Oman (121,360); Bulgaria (120,697); Guatemala (118,417); Serbia (116,125); Lebanon (115,283); Egypt (112,676); Ethiopia (105,352), Honduras (104,435); Georgia (100,684) and, as the latest addition to the group, Croatia (100,410).
China, the country where the pandemic originated, has 92,037 infected and 4,742 fatalities.

www.informacion.es
Digsmak is a news publisher with over 12 years of reporting experiance; and have published in many industry leading publications and news sites.