Veronica Smink
BBC News World, Argentina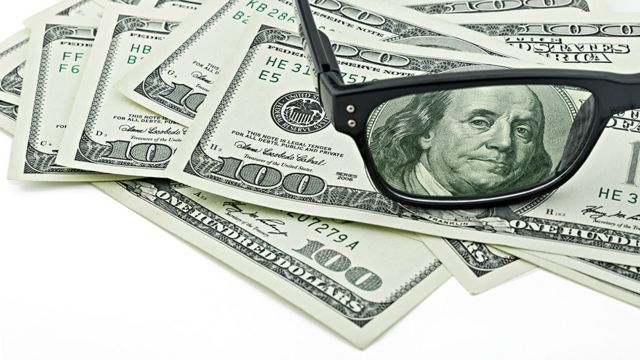 Like so many other people around the world, in 2020, when the coronavirus quarantine began, Argentines Antonella Spampinato and Mariano Agüero decided they wanted to leave their apartment in the city and move with their 4-year-old son to the green suburbs of Buenos Aires.
For years they had been converting their savings to dollars, the currency used for real estate transactions in Argentina due to the weakness of the local currency, the peso, which suffers constant devaluations.
It was not easy to find a place in the coveted northern area of ​​the Buenos Aires suburbs.
But when they finally found him and it was time to pay for his new property, they found an unexpected problem.
"Some of our savings in dollars They had a small face and they did not accept them"Antonella told BBC Mundo.
"We had to give some to my sister, who was traveling abroad and she was able to exchange them for new bills. And we deposited the others in my mother's dollar account, and we asked her to ask for big-face bills when she picked them up," he said. .
This problem with the so-called "small face" or "small head" dollars has become a real headache for many Argentines.
The curious description refers to the oldest American banknotes currently in circulation: those that were printed in that country between 1914 and 1996.
They are known as face or small head because what distinguishes them is that in the center of the bill a small effigy of an American hero appears, within an oval frame.
In the case of the most emblematic bill, the US $ 100 bill, it is a drawing of Benjamin Franklin, one of the founding fathers of the United States.
In the series of dollars printed between 1996 and 2003, the portraits are much larger and the oval frame extends to the margins of the note.
And in the dollars created since 2004 (informally known as "the blue ones", because the US $ 100 dollars are crossed by a security band of that color) there is no longer a frame and the image, which includes the face and shoulders, still appears. larger.
Even if all three types of banknotes are legal currency, valid and accepted both in the US and in any bank outside of that country, including Argentina, to carry out private transactions -such as buying a house, a car or sometimes even a cell phone or computer- most Argentines only accept the last two, the baptized of "big face or head".
The same happens in most real estate agencies, concessionaires, tourism agencies or any business that accepts dollars.
And especially in the so-called "financial caves", which buy and sell dollars illegally, where many Argentine savers attend due to the strong restrictions – or "stocks" – on the official dollar.
In these illegal markets, those with "small head" dollars receive a price between 1% and 5% less than the value of the "big face" bills, even though, in reality, they are all worth the same.
Why happens
A money changer who works in one of these caves (and asked to be identified only as "Gonzalo") explained to BBC Mundo that the rejection of the oldest series of US banknotes began about six or seven years ago.
And according to what he said, everything arose due to a misunderstanding.
"A note was published in a US economic newspaper where an official of the Federal Reserve said that this institution has not printed small-face bills for many years," he recalled.
"Then people assumed that the Federal Reserve was going to remove from circulation".
Despite the fact that the entity that directs US monetary policy has reiterated in many statements that it is not in their plans to remove from circulation none of the three types of banknotes used today, doubts have persisted.
Gonzalo clarified that the rejection of old bills did not start in Argentina.
"The first to stop taking those small-face dollars were tourist destinations like Aruba and the Philippines," he said.
But in recent years, those bills have lost their value in almost all of Latin America, he said.
The reason why this is a particularly troublesome problem in Argentina is that it is considered one of the most "dollarized" nations in the world, due to the distrust of locals in the constantlydevalued weight, which has led to the dollar being the reserve currency.
Many of those who have the possibility to save, are buying dollars and keeping them, either at home or in safe deposit boxes.
Since this practice is decades old, it is very common that among these savings there are several small-sided bills, as happened to Antonella and Mariano.
The challenge of getting the from "big guy"
Faced with this scenario, the Argentines have three options.
One – as Antonella said – is to take advantage of a trip of your own or that of an acquaintance abroad, either to the United States or a country that accepts all greenbacks, to get rid of those expensive dollars or exchange them for new ones.
Another option, which she and her partner also used, is to deposit them in a dollar account at a bank and then withdraw the money, assuming that the notes withdrawn are from newer series.
This alternative is not available to the approximately 40% of Argentines who works in black.
But even for workers in the formal sector it is not a safe bet.
The problem is that, given the enormous demand for "big head" or "blue" banknotes, banks do not always have enough stock, and they have had to post notices explaining to their clients that all dollars are valid.
BBC Mundo contacted the largest banks in the country, both in the public and private sectors, to find out how they handle these problems, but did not get a response from any of them.
However, although the banking entities clarify that customers must accept any ticket that touches themSome people don't lower their arms until they get the kind of dollar they want.
Carolina, a Buenos Aires woman who wanted to move closer to her children's school, signed a contract last November for a house where it was clarified that the price was in dollars and that "they could not be small."
"I went to the bank and asked my account executive to give me dollars with a big face. I clarified to him that if he gave me the old ones, I would re-deposit them over and over again until he gave me the newest ones," he told BBC World.
Those who do not want to take the trouble to do this or have undeclared savings that do not want to bank, and do not plan to travel abroad, have the third option: go to the caves.
There they can exchange their old bills for new ones, in exchange for a fee of 1% to 5%.
This has generated a new business illegalThe money changers buy the "small head" dollars at a lower price and exchange them for newer bills with the complicity of tellers or other bank employees, who receive a commission.
Gonzalo acknowledges that the caves are benefiting from this widespread rejection by Argentines of the older series of dollars.
But he denies the journalistic versions that blame the money changers for having started this problem, by rejecting the older banknotes because they have fewer security measures.
"In my entire career I never saw a fake boy dollar face," he said.
"It is simply a question of the market … nobody wants those dollars".
You can now receive notifications from BBC News World. Download the new version of our app and activate them so you don't miss out on our best content.

www.bbc.com
Eddie is an Australian news reporter with over 9 years in the industry and has published on Forbes and tech crunch.