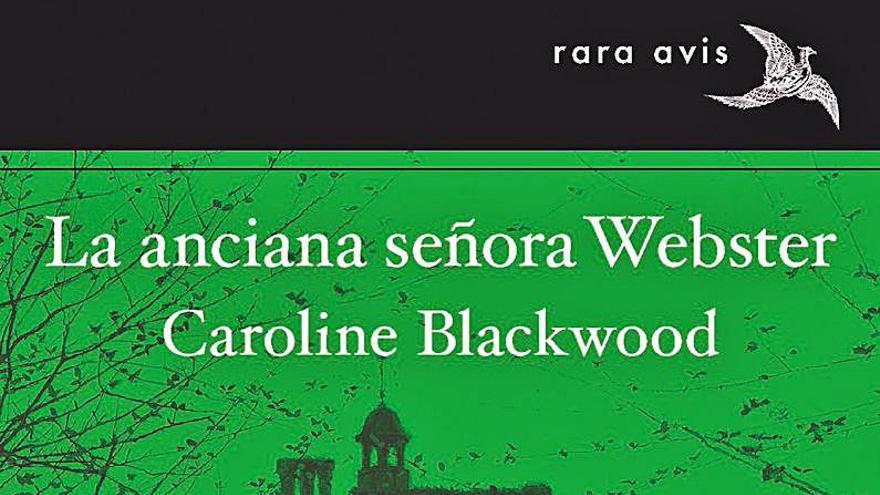 Caroline Blackwood made no secret that Old Mrs. Webster "was too true," as Honor Moore points out in the prologue. The strange thing would have been that, having the life that she had, the author had not used her own personal experiences to write her books. Because … what a life! One of those that give meaning to the phrase "when reality surpasses fiction." Blackwood was born in London in 1931, into the Anglo-Irish high aristocracy, whose decline he would witness. His father, Basil Blackwood, was a marquis and his mother, Maureen Guinness, heir to the famous Guinness beer house. He died in combat during World War II when Caroline was thirteen years old. A temperamental and complex woman, she almost completely ignored her children. After a childhood full of misfortunes, the young Caroline Blackwood launches a bohemian life, full of excesses and intense relationships. Her beauty wreaks havoc, making her "a dangerous muse," as her biographer, Nancy Schoenberger, dubbed her. She married the painter Lucien Freud, the composer Israel Citkowitz and the poet Robert Lowell, who encouraged her to change journalism for literature. The death of one of her daughters from an overdose ended up plunging her into an alcoholism that had already dragged on for years. He died in New York at the age of 64 due to cancer.
A sharp gothic nouvelle
Old Mrs. Webster spans four generations of the same family. It is narrated by a young and insightful observer, Caroline Blackwood's own alter ego. Like her, the character also lost her father, killed in the Burmese war. The novel begins with the narrator going to spend a season with her great-grandmother Webster, a Scotswoman secluded in a gloomy and icy mansion in the company of a one-eyed and hunchbacked maid named Richards. Austere, uncompromising, serious, lonely, a living example of stale righteousness, Webster only left his stiff Victorian chair for a short ride in a chauffeured rental Rolls-Royce. His hatred of the world in general also reaches the other character in the novel: his own daughter. Dunmartin's grandmother – like Blackwood's – suffered from mental illness and tried to kill her grandson during his christening. Dunmartin Hall, the family mansion falls apart, becoming another Gothic-style setting very close to the author herself: Clandeboye, where Caroline grew up, was pure decadence.
The best character, however, is probably Aunt Lavinia. At the opposite extreme from great-grandmother, Lavinia is a frivolous and hedonistic woman, "quite a twenties-style playgirl," famous for her legs and for having been briefly married to three millionaires. The surprise comes when he calls his niece to tell her that she is being held in a mental hospital after having tried to commit suicide. His ill-fated plan is lived as a farce and not as a tragedy: "It seemed that he saw death in much the same way as he saw life: an exciting but unimportant game."
Through this novel with gothic overtones and a lot of black humor, Caroline Blackwood establishes a fierce X-ray of the women of the same family, which surely hides an atrocious fear of inheriting the character and disturbances of her predecessors. At the same time, it portrays the inevitable collapse of the high aristocracy, which he knows so well. Finally, through conversations with her relatives and, above all, with her father's close friend, Tommy Redcliffe, the protagonist tries to elucidate the personality of her father, who, like Caroline, could barely know after losing him so early. As Honor Moore sums up well in the prologue: "Her young narrator tries to unravel the curse of her female heritage as a means of finding her father." All condensed into 150 pages of magnificent prose that makes its way like a sharp, wounding knife, that disturbs and fascinates at the same time.

www.informacion.es
Eddie is an Australian news reporter with over 9 years in the industry and has published on Forbes and tech crunch.