Madrid
Updated:
Keep

In 1981, at 16, Carlos Serrano could jump over the roof of the school next to his house to sneak into the yard and play basketball with his friends. Now, at 56, he can't climb a single step or move more than eight meters of autonomy – "from the living room to the kitchen" – that gives him the cable of his oxygen machine. He is one of those affected by the rapeseed disease and since that fateful day when jumping that roof to return home was already difficult for him and he could hardly climb the four floors that separated him from the door of his home, does not remember a single day of his life without pain. «Tiredness, cramps … there is not a single day that has nothing. And even worse at night. There is no night that can sleep it whole, I always wake up with pain, "he laments.
Carlos is one of the 13,000 people who continue to fight in Spain against the consequences of the toxic syndrome, according to the calculations of the Carlos III Health Institute. However, the Toxic Syndrome – We Continue Living platform believes that there are some 17,000 affected who are still alive today of the 20,000 who suffered massive poisoning 40 years ago. Despite this high number of victims, there is only one medical unit in all of Spain to treat them. He is at the Hospital 12 de Octubre in Madrid.
Over the years, for the worse
The passing of the years have fallen like a stone on Carlos who sees his illness get worse. «The first 20 years were stable and the next 20 have been fatal. It is getting worse faster and worse, "he explains. He is the father of three children aged 30, 23 and 19, although his illness has not allowed him to live with them all the moments he would have liked, especially when they were children. "When they were small he couldn't carry them on his shoulders like other parents did. My wife had to do it, "he recalls with regret.
His family is precisely his greatest support at this time. Dressing or putting on shoes are some of the routines that most days you can't do without help. Neither do the purchase beyond a loaf of bread. The last time you were able to go to the supermarket and carry a bottle of soda and a couple of packs of lentils home with you, two or three years have passed. «If I do the donkey and when I go out I want to come with a sack of potatoes I bet that I will get a syncope. And you try to do it because you've been doing it your whole life and you want to keep going. And you don't realize your limitations», He maintains.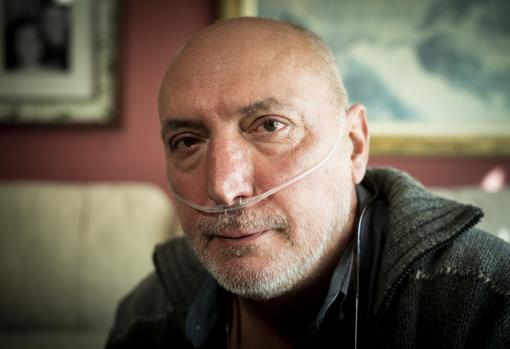 AND realize these limitations it's one of the hardest potholes you've ever had to go through. «There comes a time when you realize that you are standing on a street bench suffocated and someone comes to help you in case something happens to you. There you already realize that you can't, "he says. In addition, his trips to the street always have a purpose: the one that in addition to his own body marks the portable oxygen machine that he carries, since it only has capacity for two or three hours of departure. This is another of the issues that has cost him the most to assimilate, because how do you say to someone who took advantage of his vacation as a security worker at the Prado Museum – a job that he has also had to leave due to illness – to travel America, Africa or Asia, which is now Madrid Río, close to your home, the farthest place you can visit.
But it is harder to communicate to your mother and children that lung transplantation may be the only option that he has to continue living, if so confirmed by the doctors in the next few days. Especially considering that her mother has already seen her husband and a 29-year-old son die from a stroke. «He is an elderly person and is in very poor health. I don't know how to tell you this. She has seen me get worse but he has already lost a son, I can be the second", the Mint.
Despite all their health problems, he criticizes that what hurts him the most is the "institutional forgetfulness" to which they are subjected. "We are the shame of the victims of democracy, nobody wants to know anything. And we were not to blame for anything. I was a 16-year-old boy, guilty, nothing, "he says while tears escape and he resigns himself to continue taking his twelve daily pills and visiting many of Madrid's hospitals from specialist to specialist.
170 kilometers from Carlos, in Peñaranda de Bracamonte (Salamanca) the 'rosary' of doctors and the twelve daily pills are also part of the routine of a family. Miguel Angel Sanchez, 52, has been in a wheelchair for the last 40 years. There was a moment, when he was 18 years old, in which with the help of crutches he was able to walk for a while and then took the opportunity to get his driving license, as getting in the car relaxes him. But it was short-lived, and the chair has continued to accompany him ever since.
In your case, rapeseed disease came to him when he was 11 years old And, in addition to leaving him bedridden for a time, she took away what might have been his greatest support at the time: his mother. The doctors also gave him up for dead, but his father's efforts to move forward by seeking treatments that would help him restored his appetite and, despite having remained at 18 kilos of the 48 he weighed, he went back. Yes, he had to give up one of his greatest passions: sport. «I was a completely healthy and athletic child. I loved playing soccer and cycling. He had three bicycles, "he says while remembering everything he had to give up after contracting toxic oil syndrome.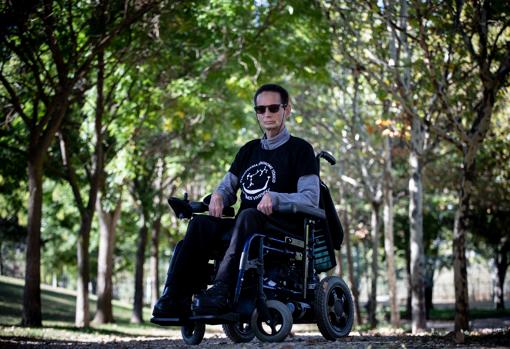 Also today, he sees with helplessness many times how he has to stop doing some of the activities that motivate him the most to keep going, such as modeling or readingBecause when fatigue and pain take over him, the only relief he finds is to lie down in bed, where he has to come from other many times in the middle of the night: «Normally I don't fall asleep until 1:00 in the morning and I wake up at 5:00 or 6:00 and I can no longer sleep. And then there are days when I don't sleep at all because I feel sick, with dizziness and vomiting, "he says.
The person in charge of helping you in these moments of pain is his wife, Felisa, for whom he has nothing but good words: «I feel very loved and that helps me a lot. For her, from the beginning I am a normal person. With 20 years what you are looking for is someone who likes the first physically and my illness is in sight, but we met and it emerged ». To this day, he says, that love they profess is present at every moment of the day: from helping him get up, shower and put on his boots to when he helps him eat because he just can't. "If it had not been for their care … It is not the same for a person to take care of you," he says excitedly.
The relief of music
It is also with her that he shares another of his great passions: music. His condition, however, has prevented him many times from enjoying it in concerts, although as the venues have adapted to the reality of people with special needs, he has been able to enjoy it more, something that the Covid pandemic- 19 has taken him away. The last concert he attended was by Pastora Soler, in Madrid. But from home he also enjoys it as he can. "Before I cried many days because I could not do things that I liked and music has helped me a lot in this ordeal, but it has also made me cry a lot," he says.
Like Carlos, Miguel Ángel denounces the "total abandonment" by the Government with the victims of the rapeseed disease. He was one of those affected who last Tuesday locked himself in the 'las Meninas' room of the Prado Museum waiting for a communication from the Executive that does not arrive. «Feeling accompanied is very important. Abandonment hurts almost as much as the disease, "he criticizes.
See them
comments

www.abc.es
George is Digismak's reported cum editor with 13 years of experience in Journalism