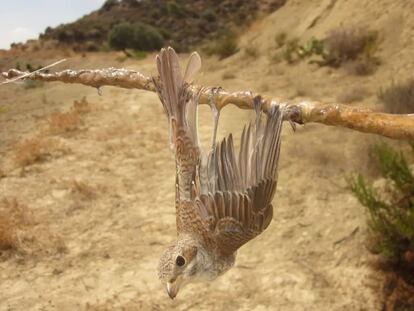 The first migratory birds began to appear on the northern coasts of Egypt in the last days of August. Large numbers of white storks flying over a nature reserve and lake area near the spa town of Sharm El Sheikh – on the Sinai Peninsula – were those in charge of formally starting an annual procession that turns the skies of the country into air corridors for millions of birds that travel from their breeding places, in Europe and Asia, to the warmer wintering ones located in sub-Saharan Africa.
Many of them, however, will not reach their destination. On the Mediterranean coast of Egypt and, to a lesser extent, in the inland oases and groves, hunting migratory birds is an age-old tradition on which thousands of families depend. When the activity was practiced with traditional methods, it may be sustainable, but local and international environmental groups warn that it is no longer so. In 2015, a study from BirdLife, the world's leading bird conservation organization, and Nature Conservation Egypt (NCE), the benchmark in the country, set off alarms by estimating that around 12 million birds were caught per year.
Although in reality the amount is not precisely known due to lack of monitoring – and the Egyptian Government assures that it barely exceeds one million – it is feared that this hunting may be contributing to the decline of some species, adding to factors such as the degradation of their habitats and changes in climate. On the route between Eurasia and Africa, NCE and BirdLife warn that 34% of songbirds are in decline, and have documented worrying declines in the barn swallow, the Eurasian cuckoo and the European turtle dove.
"There are many different pressures, and you can see the decline and change in populations," laments Sherif Baha El Din, one of Egypt's most prestigious environmentalists. "The number is not that important: we know there is a problem," he says.
In the land of the pharaohs, the origin of hunting migratory birds dates back, at least, to the Old Kingdom, more than 4,000 years ago. At the time, this practice represented a basic food source, and was also carried out for commercial purposes and as a popular sport. Today it continues to be a central social and economic activity in coastal communities, especially for the most humble and isolated sectors, which is transmitted from generation to generation.
"People don't distinguish much between bird hunting and fishing," illustrates NCE CEO Jaled El Nouby. "Most of them are fishing communities that spend most of the year fishing and when autumn comes they see it as an additional income," he explains.
The main target of migratory birds is the quail, but pigeons, songbirds and, in lake areas, ducks and waterfowl are also hunted, all of them of great economic value. Even so, as hunting techniques are largely indiscriminate, other species, some threatened, are equally trapped, and most end up destined for local markets or for their own consumption.
Measures in many areas
All the actors involved in its conservation agree that the recipe for finding a balance is not simple. "It is a very complex issue that requires action in many different areas, such as monitoring, legislation, law enforcement, judicial action, communication and advocacy," notes Amy Fraenkel, Executive Secretary of the Convention on Human Rights. Migratory Species, a UN environmental treaty. "In some countries [como Egipto] in which the capture is linked to means of subsistence, it is also important to promote alternative income ", he points out.
Few in Egypt are more aware of this puzzle than Ayman Hamada, the director of the Central Department of Biodiversity in the Ministry of the Environment. Hamada explains that the country has laws, regulations and decrees to protect its fauna that cover bird hunting, and assures that they have intensified their efforts in the last five years by allocating more resources to study the phenomenon, updating regulations and cooperating with organizations such as NCE and individuals. Fraenkel adds that Cairo is also actively involved in international agreements such as the Rome Strategic Plan, which unites 25 Mediterranean countries and aims to reduce illegal hunting by 50% by 2030.
"The main reason for the regulations is to give people who depend on hunting as their main source of livelihood and income the opportunity to hunt reasonably and sustainably," says Hamada. The problem is putting it into practice.
"There is no management for hunting birds. There are regulations, some effort, but in reality there is very little control. And it is not an easy job ", notes Baha El Din, also a doctor in ecology. "Efforts are focused on this so-called 'sustainable hunting', which nobody really knows what it means because nobody knows what a sustainable level of hunting is," he slides.
The Nouby matches. "Most countries intend to reduce illegal bird hunting by 50% by 2030," he points out, "but in order to do so, it is necessary to know the scale, size and be able to monitor our progress, [algo que] no country has done ".
Whatever that threshold, Hamada believes that the only way to reach it is by collaborating with the hunting communities, which at the government's request have begun to join a union in which he has great expectations in recent months. "One of the best ways to protect the resource [las aves] it is working with those who manage it, mainly the hunters ", he insists," because they consider it their main way of life and they want it to be there forever ".
You can follow CLIMA AND ENVIRONMENT at Facebook and Twitter, or sign up here to receive our weekly newsletter



elpais.com
Eddie is an Australian news reporter with over 9 years in the industry and has published on Forbes and tech crunch.