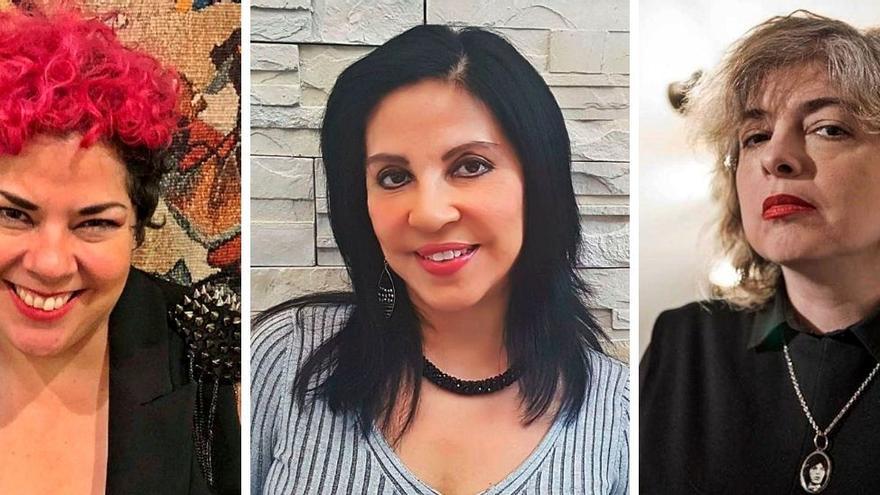 Little by little, these authors are consolidating themselves on Spanish labels, both small and large, and have become very visible. The most significant case is that of the Argentine Mariana Enríquez, who was crowned queen of the trend by winning the Herralde Prize with the disturbing Our part at night -or how to talk about poverty using a context of esoteric sects-, and among the more renowned is also the multi-award winning Samanta Schweblin, who has gone on to aspire to the international Booker on two occasions.
But there are many more and all of them excellent: it would be the case of the Bolivian Giovanna Rivero or the Ecuadorian María Fernanda Ampuero, whom the critics have placed together with the essential Mónica Ojeda in a sub-trend called Gótico Andino, capable of placing a vampire in the Amazon jungle or imagine that a supposed son of Evo Morales can become a god. In this case, the irruption of these last writers has also meant twice as much to put on the literary map those non-hegemonic countries that until now had not managed to cross cultural borders.
These dark ladies of Latin American literature, born in the 70s and 80s, do not perceive themselves as a homogeneous movement and they are right because they could not be more different and varied from each other. And although they know and appreciate each other – they really appreciate each other, you just have to hear them talk about each other – they do not necessarily read or maintain fluid contact. So little has this of marketing strategy. Nor is it artificial or opportunistic to focus on them as women because the fact of being so is deeply marking their literature.
A myopic vision would say that cruelty and violence are the heritage of men, forgetting that in most cases they are the ones who suffer it. "We women have a special gaze, trained to perceive the threat in space, as a self-defense of this body that, we were taught, is vulnerable," says Giovanna Rivero, who recently published Fresh Earth from her grave (Candaya) and the past year To eat you better (Aristas Martínez) -. Unfortunately when a woman walks alone through a park she can perceive the beauty of the trees but also what is hidden behind them, this enhances the enrichment of the mystery.
For María Fernanda Ampuero, who although she lives in Madrid, this time speaks from Guayaquil because the pandemic caught her there, there is a shared obsession with violence because that is the sign of the times. In her case, and it is not something that everyone subscribes in the same way, the feminist militancy has marked her fictions: "Every detective story usually begins with a woman who was raped and killed. Hence my intention is to make these women get up from that ground where a lot of men are looking at them and say: 'This is my story'. The feeling of danger is inherent to being a woman: a romantic date that leaves mother, a husband who has drunk too much, you do not necessarily have to go to the unknown type and in the dark.
The female body
Someone as little attached to the Metoo as Mariana Enriquez, who rejects the cancellation orthodoxy – "I'm sorry, but I still like Philip Roth and I watch Woody Allen films" – considers that the feminist conception is not a question of will, it is simply passing . Not doing it would be like denying an earthquake. All of us have put the female body on the table of our writing, either in the fight for abortion that has not yet been achieved in countries like Ecuador or Chile, or in the terrible derivative of femicide because we live in societies, just like States United, of extreme violence. This has made possible for the author the appearance of hitherto unpublished issues in the representation of women: "I knew many women who self-mutilated and I never saw it represented until Amy Addams did it in the series Open wounds."
Another situation also affects the writings of these authors and is that except in very few cases -Enríquez in Buenos Aires or Guadalupe Nettel in Mexico City-, many of them have chosen to emigrate to Europe or the United States with what that means. of uprooting and estrangement for his writing.
"The feeling of danger increases the fewer rights you have," Ampuero says. Being a migrant, being undocumented and having a debt turns you into ground beef. In the face of this, many close their eyes so as not to see the Romanian women at the whorehouse where a friend's birthday is celebrated or the Latina to whom you pay 300 euros a month as a domestic worker without having her affiliated. We all wear clothes that are sewn in sweatshops. That is really scary and I call that Human Sacrifices [por el título de su libro publicado por Páginas de Espuma]».
Using the classics of the horror genre to criticize injustices is a model that even North American independent cinema is using. Ampuero mentions Let Me Out, Jordan Peele's film, which is both a horror story and a plea against our most surreptitious racism or the British House of Others (Netflix), which turns being an African refugee into a creepy story .
Enríquez's latest book published in Spain, Someone walks over your grave (Anagrama), a collection of traveling chronicles through cemeteries around the world -including Poblenou in Barcelona-, does not only point to the frivolous exercise of strolling through the cemeteries, but to point out a society, Argentina, that has erased the bodies of the disappeared. "A grave with a name gives us the feeling of a final point of relief for death," says the writer, who considers herself an integral part of a generation that was not raised "with the mandates that a woman was supposed to have and had a cultural consumption, especially fantasy genre, very similar to boys'.
But if I had to point out a differential fact between men
and women, Argentina would opt for highlighting a special relationship with superstition that, she considers, has traditionally always penetrated them more. Hence, many of these books happily mix the most classic fantasy with indigenous and ancestral myths. "These indigenous myths suffered genocide and later marginalization, but they continued in the popular imagination and now they are vindicated through the writers," says Enríquez. That is to say, there is now a permit for all that previously despised to be recorded in narratives.
So long live the uncomfortable literature Latin American women are writing.

www.informacion.es
Eddie is an Australian news reporter with over 9 years in the industry and has published on Forbes and tech crunch.