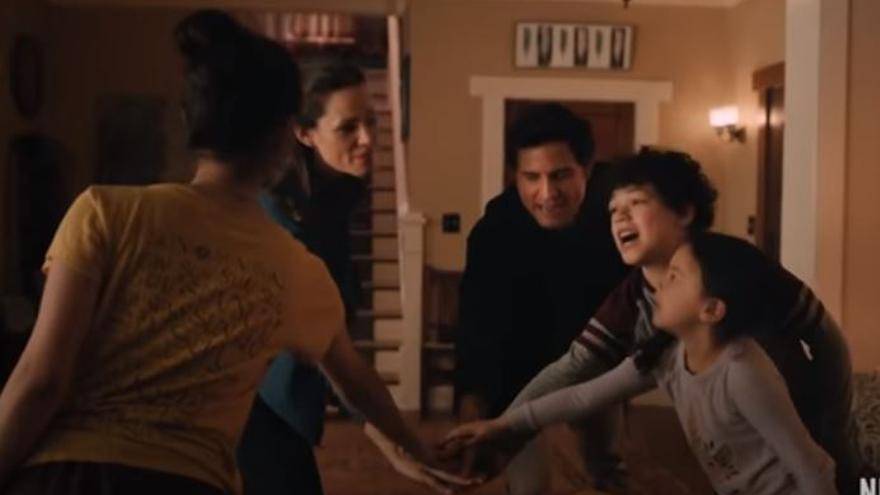 In the Netflix movie 'The day of yes' We meet Allison's (Jennifer Garner) family and their curious celebration of the day in which the children of the house can choose what to do and how to have fun. An entertaining story recommended from the age of 7 and that reminds us of the importance of fostering children's autonomy and spending quality time with our children.
Carlos and Allison are two young parents who entered parenthood with all the excitement in the world: they were clear that, in addition to being good parents, they were going to be a funniest family. However, raising three children of different ages is not so easy to combine with your jobs and with the rest of the day-to-day responsibilities of adults …
"Mom always says to everyone no, it's not funny anymore"
The stress marked by routines and rushing, the fear that their children will get hurt and the concern that everything will go well in school, among other things, will make Carlos and Allison of the film 'The day of the yes' become the typical tandem of "permissive dad" and "mom who controls everything". This causes the older children to see Allison as a "not funny" mother who always says no to all her proposals.
Katie is an adolescent who faces the typical social problems of that complicated age in which we feel more adults than we really are and, consequently, the discussions with her mother increase because the adolescent demands more and more autonomy. The two youngest children are Nando, who is passionate about science, and little Ellie, who greatly enjoys spending time with all the members of her family.
The importance of family norms and their limits
When parents find that their children are unhappy with the functioning of family norms, They decide to establish a special day, a celebration that will unite the whole family with the aim of having fun together: "The day of yes."
The idea is that, for a single day, the children of the house will decide everything to do, activity by activity, and the whole family must participate. On this great day of permissiveness, limits are also set, since play is a great way of learning, but for there to be fun, we have to create a safe environment.
Spending time together is fun
When given this day, the youngest children demand things that are not allowed on normal days, such as spending all day wearing the craziest costumes and makeup, eating ice cream for breakfast, playing a super game. yincana outdoors or go to the amusement park.
All the activities have something in common: the little ones want the whole family to participate. As we can see, what they most wanted was to spend a great day all together, having fun and sharing experiences. This is one of the reflections that the film leaves us: our children enjoy it when we are truly present and involved in their favorite activities. In this way, the bond that we build between parents and children will be reinforced and the connection we will have with their reality will increase.
"They will only be children once." Our sons and daughters grow up and go through the different stages of their development. A teenager like Katie is not going to demand the same from her parents as a 9-year-old boy like Nando, but both, and each at their level, They need parents to establish a framework of rules and autonomy for them.
How to set limits and avoid overprotection?
In both childhood and adolescence, parents are the safe place and source of support that our children need to grow with self-esteem and self-confidence. The conflict is, as he tells us "The day of yes", where we place the limits to avoid overprotection.
The psychologist María Jesús Álava Reyes explains that overprotection is the opposite of promoting autonomy. We must bear in mind that our sons and daughters have all the capacities to be autonomous and "fear must be replaced by trust."
Taking the Netflix movie as an example, experts recommend that we gradually work on the autonomy of our children. The advisable thing is not to allow them to do a thousand things in a single day, but that they develop their capacities little by little, from the simplest to the most complex.
When it comes to children under 10 years old, we can begin to work on their childhood autonomy by teaching them norms related to habits: rest schedules, eating habits, hygiene habits such as brushing their teeth alone, household activities such as helping us set the table, and finally, leisure activities such as deciding what they want to play or where they would like to go this afternoon.
Autonomy contributes to your self-esteem
One of the main benefits of autonomy is educating them in responsibility so that they understand that they can fulfill their small obligations and achieve new goals every day. What's more, strengthening their autonomy will serve to improve their self-esteem and self-confidence.
As it happens to the adolescent daughter of "The day of yes ", Katie, her mother will allow her to go to the concert that she wants so much (therefore she grants her this autonomy) but she will have to be accompanied by an adult, as she is still under 16 years old (a logical limit of supervision is established).
There are two fundamental aspects that we must take into account if we want to enhance the autonomy of our sons and daughters: we need patience and time to accompany them throughout the process. Another of the reflections that this film gives us is that "autonomy is not the same as permissiveness."
The ability to decide and do things for yourself is a skill that children will learn throughout their growth. Our role is to support them by setting limits, but making sure they overcome their insecurities. The objective is that they learn to be responsible for their own actions so that they can understand the different rules in each of their contexts: at home, at school, in the park, on the street, etc.

www.informacion.es
Eddie is an Australian news reporter with over 9 years in the industry and has published on Forbes and tech crunch.