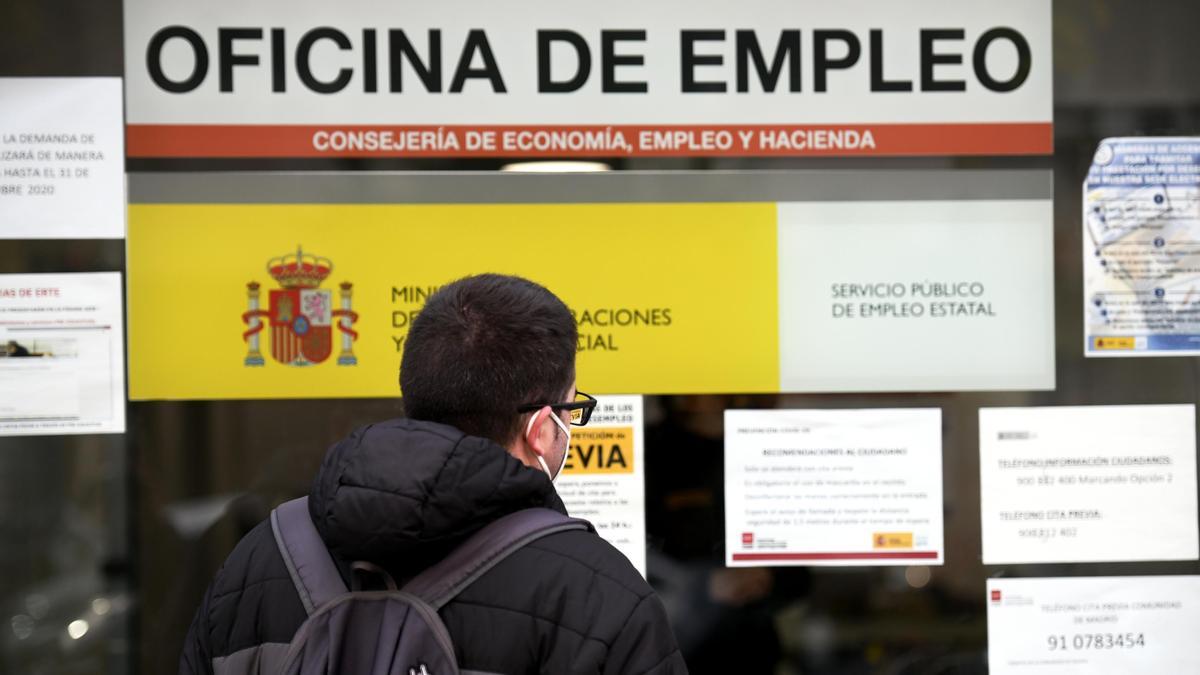 The number of unemployed registered in the offices of the public employment services (formerly Inem) fell by 39,012 unemployed in April (-1%), its biggest decline in this month since 2012, when it only fell by 6,632 people, according to data published this Wednesday by the Ministry of Labor, which has highlighted that in the last two months (March and April) about 100,000 people have left the unemployment lists.
In April 2020, in a state of alarm and with citizens confined, unemployment rose by 282,891 people, seven times more than in April this year.
With this decline in unemployment, the second in a row after March, the total volume of unemployed reached at the end of the fourth month of the year the figure of 3,910,628 unemployed, thus remaining below the 4 million mark.
The unemployment data for April, as occurred in previous months, does not include workers who are on suspension of employment or reduced hours as a result of a temporary employment regulation file (ERTE), since the definition of registered unemployment does not count them as unemployed.
In seasonally adjusted terms, registered unemployment rose in April by 52,469 people, while in the last year unemployment accumulated an increase of 79,425 people, which represents almost 2.1% more.
Unemployment fell in April in almost all sectors, especially in services, where it fell by 32,192 people (-1.1%), followed by industry (-5,127 unemployed, -1.6%); construction (-3,947, -1.3%) and agriculture (-2,622, -1.3%). It only rose in the group without previous employment, which added 4,876 unemployed in the month (+ 1.3%).
In April 1,356,845 contracts were registered, double the number in the same month of 2020, in which non-essential activity was paralyzed for two weeks to stop infections in the first wave.
Of the total contracts, 164,080 were permanent, 12.1% of the total and 177.9% more than in April of last year. Labor has attributed this rise to the transformation of temporary contracts into permanent ones.
The Ministry has also reported that spending on benefits reached 2,579 million euros in the month of March (latest data available), of which 720 million corresponded to benefits for workers in ERTE, compared to 752 million in February .
Social Security earns 134,396 affiliates
Social Security earned an average of 134,396 contributors in April compared to March (+ 0.7%), which placed the total number of employed persons at 19,055,298 contributors, according to data from the Ministry of Inclusion, Social Security and Migration published this Wednesday.
In seasonally adjusted and calendar corrected terms, the system lost 9,808 contributors in April, up to a total of 19,019,624 employed persons, leading to three consecutive months of setbacks in the seasonally adjusted series.
By sectors, services was the one that gained the most media affiliates in April, with 99,404 new employees. The number of contributors in the hospitality industry grew especially, with 40,548 more workers (+ 4.1%), followed by construction, which added 10,734 more contributors (+ 1.2%).
The number of workers in ERTE stood at 638,238 people as of April 29 (latest data available), 36,621 fewer workers than in March in the revised series and 105,345 fewer taking into account the notification date.

www.informacion.es
Eddie is an Australian news reporter with over 9 years in the industry and has published on Forbes and tech crunch.