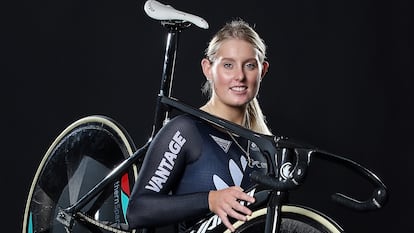 New Zealand cyclist Olivia Podmore spent her final weekend with Olympic rowing champion Eddy Murray, her partner, and another friend in Queenstown, along the spectacular Lake Hawea. On Monday she was found dead at her home, according to her family. "Anyone who had seen her in the last 72 hours could not think that this would happen," said Murray on behalf of those close to the Olympic cyclist in Rio de Janeiro and that she had not been selected for those in Tokyo. "There is a lot of talk about the mental health of athletes," he said. "Simone Biles and Naomi Osaka have put her in the spotlight after her own personal difficulties. Olivia's fight was the same, and now we have one more statistic, "criticized the rower.
Podmore, 24, published a note on social media just hours before his death in which he revealed his state of mind: "Sport is an incredible outlet for many people. A very rewarding fight. The feeling when you win cannot be compared to any other ", he said," but the feelings when you lose, when you are not chosen or have qualified, when you are injured, when you do not meet the expectations of society, such as having a house, get married, have children because you have tried to give everything for your sport, those feelings are also different ".
All the signs point to a suicide, although the New Zealand Police do not rule out any possibility. Since the news was known, criticism of the cycling federation has rained. The two-time Olympian Eddie Dawkins has asked, directly, responsibilities to Cycling New Zeland and High Performance Sport New Zealand (HPSNZ), which is the body that brings together the elite sport of the southern country and that promotes its athletes around the world. For Dawkins, a friend of Olivia's and now retired, her death was avoidable. "It's a damn shame, it's terrible that this happened. My condolences to his family and friends. But I hope that, if something positive comes out of something like this, it is that athletes will start to defend themselves. "
Outside of tokyo
Meanwhile, the spokeswoman for the New Zealand sports organization, Raelene Castle, defended herself against the accusations: "We cannot say if we have made mistakes until we review this matter. Every athlete has many supporters throughout their career and Olivia was no different. " Castle said it was difficult to cope with the allegations that the athletes were not being treated well. "Mental health is a challenge. There are no black or white answers ".
The head of HPSNZ defined Olivia Podmore as, "a very happy, outgoing person, who lit up the room. I am very saddened by his loss ", and assured to feel" devastated "by the accusations of some athletes. "We understand the frustrations and I understand them. I want to make sure we learn from this, "he said. "Supporting athletes in our plans is not perfect. Olivia's legacy has to be that we make improvements, maybe we were not diligent in reviewing the aid programs. "
Olivia Podmore had been a part of her country's national cycling team since 2015. She was silver in sprint by teams and bronze in time trial at the Junior Track World Championship in Astana (Kazakhstan). In 2016 he participated in the Senior World Cup and the Rio de Janeiro Games. In the test of keirin, his favorite specialty, suffered a hard fall with the Spanish Tania Calvo from which he was slow to recover. She reached the minimum marks to participate in the Tokyo Games, but was not selected for the team.
The case of Consuelo Álvarez
In the distance, her case is reminiscent of the Spanish Consuelo Álvarez, a member of the Olympic team that was preparing for the Barcelona 92 ​​Games, together with Joane Somarriba. The Basque runner did not finally participate due to a serious herniated disc that was about to separate her from the competition. Cheli Álvarez, 26, did not make the appointment either. In December 1991, he entered a hardware store in Bembibre (León), his town, bought a rope, tied it to a railing in the basement of his house, and hung himself on it. Two months before, he had received a letter informing him that he had lost his annual scholarship of 1,800,000 pesetas (10,818 euros) from the ADO 92 plan, "for not having achieved the sporting progress that the federation dictates." The Leonese cyclist had suffered two consecutive clavicle injuries, and her husband, Ángel Porto, denounced the situation: "When the second injury occurred in Switzerland they told him that they could not have it any longer on vacation, he called an injury vacation!" On this last occasion "they sent her home alone and I had to go to the Madrid airport to look for her."
Before the death of Consuelo Álvarez, her husband filed a lawsuit against the Federation, which was then chaired by José Luis Ibáñez Arana for the abandonment of the cyclist, who was very popular in Bembibre: "Here it was like Perico Delgado in Segovia," he pointed out in THE COUNTRY. Joane Somarriba recalled the event: "He called me a few weeks before, when he found out about my operation and that I was having a bad time. We encouraged each other. She told me that I had to get over mine and that she too was going through a bump. In the end, he couldn't handle the depression. "
You can follow EL PAÍS DEPORTES in Facebook Y Twitter, or sign up here to receive our weekly newsletter.



elpais.com
Eddie is an Australian news reporter with over 9 years in the industry and has published on Forbes and tech crunch.