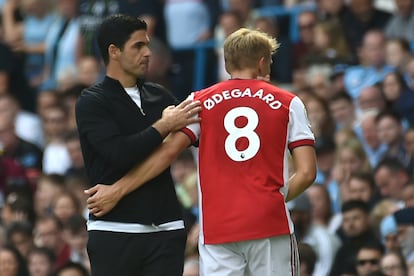 Less than a quarter of a century ago, Arsenal were in glory. Arsène Wenger had managed to weave an extraordinary team that marveled with their offensive football and that had made us forget the mocking song of Boring, boring Arsenal with which rival fans belittled a team that, yes, won some Leagues, but bored sovereignly with it. defensive George Graham on the bench.
At the turn of the century, Higbury enjoyed players like Bergkamp, ​​Henry, Vieira, Anelka, Overmars, Petit, Ljungberg, Pirés, Wiltord, Fabregas, Reyes, Van Persie … In those golden years, Arsenal won three Leagues and four cups between 1998 and 2005, including two League and Cup doubles (1998 and 2002) and the feat of winning the 2003 League undefeated, something previously only achieved by one other team in England: Preston North End in the 1888-89 season.
All that fairy tale began to fade when the club decided to move to a new stadium, Emirates (60,700 spectators), which opened in the 2006-07 season, because the old and endearing Highbury (38,500 spectators) had outgrown. The then owners and managers of Arsenal, wealthy people who were not in the club to do business but to win trophies, began to cut expenses to finance the project without mortgaging the future of the club. But what was born as a project to expand Arsenal's financial base, what it did was attract a shark, the American billionaire Stan Kroenke, who began buying packages of shares in 2007, gained control in 2011 and has been the sole owner since 2018. Your goal, however, is not to win trophies, but to earn money.
The austerity that began to finance the Emirates has been prolonged to fatten the bottom line of Kroenke Sports & Entertainment (an empire of almost 10 billion dollars). And the team that had been competing in European competitions for 18 consecutive years is outside Europe for the first time. The team that played the Champions League final against Barça (2006) and the Europa League final against Chelsea (2019) lost last year the semifinals of that same Europa League against Villarreal, finished eighth in the Premier and this year has had a catastrophic start: three consecutive defeats, zero goals for, nine against, after opening the season by losing at the home of recently promoted Brentford (2-0), being overwhelmed by Chelsea (0-2) and humiliated by the Manchester City (5-0).
Many believe that the coach, Mikel Arteta, will risk his future on Saturday against Norwich City, which also comes to Emirates with zero points, one goal for and 10 against. But everyone knows that, regardless of the successes or errors of Arteta and the football director, Edu (they say they have created an unbalanced squad, with too many veterans, incompatible players, some too expensive …), the decline of Arsenal comes by far and is due to their inability to maintain their stars and compete in the marketplace.
Arsenal, however, has a healthy account and at any moment the hated Kroenke may decide to sell. There is no shortage of potential buyers: Daniel Ek, co-founder of Spotify, already tried it last spring. And the Kroenkes are facing a $ 1 billion lawsuit from the city of St. Louis to bring the football team to Los Angeles that could prompt them to divest from Arsenal.
Why is all this a bad omen for Barcelona? Because it shows how easy it is to go from glory to decline. Because Barça is now starting that phase in which there is no money to keep the old stars and attract new ones. Because Spotify can't come to save it. And, above all, because he has a gigantic debt that makes one think that the years of lean cows are going to be many, many, many.
You can follow EL PAÍS DEPORTES in Facebook and Twitter, or sign up here to receive our weekly newsletter.



elpais.com
Eddie is an Australian news reporter with over 9 years in the industry and has published on Forbes and tech crunch.