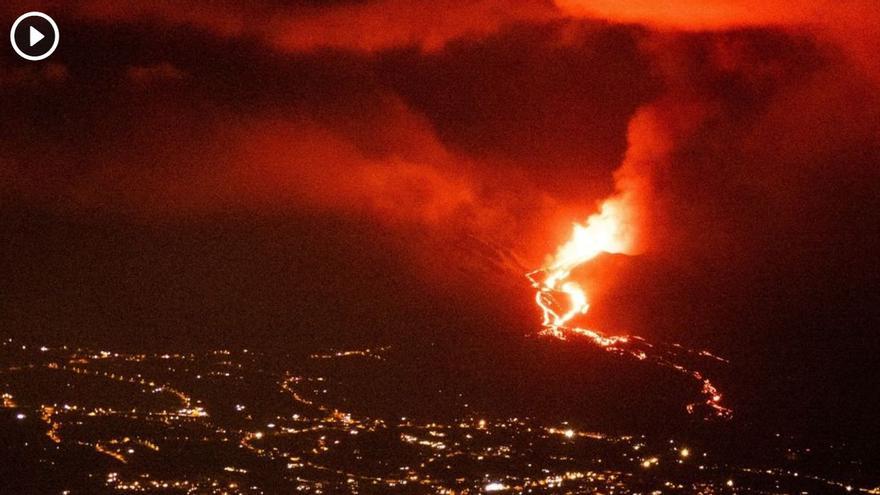 A poster announcing a concentration of people affected by the Tajogaite volcano claiming the promised aid that has not yet reached its recipients began to circulate through social networks and groups of messages from the Island. It was never clear who was the person in charge of initiating that chain, of calling the concentration and, not even, of what were the specific demands that they wanted to make to the administrations. Even minutes before the announced time, no one had shown up at the Plaza de España in Los Llanos de Aridane, the place chosen for the call, causing the media present there to doubt whether or not the event existed.
In the same circumstances of misinformation, the mayor of the municipality, Noelia García Leal, appeared at the rally, inviting residents to the Plenary Hall to hear their requests in a meeting that lasted more than two hours. There, those affected expressed their disenchantment with the different administrations due to the delays in the promised aid and in the criteria for granting them. In addition, among those present, the continuous complaint of the operation of the Office of Affected Persons, of which some of them claimed that they have had to go up to four times to fill in data, and others "are giving us an appointment for January," they claimed.
The lack of news is causing the despair of these people "because we do not receive aid," one of them claimed to the mayor, also stressing that "today we are here without knowing who called this demonstration or who called it off", but with the conviction that "it's the only way they'll pay us a bit of attention ".
Elena Morera
This neighbor of El Remo, who in addition to being evacuated It had a piece of land in Todoque that has been covered by lava, is a housewife with three children. So far "I have received absolutely nothing." Together with nine other people they live in an old house "that belonged to my grandmother", in which there are also animals "that if I name them it looks like a zoo." So far he says he has not received any kind of aid, "absolutely nothing from the Cabildo or the Los Llanos de Aridane City Council", despite being registered in the Single Register of the Office of Affected Persons "from day one." There he has had to return to update his information, "because if you call by phone they will not answer you anywhere," he regrets.
These are times when Elena denounces that "we feel abandoned", so he went to the call made to see "if they listen to us and remember that there are children and families who are having a hard time, especially children." In addition, he commented that "we are on dates when we need joy", stressing that it is necessary for political leaders to agree that the money from donations "is to distribute among those who need it, not to be in an account generating interest. ".
Rosy Alvarez.
A resident of the La Laguna neighborhood, he lost everything under the lava. He also had some land in the Callejón de la Gata that have disappeared. She is currently unemployed and regrets that "absolutely nothing has reached me from any institution." She has completed the registration processes in all administrations, and comments that she has gone to the Massieu House, where the Office for the Affected is located, "more than 20 times." Thus, she points out that "I have gone downstairs and asked what I have to do", regretting that "later I find out that I have to do something else", which forces her to return to the installation. In addition, he complains that "they don't pick up the phone, and if they pick it up they hang up on you"That is why he goes to the call to "pay attention to us", since he points out that the damage caused by the volcano "is not our fault", adding that "we need help because we are lost." Rosy laments that "we have cried and we no longer have tears", in addition to having "a lot of anger, because they have promised us everything and we have not achieved anything", which creates a situation in which "we cannot continue".
Nieves Padilla
This unemployed woman lives on the Camino Aniceto, one of the areas devastated by the lava flows from the Tajogaite volcano. I have absolutely nothing left. Currently she, her partner, her two children and her mother-in-law are looking for answers by attending this call for a demonstration. Registered in the Single Registry, it claims to have already received some aid. Among them, 50 euros from the Los Llanos de Aridane City Council and another 2,500 contributed by the Island Council "for four people." Their presence at the rally responds to the desire that "they pay us a bit of attention and comply with the aid that they have told us that they are going to give us." Their complaints also focus on the shortage suffered by one of the facilities that has served since the emergency began to meet the first needs. He refers to the Severo Rodríguez Sports Center, where he says that he has gone three times to look for food for his daughters "and I have left with nothing.". That is why he regrets that public officials made that appeal to those who continued to donate food to stop sending it, given the current situation that "we find that there is absolutely nothing left."
Leandro Carballo
This Portuguese has been on the Island for 22 years. His house in Todoque disappeared in the early stages of the eruption. There he also had a warehouse for the tools that he used to earn a living. Now, "we are left with nothing", currently residing in an apartment in Los Llanos de Aridane owned by his father-in-law, while he, also evicted from his home in Las Manchas, he lives for rent. Leandro regrets that in all this time "we have not received anything from anyone", despite having all the documentation and records "finished and fixed". For this reason he denounces that "they are promises and promises but the words are blown away", since many days have passed "and we are tired of the situation." In addition, he claims that "if there was an intention to help, there is no reason why they should take so long", even more so "having all the papers arranged", for which he says he does not understand "because it takes so long, that is what we are claiming."

www.informacion.es
Eddie is an Australian news reporter with over 9 years in the industry and has published on Forbes and tech crunch.