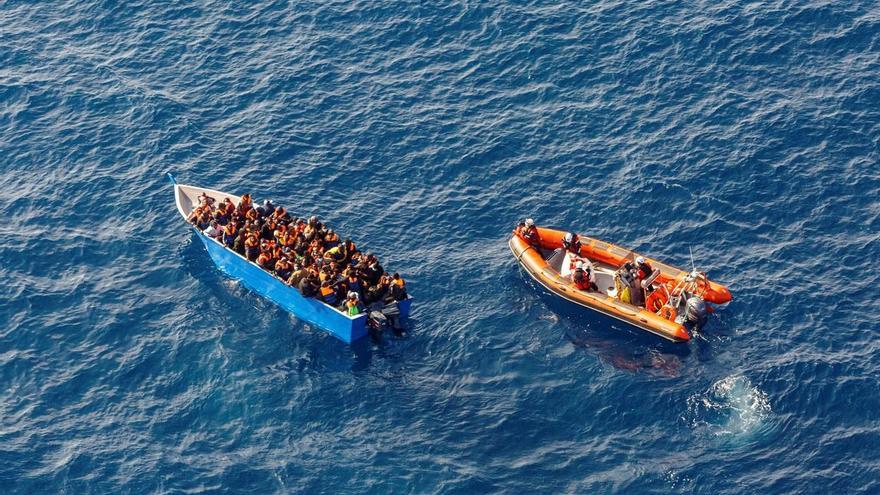 Immigrant deportation flights from Spain to Morocco have El Aaiún as their final destination, capital of Western Sahara, where four a week are currently arriving with twenty immigrants on each plane, according to several sources related to these flights.
By imposing the Gran Canaria-El Aaiún route, Morocco continues to take steps to achieve, even indirectly, that Spain recognizes the Moroccan authority over the Saharawi territory, at a time when the issue has become an object of disagreement between Rabat and Madrid.
The recognition by the former US President Donald Trump of Moroccan sovereignty over the Sahara and the response of the Spanish Government that the UN is the framework where the conflict must be resolved have created in recent months some tension between the two countries, who canceled their High Level Meeting scheduled in Rabat last December without any other date for holding it.
Morocco does not stop sending messages to Spain and other European countries to join the US in recognizing its positions on the Sahara.
Riffians in the Sahara
Last week, three Rif immigrants who were in a Foreigners Internment Center in Murcia received an expulsion order and were transferred to Madrid, where they embarked, escorted by several policemen, to a flight to Gran Canaria, and from there they flew on another plane from Royal Air Maroc (RAM) to El Aaiún, according to what those affected told Efe.
The choice of the Gran Canaria-El Aaiún route could be justified because It is from the Saharawi coasts where there is a greater irregular traffic of immigrants towards the Canary Islands, but in the specific case of the Riffians, they had left from a Mediterranean beach on January 18.
That is, they could have been deported on a flight to Casablanca, Tangier or even Nador, destinations closer to their homes to which RAM flies from Madrid, instead of El Aaiún, a city that is 1,700 kilometers from their homes.
The truth is that Morocco has decided that the deportations be carried out by El Aaiún, a city to which the expelled arrive escorted by Spanish policemen, who deliver them on the same stairs of the plane to their Moroccan colleagues, according to one of those affected. .
A controversial modus operandi
The rhythm and mechanism of deportations has never been made public, but they were confirmed to Efe by various sources related to them: since December began, four weekly flights have transported twenty Moroccan immigrants from Gran Canaria on each flight.
Two Spanish policemen usually travel on the planes for each returned immigrant. The latter are bound with plastic handcuffs that are removed just before reaching the destination, according to the victim.
Exceptionally, on these flights some people under the "voluntary return" may travel, who have chosen to return to Morocco after a wait of several weeks on the islands and when they understand that the trip to the peninsula is not guaranteed.
The NGO EuroMed Rights, which monitors European migration policies from Brussels, points out that this deportation model applied by Morocco and Spain (agreed deportation quotas on several weekly flights) has been modeled on that applied by Italy and Tunisia last November.
Sara Prestianni, head of Migration and Asylum at the NGO, criticized in statements to Efe "the European obsession with return" and repeatedly stressed the "lack of transparency" of these deportation agreements, which in her opinion "are verbal, not even writings ". For Prestianni, the migrant quota system for each plane is perverse because "it does not take into account individual situations of vulnerability."
According to EuroMed Rights, The first flight they have documented from Gran Canaria to El Aaiún was on November 7, precisely one day after the visit to the island of the European Commissioner for the Interior, Ylva Johansson, and her Spanish counterpart, Fernando Grande-Marlaska.
From that date, the planes began to depart regularly, always towards El Aaiún, although sometimes – as in the case of the Riff – they also pick up expelled immigrants who arrive on a flight from Madrid.
All the expenses related to these flights, including the PCR that Morocco mandatorily imposes on all travelers arriving from abroad, are borne by the Spanish government, as confirmed by sources.
Last year, and according to figures from the Spanish Ministry of the Interior, Moroccans (11,998 people) represented more than half of the 23,023 immigrants who arrived illegally in the Canary Islands.

www.informacion.es
Eddie is an Australian news reporter with over 9 years in the industry and has published on Forbes and tech crunch.