Ahmad Fayaz has mixed feelings these days. On the one hand, he is happy that his family – his mother, three brothers and a sister-in-law – have been able to escape the horror that has hung over Afghanistan since the Taliban came to power. A situation that put them in special danger since he was a collaborator of foreign troops, and his mother, Noorzia Kohistani, worked as a senior official in the Ministry of Equality during the Ghani government. Evacuated by the Spanish Government, they arrived last week at Torrejón de Ardoz airport. However, Fayaz feels frustrated and angry, because in the relocation they have been sent hundreds of kilometers from the city where he has resided for six
years, Santiago de Compostela.
"It is a complaint that all interpreters have, because the same thing has happened to us"he explains over the phone.
Fayaz worked for seven years as a NATO interpreter for countries like the US, the UK and "the last two years with Spain." He collaborated with the Spanish troops in the Qal'eh-ye Now region. In 2014 he settled permanently in Spain, and currently works – or worked – as a painter in Lalín. "I'm going crazy … How have they been able to get me away from my family more than 700 kilometers," he denounces. An insurmountable journey on a regular basis for him, who charges 900 euros, a salary with which he has to support himself and pay a rent.
According to data provided by President Pedro Sánchez, Spain has evacuated from Afghanistan a total of 2,206 people, of which 1,671 are Afghan collaborators of the Spanish contingent. Once they arrived at the Torrejón de Ardoz base, these have been managed by the NGOs, which have redistributed them in houses and reception centers in different Spanish provinces according to the availability of places. «Our priority has been and is not to separate families, and in some cases, up to thirteen members of the same family come »a spokeswoman for the Ministry of Inclusion, Social Security and Migrations explains to ABC. He also points out that during the interview they are given "they are asked if they have any relatives here." Faced with the claims of several interpreters to this newspaper, the same source assures that the situation is not fixed, but that "it can be reassessed" if there are free places in a community where the family member is. He adds that another priority for the management of Afghan refugees who have arrived in our country "Is that they are not in the airport camp for more than 48 hours."
Fayaz, who calls the management of the redistribution of refugees as "an auction" and who assures that his mother alerted that he had a son living in Spain, has been forced to absent himself from work for several days in order to see his family. To do this, he took a car to Zaragoza and then a bus. There he stayed in a hostel – a new expense, without knowing if when he returned home he would continue to have a job. "I had to ask a friend for money to buy clothes for my family."
Tears and joy
Another interpreter, who prefers to remain anonymous, has suffered a similar fate, but not so serious since he has managed to relocate his family just 200 kilometers from Madrid, where he lives, although at first it was destined for a town of almost 500 kilometers of distance. "There is also another, who works as a cook in Madrid, and his 80-year-old mother was sent to Barcelona," Fayaz continues to detail cases.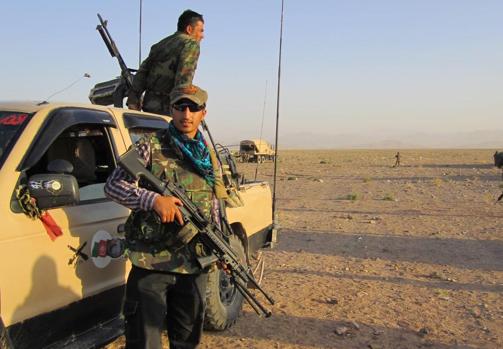 After a long journey, Ahmad was able to see his family on Friday. After an emotional encounter – "with many tears and joy" -, she acknowledges that the faces of her mother and her brothers have changed a lot. "They are not feeling well psychologically. They spent three days with the body in the water. And now the images of what they see here, and what they lived there are mixed with them. They are in shock, and they don't talk much. They still do not believe that they are in Spain.
He says that while he was here, they saw on television the Daesh attack in the vicinity of the Kabul airport, "in which unfortunately the brother of one of the interpreters that we know died. In the end his family could not come to Spain. After having spent nine days at the airport they have not achieved the Spanish dream or anything », the Mint.
Adding to the situation of starting a new life in another country, with different customs and language, is the pain of everything they have left behind. "My family has summarized their life in a backpack or a fanny pack"says Fayaz, who hours earlier received a call from a Kabul neighbor informing them that the Taliban had entered the family apartment "looking for weapons, which they did not find. And they have occupied it. My mother does not stop crying, she has lost the fruit of her work for 21 years. And now he's here, with my family, and we can't be together either, "he concludes.

www.abc.es
George is Digismak's reported cum editor with 13 years of experience in Journalism