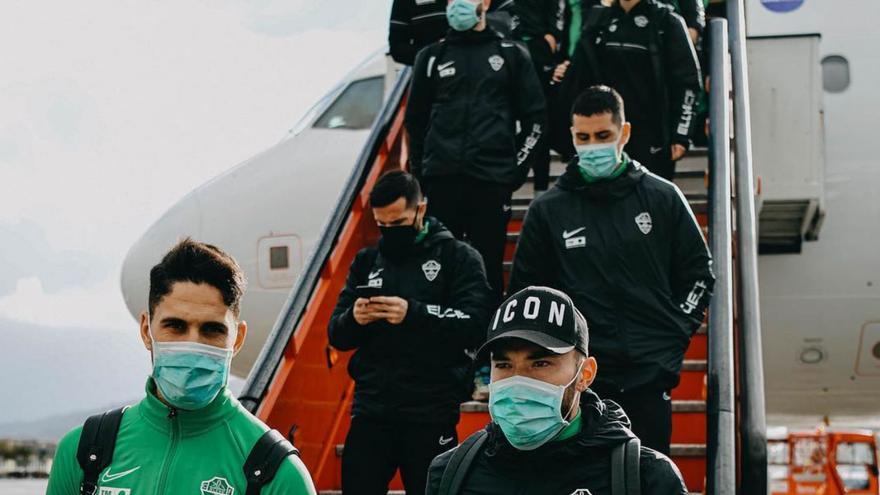 Most of the players in the squad Elche have taken advantage of the bye week for the League break to travel. Especially the South American footballers who have seen a great opportunity to go to their countries of origin, something they did not do since last summer, except for Mojica Y Enzo Roco, that they have recently moved to play with their selections.
There have also been other players who have decided not to cross the pond, as have been the cases of the Colombian Helibelton Palacios and from the Argentine Pablo Piatti, who have chosen to spend Christmas in Elche's lands, since they have a good part of their relatives here.
Lucas Boyé, Benedetto, Iván Marcone, Guido Carrillo and Axel Werner took a flight on the same Sunday, upon returning from Barcelona, ​​to travel to Argentina. The eight days of vacation is a unique opportunity to be able to reconnect with your family after a long time.
For his part, Mojica has moved to Colombia and Enzo Roco to Chile.
Rest days were scheduled for quite some time and that has allowed footballers to organize trips to their countries. In addition, when it was learned that the Camp Nou game was going to be played on Saturday, it was greeted with joy because they could have one more day off.
In the Spanish players, some have taken the opportunity to return to their cities of origin to spend the Christmas holidays with their families, as has been the case of Mascarell, who has gone to the Canary Islands; or Barragán, who has traveled to Seville, where he will have the opportunity to present his new daughter, who was born on November 5, while in Elche.
There have also been other footballers who are going to take advantage of the free week they have to make trips of several days to different cities in Europe, such as London or Paris.
Despite the time off they will have, the French-green players have received a personalized work plan from the coaching staff and will have to perform exercises every day so as not to lose their shape and return in the best possible conditions.
The squad must be back in Elche between Sunday night and Monday morning, since on December 27 in the afternoon it will be time to return to training to begin preparing for the important game on Sunday 2 of January (4.15pm), at the Martínez Valero stadium, against Granada, a direct rival for permanence.
Extreme precautions
In addition to the personalized work plan, from the club, the coaching staff and the medical team have also made a series of recommendations to all the players so that they take extreme precautions and not have many close contacts with people outside their family circle to try to avoid any contagion of Covid-19.
Next Monday, before training begins, all footballers, coaches and assistants will undergo antigen tests and, if necessary, PCR to verify that no one is positive.
Another recommendation for South American players has been to be cautious with changes in temperature. In Argentina, Chile and Colombia it is now summer and drastic changes can also cause colds.
From the club they have not put any type of problems so that the footballers can travel during these days of vacation and there has been freedom for each one to do what they saw fit. But with clear warnings to exercise extreme precautions, especially due to the current pandemic situation, and to stay in shape because very important games are going to arrive in January.
Christian Bragarnik left two weeks ago to Argentina
The owner of Elche, Christian Bragarnik, is also in Argentina to spend the festivities with his family. The largest shareholder of the club from Elche left two weeks ago and was no longer present at the games against Valencia and Barcelona. The last match he witnessed live was against Cádiz (3-1), in Francisco's debut as a coach. Curiously, in the two stakes that the Argentine investor has not been, Elche has lost. At the club they still do not know when he will return, although he is expected to attend the January 2 match against Granada. In addition, Bragarnik's intention is to be in Spain the first month of the year 2022 to control the winter market first-hand. However, as a soccer player agent, he will also pay attention to the movements that may occur in the teams with which he has a direct relationship in Argentina. Before the end of the year, the shareholders' meeting must also be held, but, in principle, it will not be present.

www.informacion.es
Eddie is an Australian news reporter with over 9 years in the industry and has published on Forbes and tech crunch.