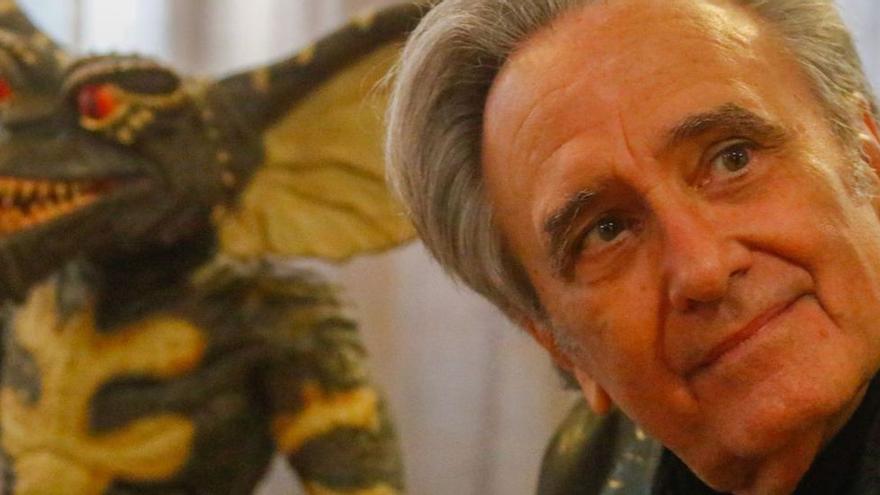 The presence of Joe Dante in Vilagarcía was reciprocated by the Vilagarcía Council with an official reception led by Mayor Alberto Varela. In addition to signing in the local Honor Book, the director received a city insignia from the mayor. In the afternoon, Dante visited the Gremlins exhibition in the Rivas Briones room.
–Welcome to Vilagarcía. His presence here is a source of pride and this has been noted in the Town Hall itself.
-It's a great honor. I was surprised and grateful that the mayor was so nice to me. The truth is that everyone is being very nice to me and I feel very comfortable.
–You are an icon of fantastic cinema, but there is something that does not go unnoticed in many of your works, such as that you have made humor coexist with fantasy.
–I have always thought that it is easier to scare the viewer if you first get them to relax. Humor is something for them to relax and enjoy the movie more, that not everything goes in one direction.
–He went from being an editor with Roger Corman to co-directing 'Hollywood Boulevard' and from there to 'Piranha' … And already success with just 30 years. It was all very fast, perhaps.
– It was all very fast. The truth is that there are even movies that we shoot that I hardly remember the details of. Having that quick success was then the only way to enter the world of cinema. That was what helped me open doors.
–You are at a festival like Curtas with many new directors who are looking for success. But what happens after that success? What is a director exposed to?
–It depends on the objective that one sets when trying to enter the world of cinema. If the goal is to have a sexy secretary and a giant swimming pool, maybe there are people who stop after a success when their expectations are fulfilled. That is not the objective with which I started in the cinema. It all depends on how you progress and that you do not lose the path that you have wanted to mark from the beginning.
-Then everything overflowed with 'Gremlins'. I don't think you expected such an important film for millions of people in the world.
"Nobody expected that, not even me." At first the producers saw it as a little movie to have a little fun, even with Steven Spielberg directing it as well. When he got all that success, he surprised us all.
– How did that story with 'Gizmo' as the main character come about?
–Chris Columbus wrote the script. He started out in the movies and wanted to show that he could write good scripts. Spielberg read that script and decided the movie should be shot. That was where it was my turn to intervene and shape that content.
– Almost the message was that everything bad that can happen in this world is due to the irresponsibility of humans when breaking certain rules.
– It was not exactly that message that we intended at first, but it is true that when you see the film you realize that everything revolves around not complying with a rule that they decided to ignore despite having been warned of the consequences. The truth is that all the disasters that are generated in the movies happen by human intervention. Perhaps Gremlins is a classic story told in another context.
–Now that we live in the time of technologyDo you think that recording those films with current technology would have been a greater success?
– The current technology is impressive and surely it would have been a different film than the one that was shot. Now you can do things that were absolutely impossible before. Anyway, I think the old school effects are different and in a way they can also be attractive.
– What remains of the Joe Dante that he started directing?
"I'm getting old, but I'm still here." There is still the illusion of continuing to work on films and do things that satisfy me and in which I can put my stamp.
– His filmography is extensive. There are many high quality works, for example 'The prodigious chip'. But Joe Dante is inevitably associated with 'Gremlins'. Like or dislike?
–It is true that it is so. Some films have been overshadowed by 'Gremlins', but at the same time thanks to the fame of that film I have been able to continue making other films that I would not have been able to do otherwise.
– Your films were a real gold mine for the big screen. You created moviegoers among the youngest. Now these young people quench their thirst for cinema on mobile phones, tablets, computers … series Are they weakening the cinema?
-It's a problem. In my generation we learned to love movies because we could go to theaters with more people and today, most people, especially young people, with applications, platforms and others can see everything from the comfort of their home. What is happening is that he is losing the habit of going to the movies. When I was a child there were Saturday morning sessions that were used for young children to enjoy movies and going to the movies. It was a bit of a way to create that habit of going to the movies and enjoying it. That is something that has not been done in the last 20 years. It is this lack of habit that is creating a serious problem in the industry.
– Here they are going to give him an award for his career. What does an award mean for a filmmaker like you at such a small festival and in such a small city?
–It is no less impressive and comforting than receiving recognition at a festival or in a much larger place. It is an award that comes from people who love movies and cinema. It is people who love cinema who are going to recognize my career and that is something very honorable for me and for my career.

www.informacion.es
Eddie is an Australian news reporter with over 9 years in the industry and has published on Forbes and tech crunch.