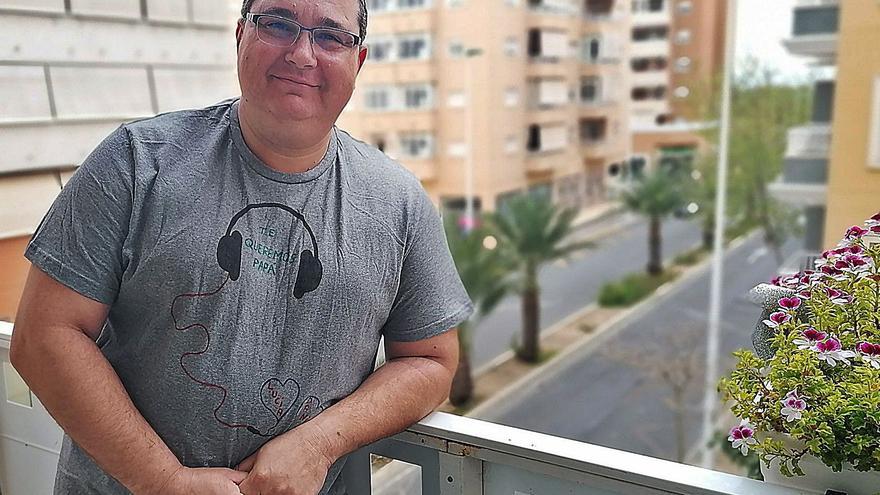 He was even interviewed on radio programs in Latin America after the impact he caused, although there were some neighbors who complained about the noise to the Local Police and threatened complaints, although he acknowledges that some agents were on his side. He did not give up and continued playing until after Easter after accepting challenges such as putting on the Gloria Patri that is heard on El Misteri.
Once the third wave of coronavirus has been crossed, the DJ remembers that some users came to utter insults on the networks because they did not understand that at a time as sensitive as the one that the country experienced there was someone playing music in this way. However, he is pleased because the vast majority of messages were positive, praising his work, which was none other, he assures, than entertaining entire families in times of uncertainty and unease, especially children and the elderly who lived alone.
Fran is 45 years old and has been sounding events for 28 years and playing DJ as a hobby, so before the state of alarm was decreed, he was already well known in Altabix, his neighborhood, for entertaining events in Plaza de Castilla. Although he did not seek fame, the video had a chain reaction that catapulted him into dizzying visibility.
And it is necessary to remember. They were moments of great uncertainty, with a global and invisible threat that locked us all at home. Silence took hold of the streets and the social life of the day was limited for thousands of families to the applause of eight o'clock. And some filled those voids by playing music, like Fran.
Despite that visitation takeoff, the life of this man from Elche continues to be that of a humble electronics technician who dreams of dedicating himself entirely to radio broadcasting. No job offers have come up in connection with that, "but because of my job, for example, I'm going to repair a machine and they tell me, are you the one on Facebook? It makes me blush that they know me but I feel very proud, and look, I've played in discos, barracks … but that was the culmination of my career, I just need to raise the balloon »(laughs).
Among the myriad of anecdotes, he remembers that a boy from Colombia told him that his video inspired him to "put on a soiree after seeing me. The idea is not my original because days before I saw an Italian disc jockey doing it and I thought that if he had the means, why shouldn't he do it? Then some child that another has written to me to teach him to DJ, "he narrates.
He is sure that when the restrictions are eased and the crowds are not seen as a threat, he wants to throw a good party in Plaza de Castilla to recover his essence. He regrets that the entertainment, lighting and sound sector is stopped due to restrictions and believes that the measures should be made more flexible so that the guild can roll again. "When the video was recorded, we only thought it was going to be fifteen days … but what a long fifteen days they are getting!" He is also one of those who believes that illegal parties have done a lot of damage with the pandemic and understands that groups such as the hospitality industry have been excessively criminalized.
He feels that the covid and seeing the empty streets smelling of plants brought out his most sensitive part in him, "although humans forget things very quickly, we have become accustomed to the virus and the pace of life is accelerating again." He is grateful that his family environment has not suffered from the disease, despite the fact that he heard very crude cases nearby and feared that his mother could be infected by being in the highest risk group.
That confinement made him reflect. He had been considering lowering the brakes a bit for some time, "and it has helped me focus more on family" as well as his skating club. Even so, he will not give up music "because we will need it," he says.
More than 1,600 reactions
Fran Rosique's video became so viral that it had nearly 6 million views on Facebook. More than 160,000 people from around the world reacted, and thousands of comments reached him through the networks. The majority loved the initiative and only a minority did not understand why they were playing music in the middle of the pandemic.

www.informacion.es
Eddie is an Australian news reporter with over 9 years in the industry and has published on Forbes and tech crunch.