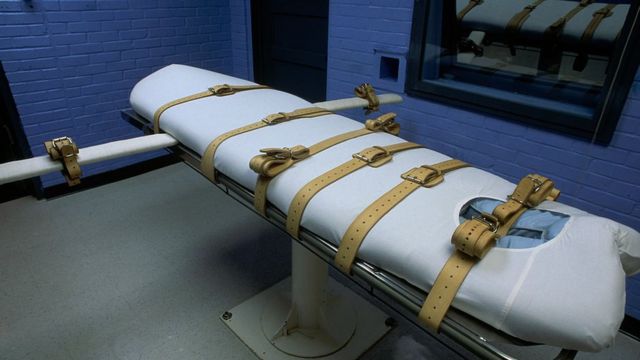 Before being pronounced dead, a prisoner sentenced to the death penalty suffered numerous seizures during his execution in the United States on Thursday afternoon.
John Grant, a 60-year-old African-American, received the lethal injection in a prison of Oklahoma, in the southern US, after being sentenced to death for murder in 1999.
A last minute decision of the US Supreme Court authorized the procedure.
It was the first death of a prisoner in the last seven years in that state, since a series of failed executions led to a temporary moratorium on capital punishment.
The manner in which Grant died, however, has again raised questions about the methods of lethal injection in the United States.
The prisoner vomited and convulsed "two dozen times" before falling unconscious and receiving a cocktail of drugs that ended his life.
The Oklahoma Department of Corrections said the procedure went according to plan.
"The execution of inmate Grant was carried out in accordance with Oklahoma Department of Corrections protocols and without complications," Communications Director Justin Wolf said in a statement.
But what some journalists witnessed questions the official statement.
What happened?
Grant was serving a 130-year prison sentence for multiple armed robberies when in 1998 he murdered Gay Carter, an employee of the prison cafeteria.
Witnesses testified that Grant led Carter to a closet used to store cleaning supplies and stabbed her 16 times with a spell weapon.
He was sentenced to death in 1999, a year after the murder.
He entered the death chamber Thursday afternoon after the latest Supreme Court decision.
Dan Snyder, a journalist for Fox Network, witnessed the execution along with five other reporters.
He explained that immediately after the drug was administered to sedate him, midazolamGrant began to convulse. "So much so that her upper back repeatedly lifted off the gurney."
"As the seizures continued, started vomiting several times over the next few minutes. Medical personnel entered the death chamber to clean up the vomit from Grant, who was still breathing, "he continued.
A minute later, the prisoner received the second and third drugs to stop his respiratory and cardiac systems.
At 4:20 p.m., medical staff checked his pulse and looked at Grant's pupils.
"A minute later, at 4:21 pm, the director of the Oklahoma Department of Corrections, Scott Crow, entered the room and declared that the execution was complete," explained Snyder.
His testimony is similar to others described by journalists, including that of Sean Murphy of the AP agency, who explained to his colleagues that Grant convulsed "about two dozen times, full body".
He assured that he had not seen anything like this in the 14 executions he has witnessed.
The controversial cocktail of death
Grant's attorneys argued that the use of the sedative midazolam would constitute cruel and unusual punishment, violating his constitutional rights.
That sedative was identified as a potential factor in a series of failed executions in Oklahoma, the last of which took place in 2015.
Clayton Lockett, a convicted murderer executed in Oklahoma in April 2014, it took more than 40 minutes to die after a drug was injected into muscle tissue instead of into the bloodstream.
In the execution of Charles Warner the following year, the wrong drug was used. And another execution was called off at the last minute when it was discovered that a wrong drug was also about to be used again.
All of those cases led to a moratorium on the death penalty in Oklahoma.
Grant "became a human experiment for the challenge other death row inmates have made to Oklahoma's execution process, "said Robert Dunham, executive director of the Death Penalty Information Center.
"Executions like this provide opponents of the death penalty with further evidence that states in a rush to execute simply cannot be trusted with the death penalty," he told AFP.
A lawsuit against Oklahoma's use of lethal injection is scheduled to go to trial in February 2022.
"There should be no more executions in Oklahoma until we go to trial in February to address the state's troublesome lethal injection protocol," said Dale Baich, attorney for Grant and other death row inmates.
The execution of another prisoner sentenced to death in the state, Julius Jones, a 41-year-old African-American, is scheduled for November 18.
Jones has repeatedly said that he is innocent and his case has attracted the attention of celebrities such as Kim Kardashian and American football quarterback Baker Mayfield.
Now you can receive notifications from BBC Mundo. Download the new version of our app and activate them so you don't miss out on our best content.

www.bbc.com
Eddie is an Australian news reporter with over 9 years in the industry and has published on Forbes and tech crunch.