When Elena del Rivero (Valencia, 72 years old) finally returned to her house in New York, destroyed by the 9/11 attacks, she encountered an obstacle: George W. Bush himself.
Two months had passed since the fall of the World Tarde Center, and as soon as he got off the plane from Madrid, he appeared at Ground Zero with the special permits from the police and all the documentation in order. But it so happened that that was the same day chosen by the then president of the United States to visit the devastated area, so they blocked his way and it could not be.
After yes. The next day he returned, and found his home-studio, with 18 windows that looked directly onto the South Tower, a ruin and crammed with objects and papers, and dust, remains of the destroyed skyscrapers. And she came back every day for the next six months, dressed in a white jumpsuit and a pollution mask. He still doesn't quite know why. "I think I went crazy," he recalls from his studio in Madrid, where he spent a few days before traveling to Mallorca. Then he set himself a mission: to collect and document that arsenal of remains that had ended up in his house. Everything that would make up the material of his great artistic work.
Exactly 20 years after the day of the 9/11 attacks, the museum It's Baluard of Palma de Mallorca inaugurates The Dust Archive: An Ongoing Project, curated by Mateo Feijóo, which starts from the individual trauma caused by that experience to unfold a political fresco that interrelates this and other collective tragedies, such as the humanitarian crisis of migration in the Mediterranean.
The main piece on which everything gravitates is [Swi:t] Home: A CHANT, an installation that could already be seen in the Matadero de Madrid warehouses in 2019 (and earlier in New York New Museum or the Corcoran Gallery in Washington). It is made up of more than 3,000 sheets of paper collected from her studio in those frenzied and strange days, and sewn, between herself and an assistant, on a large tarlatan textile piece. Many are personal documents, checks, identification cards, medical certificates, which belonged to the victims of the holocaust, which for del Rivero resembles a large cemetery. But also to something else: to commemorate a historical event and pay tribute to the memory of its victims, it could be considered a monument. And yet there is nothing more anti-monumental than this artifact that, made of cloth and paper, so fragile that even light deteriorates it, more tends to spread through space than to be erected on it.
This reflection triggers something that lights up Elena del Rivero's face: "Thanks for saying that! It is just like that, an anti-monument. Monuments are built to last, and then it turns out that others are out to tear them down, as we see so many times now. The idea is that A Chant do not tear it down, but let it undo itself, due to the effect of time and light, so that only the framework remains: this final step would represent the healing of the 9/11 wounds. I compare it with the work that the Italian Maurizio Cattelan has just done on the same subject, which is a large black resin monolith, totally vertical, very phallic. The two could be exposed together perfectly, like yin and yang. Although for me the ideal would be for my piece to end up in an American institution in Spain, for example the Guggenheim Museum of Bilbao".
Elena del Rivero came to New York to live in the late eighties: "People usually think that for academic or professional reasons, but in reality it was because I fell in love." In Rome, on a scholarship from the Spanish Academy, she had met an American architect, and the two began a relationship, with comings and goings between the two continents. "I always had a lot of problems at customs, until one day I told him I didn't want to continue that way, and then we got married." Her friend, fellow artist John Coplans, was the one who transferred her studio at 125 Cedar Street where she lived with her husband, and which also served as her workplace until that late summer of 2001.
And yet, she witnessed the attacks from the nearly 6,000 kilometers that separate New York and Madrid. That day I was preparing an exhibition at the Elvira González gallery, The perfect married (where the main piece was a huge wedding veil on which she had sewn pages of the work of Fray Luis de Leon), which was about to open. It was her mother who called her from Valencia to tell her the news, but she did not believe her: "If it had been fifteen minutes that I had been talking quietly with my husband, who was at home!" But the most extraordinary thing can happen in fifteen minutes or less. He stared at the images on the television in the El Timón bar, which was below the gallery, where he had gone for a coffee. And they made him literally lose consciousness: "I just saw the South Tower falling on my house, and I thought my husband was inside." Fortunately, that was not the case: he had been able to evacuate the building in time.
The emotional loss he experienced is incalculable, but curiously the material not so much. A few days before embarking for Madrid, he had secured the study, because the financial endowment of a prize that he had received imposed this condition. It was a coincidence that he immediately found them a place to live until the rehabilitation of the building was undertaken: "It was not very expensive insurance, but it gave us access to a one-bedroom apartment." Two years later they returned to Cedar Street, but nothing was the same. "My husband wanted to stay there, but I couldn't anymore. I told him I was leaving and I left. On October 15, 2003, the day of Santa Teresa. And we parted ways ". Then he felt fragile, and applied for US citizenship seeking some form of protection. Today he enjoys dual citizenship.
Her experience of the sentimental break, related to the individual and collective experience of the attacks, led her to make the series Nine broken letters, some letters written during nine consecutive nights of insomnia, and which will also be seen in Es Baluard. There will also be other works made from all the material collected in the studio during that time, such as the collages composed with paint detached from his own paintings, which he stored there. In the same way, some of its Letters to the Mother, a job in which she has been immersed since 1990 (she started it as a response to the Letter to father of Kafka) and in the one that still follows. With them, through text and images, he addresses his mother, in principle giving an account of an intimate and personal relationship.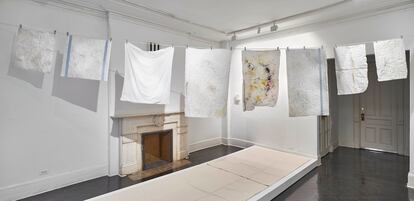 But that sometimes, suddenly, reaches an astonishing collective scale: "In Es Baluard we will put up a letter that is an SOS flag, which implies a call for help to my mother, but that I also relate to the humanitarian crisis that is taking place. producing right here, in the Mediterranean ". It is not an arbitrary leap, since, says del Rivero, "this disaster has a link with the immigration policies implemented after 9/11."
So what initially reveals a series of personal experiences from a poetic perspective becomes a political manifesto. And she does not see any contradiction in this: "It is personal and therefore political", ditch. But one person responsible for this turn points out, who ends up assuming the exhibition: "Everything has been thanks to Mateo Feijóo, the curator, who with his external gaze has been able to unite my work with all those historical and political dimensions." For Feijóo himself, both have been involved in a process of mutual discovery that began two years ago, when he was curating the Slaughterhouse exhibition: "It has been a very long job since then. I already knew other parts of Elena's work, but not this dust file. It was like building a puzzle where all his pieces were, his work and his thought and his relationship with each of the spectators, and also the space that had to host everything. I really like to transgress the white cube. So I have sought to build a dialogue with the rare space that is Es Baluard, where light seeps in everywhere, without building ephemeral walls to cover that light ".
The sample will also include a new installation site-specific with sewn garbage that will receive the spectator at the entrance. And on the terraces of the building will be placed some clotheslines with used kitchen towels that have been sent by donors from all over the world in response to a call made by the artist and the institution. It is a piece that talks about pain and collective memory.
One wonders if behind this selection of pieces spanning more than thirty years of career there is not an underlying retrospective of an artist who has not had official retrospectives to this day. And again, del Rivero accepts the hypothesis: "Once again, it has been Mateo who has guided me along that path, always tangentially and almost without my realizing it. This speaks of how important the work of good curators is ". But the truth is that the interest in the historical moment that we have had to live and its political implications is a constant in the artist. During the recent riots in Soho in New York on the occasion of the Black Lives Matter, he set about installing his collages in front of the graffiti that populated the wooden panels arranged to protect the shop windows, and he photographed them with his Hasselblad camera. In doing so, he incorporated the latest struggles for civil rights in the United States into his work. The individual and collective traces that history leaves add up. And for Elena del Rivero everything converges in her archive of dust.

elpais.com
Eddie is an Australian news reporter with over 9 years in the industry and has published on Forbes and tech crunch.