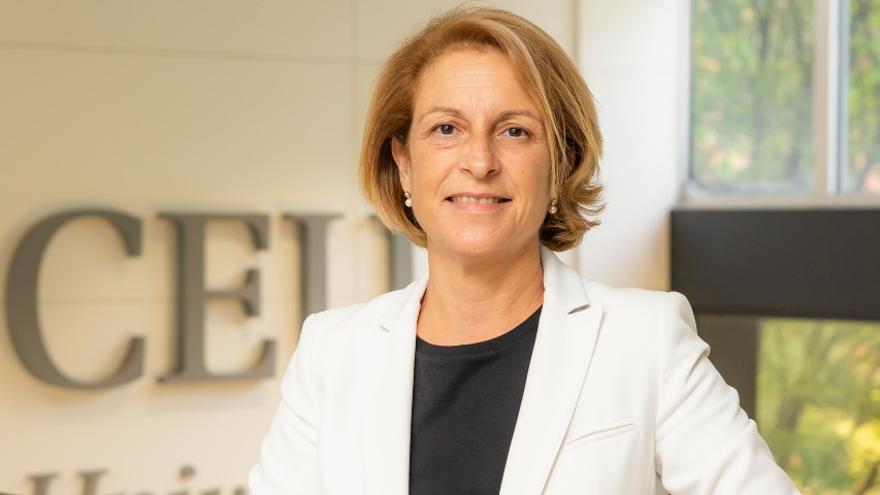 Precariousness at work, late access to some opportunities and not very optimistic prospects about the future of our generational change must be addressed from training and comprehensive education. An education that has changed in the last 10 years and is preparing to change from year to year. From this holistic and integrative perspective, we spoke with Rosa Visiedo, Rector of the CEU San Pablo University.
Digital transformation is basic in Universities, but without a humanistic perspective, it remains a mere technification. How is it tackled in CEU Universities?
The transformation is not technification and it must be approached from the humanistic point of view. Therefore, our center of activity is the person. Whether they are students, teachers or professionals who work in the centers. The change we undertook a few years ago was accelerated by the pandemic, but we are aware that transformation is at the service of people and that we must adapt to new realities, especially educational ones. The reality is that we coexist with social networks, Big Data, IoT … which require action criteria, ethical codes. For this reason, the humanities provide a broad and more comprehensive vision that helps us develop the potential of technical knowledge. I wish we could bridge the gap between the human and the technical.
What are the great challenges facing the Spanish university right now?
They are many. But if I had to select a few I would say they are:
Teaching innovation: the students who come to the classroom are not like the students of 10 years ago. They are different because they have another way of relating, learning and consuming content. The university must adapt and get closer to their way of learning. At CEU we launch innovation initiatives to provide resources and methodologies to train students without losing the humanistic perspective and thus transfer values ​​to them.

Internationalization of universities: this is a challenge for all Spanish universities. We must make an effort to position ourselves as an attractive formula for students from other countries and compete with universities with a great tradition in this regard. Years ago we began internationalization with other campuses, to offer a true international experience and we are very satisfied since, in some faculties, 30% of the students are foreigners

Students' employability: it is together with teaching, research and transfer, one of the missions of the university.
And what are the challenges faced by students leaving college?
The main challenge is the same as always, but with nuances: finding your place in the world. And also now, the challenge is to understand that having finished university is not having finished training. You have to train permanently. Constantly update to perform a job and adapt to the needs of the company. And that need is an opportunity for them, because that way they will apply for better positions.
So how do you foresee the way of teaching in 5 years, in 10 years …?
Now the changes are very fast. The way of teaching will have varied. The way of teaching will have to adapt. If today's students are not like those of 10 years ago, those who come will not be like those of today. We have started this path with innovative programs such as Exploria, which is a learning program that generates a universe of teachers and disciples. It is about teaching by competencies to awaken motivation. Promote the subjects with a humanistic profile, in addition to the subjects that are part of the curriculum of each of the degrees and break the format of individualized subjects without connections to each other.
Tell us what is CEU Digital Tech
It is a Tech project to provide qualification in digital skills to anyone who wants to obtain them, to all types of audiences: Artificial Intelligence, Data Science, Cloud Computing … It is aimed at students, but also professionals.
Do you think that the new Organic Law of the University System (LOSU), or also called 'Castells Law', will bring improvements to the Spanish University?
I believe that it is not the law that universities need. There have been several rounds of allegations and we have argued individually and as CRUE (Conference of Rectors of Spanish Universities) and at least what we have achieved is to reach an agreement among ourselves. It could have gone further, but this law does not place us, in terms of competitiveness, compared to other international university systems.
What can the Spanish university do to increase the employability of university students?
In recent years, all universities have strengthened their career services. At the CEU we have done so. Because it is important to contact the company, to offer the student an internship program. We have agreements with more than 9,000 companies and we have 5,000 annual offers of national and international internships. There is a wide job pool of different companies. And we will continue to deepen in employment forums, in recruitment processes and in the relationship with companies seeking young employment. It can improve counseling for students, give them training and facilitate access to that first job. Make a digital curriculum, simulate job interviews, analyze the student's profile, improve the support network for the professional mentoring of students … And also, training in transversal skills such as communication, teamwork, leadership, self-knowledge, the humanities, critical feelings… all are values ​​that enrich the profile.

www.informacion.es
Eddie is an Australian news reporter with over 9 years in the industry and has published on Forbes and tech crunch.