He gets out of the back seat of a gray car. They open the door for him. In the three flights of stairs to the entrance of the Provincial Court of Madrid, the former mayor of Madrid Ana Botella is escorted by two court security employees. The ex-mayor looks askance at the group of people waiting for her at the end of the walk. Shortly before, some of them had hugged when they arrived. But now, everyone is silent, only a discreet hiss is heard, but, above all, they are staring at her. Especially a woman dressed in black with long dark hair who, at least, expects a "pardon". Arantxa Mejías never thought that she would get to live this moment: see sitting in front of a court one of the most responsible for the sale of her house to a vulture fund. A decision made in the offices that marked his life and that of hundreds of other families.
From the beginning of the month, Alfonso Benavides, and the former CEO of the Municipal Housing and Land Company (EMVS), Fermín Oslé, sit on the bench as defendants. They are being tried for the alleged irregular transaction for the sale of 1,860 public housing units in 2013. The previous year, public administrations, including the Madrid City Council, began to get rid of public housing. One of the objectives was to gain liquidity in a time of crisis. This is how the great landing of investment funds as large apartment owners in Spain took place. And the nightmare for thousands of tenants who lost the option to purchase their homes and saw rents double.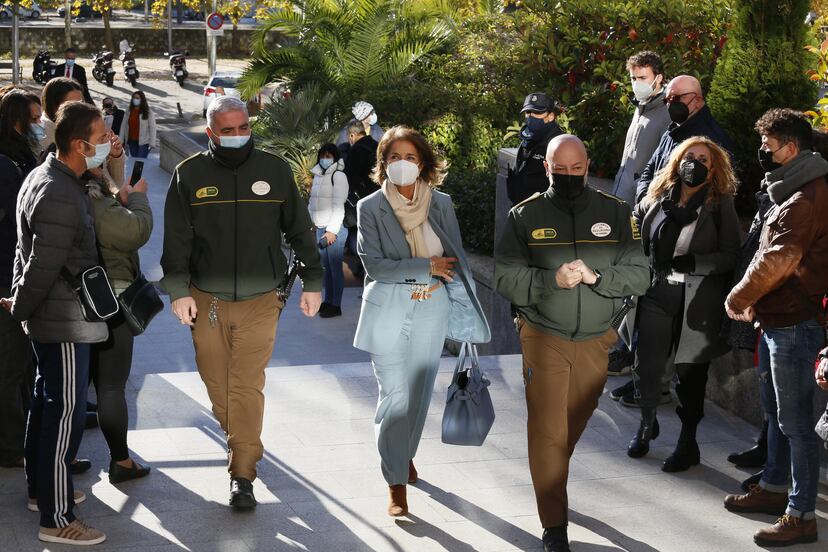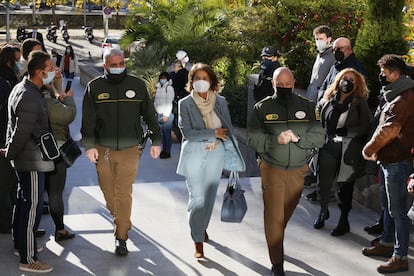 Bottle declared this Wednesday as a witness to this operation, being the mayor and head of the EMVS when the decision was made to start selling protected flats en masse. He did so reluctantly, almost always looking straight ahead and sometimes turning his head slowly to his right, where Mariano Benítez de Lugo, the tenant's lawyer, sits. In court, he defended the "legality" of the operation and that the "social purpose" in the sale was protected at all times. Neither at the exit, nor at the entrance of the Court, did he exchange any word with the neighbors.
A few days before Bottle's declaration, in a bar in the Plaza de Neptuno, which curiously is the venue for Atlético de Madrid, a team of sufferers, Mejías recalls everything he has experienced since the day he was awarded your family one of these protected flats. "My family lived in a lodge in the Pintor Rosales area, where my mother worked. When they gave us the house, 17 years ago, it was as if we had won the lottery. We finally had a decent home! "He recalls. "We are a working class family, not a poor one," he stressed several times. She is a secretary in a medical center. Her parents, her sister and she moved to their new apartment in Carabanchel. Your lottery. Until one day in 2014, a few days before Christmas, when a neighbor knocked on their door and told them: "I have just received an eviction order."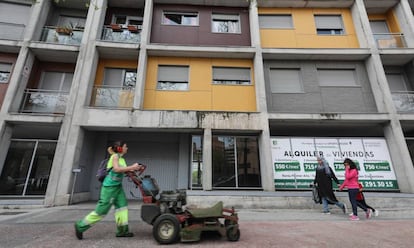 The EMVS had just sold its apartments to an investment fund, without communicating anything to the tenants. Overnight his landlord became Fidere, a Blackstone affiliate. Arantxa was 24 years old. He had never heard of vulture funds in his life. And of the evictions she knew what she saw on TV, it was something alien to her. Until they received the first receipt in which the owner was Fidere with a considerable increase in the price to pay, which at that time was around 500 euros. "I know what it is to pay the rent and then ask your relatives to eat. We have never failed to meet our obligations, "he says. Today, they pay a figure close to 900 euros.
But before becoming almost an expert in vulture funds, the first thing Arantxa did was go to a stationery store to buy a taco of post-its. He filled in all of them with a message in which he summoned his neighbors to a meeting to understand what was happening. He began to see his neighborhood full of Fidere posters where there used to be an EMVS farm. "They themselves helped me to detect with those posters how many could be affected by this situation," he says. At the same time, he asked for meetings left and right in the City Council, with the Platform of Lawyers for the Mortgage, with any politician who agreed to receive it, with lawyers … All the law firms told him that they did not handle those cases or asked for figures " astronomical "just to start studying the case.
A Ferrari with 206 maintenance
Until one day, the then socialist spokesman for the Madrid City Council, Jaime Lissavetzky, appeared on his farm. "There I said, 'Yes? Well, if they come to take the photo, they should also give us resources ". And Pepe Nani came into their lives, the affectionate nickname with which they call the lawyer Mariano Benítez de Lugo. A lawyer with 60 years of profession behind him, and one of the architects of sitting former president Mariano Rajoy before the judge for the Gürtel case. "We met our guardian angel. We have a lawyer who is a Ferrari with the maintenance of a 206 ″, indicates Mejías. At first he was hired by the PSOE, but his client has ended up being the association of affected neighbors. "I went to his office and told him: 'Pay little we can pay you, but if you need hands we are at your disposal." The association pays Benítez de Lugo a symbolic amount.
"In the first meetings we were not an association, but they told us that in order to appear we had to form it. With another pack of post-it we brought together more than 100 people ", says the president of the neighborhood group. Mejías lists the people who were part of that first meeting; Bea, hairdresser; Pilar, cook; Jorge, mechanic; Silvia, commercial; Jimena, trade unionist and Concha, psychologist.
In this time, there have been moments of joy and disappointment. The case has been carried out in two ways: the judicial and the Court of Accounts. In 2018, the latter sentenced Ana Botella and six of its councilors to pay 22.7 million euros for selling the houses in an "illegal" way. The court found that the 18 developments, among which was Carabanchel, sold for 128 million, were priced at a price below the market that was then at 159 million. Seven months later, that sentence was overturned by two votes to one. The two councilors who made up the majority were Margarita Mariscal de Gante – former Minister of Justice in the Government of José María Aznar, husband of Ana Botella – and José Manuel Suárez Robledano. Both were appointed councilors of the Court of Accounts at the proposal of the PP. Mayor José Luis Martínez-Almeida resigned to appeal the decision.
The judicial journey was the opposite. At first, the instructor shelved the case. "That day I went to Mariano's office to give him a hug and tell him that, at least, we had tried," says Arantxa. But in 2019, the Court ordered to reopen it and set a date for the trial. "In my life I thought I was going to get Ana Botella to do at least the walk-through", she is still surprised today. Still, he has little hope that a definitive solution will emerge from this trial. "I have given my youth to this and I do not regret it, but it annoys me that there is still a circus of this and that they tell us to put aside the emotional part. If we had been able to reach an agreement, we would save many days of trial, "he says.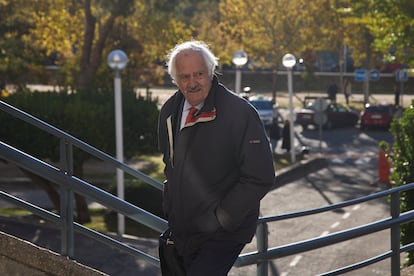 The day she had to testify as a witness, Arantxa was very nervous. But sure of what she wanted to tell. The story of an acquaintance who hanged herself overcome by the possibility of seeing herself on the street, that of a neighbor who has had to return to live with her parents at the age of 40, a 60-year-old man with full capabilities who is On account of going to a residence to have a roof and food, another friend who, while "cleaning the ass" of her husband, victim of a stroke, lives in fear of being thrown out of the house. There was a story that was saved in front of the judge, but that has a glimmer of optimism: that of two single neighbors who fell in love thanks to the fact that they met in the association.
Arantxa has not even considered becoming independent, despite having a decent salary, she cannot afford it. Nor has she stopped to think about such important issues as whether she wants to be a mother. She is busy with another matter: "I have given away the most beautiful years of my life, I have given up a lot for this. There are days when I regret having taken that taco of post-it, but others in which I say to myself: 'I will never be left wondering if I could have done more, because they are not taking this house from me, they are taking it away from all the Madrilenians who are the ones who have paid for it with your money".
Subscribe here to our daily newsletter about Madrid.

elpais.com
Eddie is an Australian news reporter with over 9 years in the industry and has published on Forbes and tech crunch.