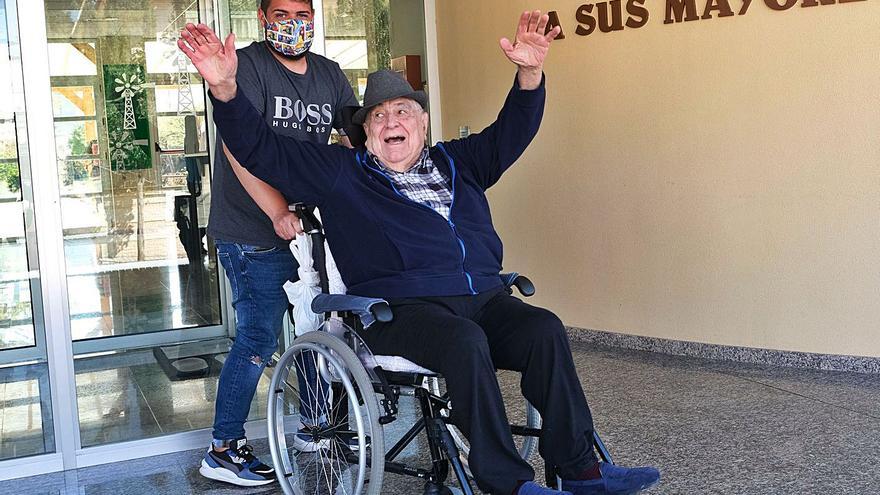 Separation from loved ones, isolation, loneliness and fear of being sick or dying due to the coronavirus have emotionally and psychologically undermined older people since the state of alarm was decreed in March last year. It is the great sequel left by the pandemic. Because to the incontestable, brutal health and human life bill that SARS-Cov 2 has caused among people who have already entered the elderly, there is also a mental health bill that, in many of them, it will also leave irreparable damage.
In the province of Alicante reside around 270,000 people aged 70 and over, a population that makes up those known as the Silent Generation —or the Children of War— and the Great Generation, in the case of those in the oldest age range. The first, which includes those who are now between 70 and 85 years old, is made up of some 220,000 people from Alicante born during the Spanish Civil War, World War II or in the early post-war years and who, therefore, grew up with hardships derived from both contests. They had no choice but to grow up with absences, with the memory of loved ones who died or went into exile and with a lot of austerity, a golden rule that marked their lives and that almost everyone has maintained as adults along with the culture of work and education. effort. The second includes another 50,000 older than 85 years, whose first years of life were completely convulsed: they were born and raised in the transition from the constitutional reign of Alfonso XIII to the dictatorship of Primo de Rivera and the proclamation of the Second Republic, They fought in the Civil War and formed and raised their families with the hardships of the postwar period and the Franco dictatorship. Almost nothing.
Thousands of skewed lives
Although these are the two generations in which the covid-19 has least impacted economically – they maintain the same income as before the crisis because their pensions have not changed, although many have had to help their children – the pandemic it has hit them head-on socially and emotionally more than any other age group.
Also at the health level. You just have to look at the data. In the whole of the Valencian Community, the number of people over 70 years old who have been infected with this new coronavirus in what we have been pandemic exceeds the 51,218 cases, which barely represents 13% of the total positives registered by the Ministry of Health: about 386,000 people. Nevertheless, They are the ones who have suffered the worst from the virus those who have required more hospitalizations and those who have died the most from the side effects of the disease, in most cases from severe pneumonia. Specifically, covid-19 has claimed the lives of more than 6,079 Valencians over 70 years old, almost 85% of the total victims in the autonomous region, which is close to 7,200 deaths.
If there is a place where the virus has raged, it has been in nursing homes, many of which have been scenes of terrible episodes for the elderly who resided there and for their families. José Luis García is the spokesperson for the Association of Relatives of the Affected People of Oliver's nursing home in Alcoy, where the coronavirus infected about 134 residents and killed 74 of them during the first wave. More than a half. "The residence became a prison and hell for the people who lived there", says the president of this group: "The elderly had to see how their roommates were dying; spend hours, days, weeks without leaving the room; without being changed or showered; without anyone coming to move them, to help them get up ", something for which, he says, many survivors of the virus have also had to pay. Among them, his aunt, an elderly woman with very advanced Alzheimer's who, after defeating a virus that persistently remained in her weakened body, had her leg amputated last July due to the ulcerations that she suffered from being bedridden for so long in the same position, says García, whose association is now preparing a lawsuit to investigate what happened so that the virus could spread freely among the users of the center and if there was any kind of negligence in the management of the situation by the company that manages it.
Eternal self-confinement
Nor have people who still reside in their own homes or with their children or other relatives been oblivious to the impact of the virus. Those who are healthier and more active had to stop traveling; to go to meetings of clubs, associations or other entities formed mainly by people of the same age; to attend courses, … Those who barely left home before due to illness or an older age, their activities were further reduced and their interrelation with other people. And loneliness, isolation and a sedentary lifestyle during and after confinement have had a huge impact on their physical or cognitive decline.
Lola López and her husband Antonio left their home in Alicante to confine themselves in the countryside when the state of alarm was decreed. As it happened to almost all of us, they thought it would be for a short time, but they have been that way for more than a year. At 72 and 75 years old, their social relationships have been reduced to a minimum and they only see some afternoons to play a game of cards with another couple of the same age, also practically confined of their own free will and with those who form their little bubble group. The virulence of the third wave prevented them from spending the most important dates of Christmas with their three children and six grandchildren and from being able to see them until just two weeks ago, when the health situation stabilized. "Now some days come and we see them in the garden, outdoors and with a mask, because we are both at risk and we have a lot of respect not to get sick," they explain.
Like them, many other elderly people have had to endure for months without seeing their loved ones and, when they have been able to meet again, they have done so without physical contact between them. No kisses or hugs. "There has been a severe breakdown in the relationships of many families, out of fear or due to their own restrictions, which have led many people in their eighties to live totally alone for many months," explains a Primary Care doctor from the Public Health that prefers not to give its name. The doctor, who is also a doctor in a private residence in the Marina Baixa, points out, however, that after a dramatic year "the light is beginning to be seen at the end of the tunnel." And it is that vaccination in residences and among people aged 80 and over who have already received the first or two doses «has greatly reduced the incidence and severity of this disease in older people. We are checking it day by day and it is something that fills us with hope ", he adds. Let it not stop.

www.informacion.es
Eddie is an Australian news reporter with over 9 years in the industry and has published on Forbes and tech crunch.