The question sounds from some time ago: Should we rethink short flights, those with a shorter range and that could be covered with other less polluting options, such as the train? In 2021, the French Parliament approved eliminating national routes by plane that can be covered in less than two and a half hours on board a railway and in Spain its limitation has also been put on the table, opening a debate that is still going on to the anguish of the sector.
In recent weeks the discussion has gained strength with another derivative: the impact of the jets, designed to transport much less passengers and with an impact on the medium that, although it is not excessive -if the perspective per passenger is ignored-, yes seems difficult to combine with efforts in other areas to decarbonise mobility. In France they are already considering limiting them.
The answer to the dilemma, to maintain flights on routes of less than 500 kilometers without paying the cost in polluting emissions, could simply go through rethink aviation itselfa new model that has just reached a milestone in the skies of the state of Washington.
"A Historic Flight"
Manufacturer Eviation has just successfully completed the first flight of Alice, an all-electric, fixed-wing aircraft, there. The demo was brief, but it has enabled the firm to accomplish two important goals: demonstrate progress on its project and collect data to refine the model.
Alice – the company specifies in a statement – ​​took off from Grant County International Airport, in the state of Washington, at 7:10 in the morning and flew for eight minutes at an altitude of just over a kilometer. The experience was brief, but it fit the script and encourages the company to talk about the "success" of the maneuver and even of a "historic flight".
"We have successfully electrified the skies with Alice's unforgettable first flight," celebrates company president Gregory Davis. People are already seeing the look and sound of affordable, clean and sustainable aviation for the first time with an all-electric fixed-wing aircraft."
Beyond the enthusiasm of the company, the interesting things about Alice are her CARACTERISTICS. The aircraft incorporates two magniX magni650 electric propulsion units and has a maximum load capacity of about 1,100 kilos in the version adapted to transport passengers, which, the company calculates, would allow it to transport up to nine passengers, in addition to two crew members.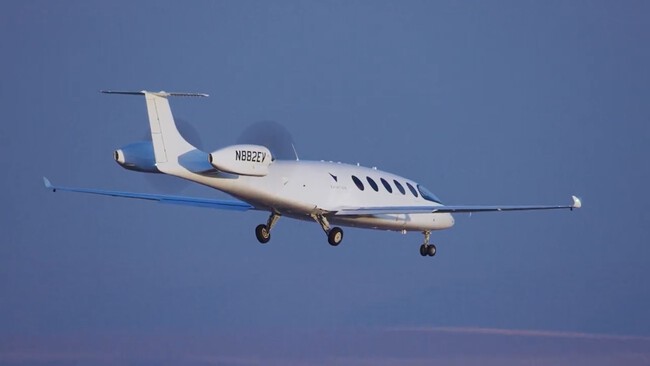 In the version for goods, the weight would be somewhat higher and would be around 2,600 kilos. The company ensures that its models allow passengers or cargo to be transported with "zero emissions".
In terms of distances, it aspires precisely to short routes, of less than 500 kilometers. "Eviation Alice is aimed at the passenger and cargo markets and will normally operate flights ranging from 150 to 250 miles," says the company, marking a range that would place the bulk of operations in a radius of approximately between 240 and 400 kilometers.
"All-electric aircraft will make regional travel more economically and environmentally sustainable for businesses and consumers." Furthermore, the firm abounds, Alice allows you to fly without carbon emissions, with an operating cost that is reduced to "a fraction" of what private jet flights or high-end turboprops cost and -what is just as important — also reducing "significantly" the noise of operations.
"This new generation of aircraft has the power to transform communities by providing access to airports that are currently not used by commercial flights due to noise or hours of operation restricted", emphasizes Eviation Aicraft among the advantages of Alice.
Today, our all-electric Alice aircraft electrified the skies and embarked on an unforgettable world's first flight. See Alice make history in the video clip below. We're honored to celebrate this groundbreaking leap towards a more #sustainable future.#electricaviation pic.twitter.com/Q9dFoTPyiB

— Eviation Aircraft (@EviationAero) September 27, 2022
The company is not the only one that aspires to give a decisive boost to electric aviation. Apart from ships such as Kitty Hawk or AutoFlight and the eVTOL designed to operate as taxis or cargo transport, there are other firms that are also betting on longer-range trips.
In 2021 Wright Electric presented the concept of a hundred-seat model that aims to eliminate polluting emissions on journeys of up to 1,300 km and just a few months ago Beta Technologies took another key step by completing a journey of 2,300 kilometers, between New York and Arkansas, with his electric aircraft Alia. The trip, yes, was carried out over eight days – the total flight time was approximately twelve hours – and the support of a network of charging stations.
Eviation still has a long way to go, but for now its commercial expectations are not bad. The company says that Cape Air and Global Crossing Airlines, regional airlines based in the US, have already ordered 75 and 50 units of Alice, respectively. DHL Express would also be interested in your model for goods and would have ordered a dozen eCargos.
Images | Aviation Aircraft
George is Digismak's reported cum editor with 13 years of experience in Journalism