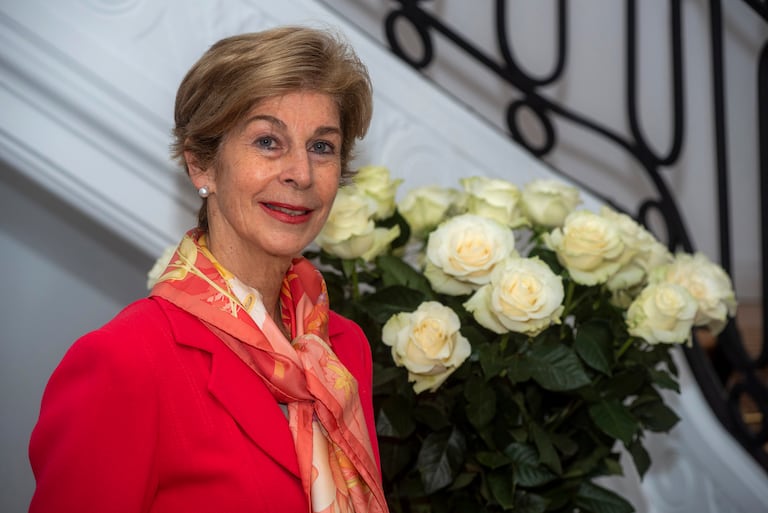 Ambassador Carolina Barco (Boston, 69 years old) landed in Madrid with a clear mandate from its president. Relations between Colombia and Spain had to be relaunched in the short and medium term. His mission consisted of closing the visit of the Kings to his country and that the maximum president returned it months later. To do this, he had eight years of experience at the head of the legation in Washington, then named by Álvaro Uribe. However, the coronavirus pandemic disrupted all plans and the embassy had to be converted to help all compatriots. Today is the last day that you will be in charge of your destiny. He leaves diplomatic work to return with his family to Washington. He recognizes that he is leaving a country in which he was already 40 years ago with grief.
Carolina Barco is the daughter of President Virgilio Barco (1986-1990) and was Minister of Foreign Affairs of her country between 2002 and 2006, in addition to holding numerous positions in a very long professional career. Trained at Harvard University, she completed her studies in Madrid four decades ago with a master's degree in Business Administration from the Instituto de Empresa Business School. Hence, I still have friends from this time. Before the pandemic, he was able to visit some of the seven consulates that Colombia has in Spain. She was just going to present her credentials in Andorra – of which she has also been an ambassador – when the state of alarm was decreed. He caught him in Zaragoza. "I was only able to speak to his mayor [Jorge Azcón] and return quickly. They did the PCR to all of us who were in the embassy and we began to confine ourselves. When you are a foreigner and you live alone without a support network, it is very important to create a community with your loved ones and be in contact ", Barco acknowledges.
From the first day of the state of alarm, his entire team worked to ensure that the thousands of Colombians who stayed outside the country while studying or doing tourism could return as soon as possible. It was a real bobbin lace. The Madrid embassy coordinated the return of 4,906 people from 37 countries as distant as Ghana, South Africa, Ethiopia, Turkey and India. Everything had to be done to the second, because those who arrived at the Barajas airport could not enter Spanish soil. To do this, they spoke with those responsible for the Ministry of the Interior to expedite the permits as extraordinary cases and not be detained while in transit. In only one case, and due to a changing of the guard in the international zone, was a Colombian arrested without a visa.
There were very extraordinary cases, such as a man with a disability from the city of Cartagena who was on a cruise ship from Brazil. The Portuguese authorities allowed the ship to dock on their shores, but the entire operation had to be set up for that traveler to arrive in Madrid before the flight took off at nine in the morning. "I was in contact at dawn with the police on the border between Spain and Portugal and even controlled the changing of the guard so that there was no problem," Barco acknowledges with some emotion. The ambassador also mobilized before the abuse of some airlines that began to raise prices with the arrival of the state of alarm. He called them directly and asked them to support them since otherwise many people would not be able to return to Colombia. His mediation was of such caliber that he even got 85 free tickets.
But the Colombian colony in the region also had a very bad time. Some women were victims of sexist violence, so his entire team went to work to prevent them from being attacked and even killed by their partners. The ambassador picked up the phone and spoke directly with businessman Kike Sarasola. He accommodated nine women at his hotel in the capital, the same one where the regional president Isabel Díaz Ayuso stayed. Others were assisted by specialized NGOs to leave their homes. It was enough for them to go to a pharmacy and report what was happening to them. Afterwards, they were taken in shelters or sheltered houses. "Sarasola has been very good and we are very grateful to him. In Barcelona, ​​he welcomed a cycling team that had come to train in Spain at his hotel. So that they would not lose their physical shape, he brought them stationary bikes from other hotels ", adds the diplomat.
The famine also affected the nearly 90,000 Colombians living in Madrid. The ambassador and her consul Gloria María Borrero – former Minister of Justice in Colombia – waived their representation expenses and used it to buy food for the most needy. They knocked on many doors and got help so that 1,100 families could buy food. Another 1,628 were referred to the Red Cross and the Altius Foundation. There were many dramatic cases, according to Barco, since the Colombian colony works in the service sector. And this closed during the pandemic, so there was no income. "One of the most dramatic cases was that of 16 people who lived in a small house and had nothing to eat. They were almost crowded, "he adds. From Colombia, there were also urgent capital transfers to solve the famine.
A very new aspect that it launched was the psychological help to people who were ill, thanks to an agreement with the Official College of Psychologists of Madrid. "There were people who had a very bad time and who even threatened to commit suicide. You had to move and help them ", adds Barco. But there was also another way of accompaniment. Through the program Colombia unites nos, they set up a platform on Facebook in which all kinds of courses were given, from cooking to Zumba through flower arrangements, as well as specific programs for the little ones. Besides, older people were called at least once a week.
Daily reports sent to your country
All the humanitarian work carried out by Carolina Barco and her team was complemented with daily reports to her country. The Colombian government was the first to decree confinement in Latin America, which allowed it to reduce the effect of the pandemic and have a lower incidence, compared to other neighboring nations. The Executive of Bogotá asked to know in real time everything that was being done in the rest of the world, especially in Europe as it was the area that was most quickly affected by the coronavirus in the first wave. They had to send information as different as what each de-escalation phase entailed, how the Ifema field hospital was set up or what measures were applied to minors. "All the information that we sent to Colombia served a lot, because measures were taken based on the data that we were providing from each country," says Barco. "The pandemic is not the same for everyone. It is harder for the most vulnerable and with fewer resources ", he concludes.
Information about the coronavirus
– Here you can follow the last hour on the evolution of the pandemic
– This is how the coronavirus curve evolves in the world
– Download the tracking application for Spain
– Guide to action against the disease

elpais.com
Digsmak is a news publisher with over 12 years of reporting experiance; and have published in many industry leading publications and news sites.