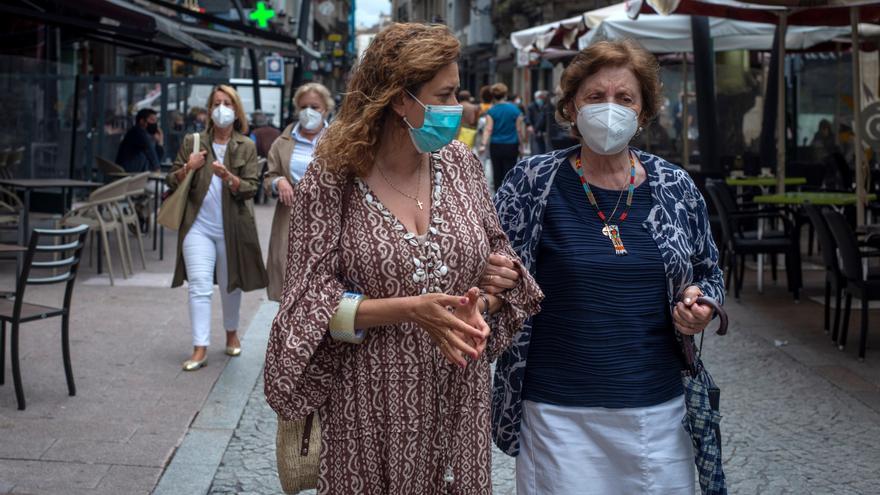 The end of the masks in open spaces, announced by the Chief Executive, Pedro Sanchez, for next Saturday, the 26th, has created a confrontation between the government, the opposition and some regions, who call this measure a "political decision rather than a scientific one" and with "electoral purposes".
The leader of the Popular Party (PP), Pablo Casado, has been one of the most critical, considering that with this decision Sánchez tries "make electoral merit" or "cover up other scandals", Alluding to the pardons of the 'procés'.
In statements to the media during the inauguration of Isabel Diaz Ayuso As president of the Community of Madrid, Casado has questioned that Sánchez has waited to announce the end of the mandatory nature of the mask outdoors "when it is expected that they will agree to the granting of pardons (to leaders of the 'procés') against the Court Supreme and Constitutional ".
"The Government has not had any rigor and no transparency" with the pandemic, has emphasized the leader of the popular.
The president of Madrid, Isabel Díaz Ayuso, has gone further and, although she has been in favor of this measure, however, she doubts that it has been taken "thinking about the percentages, distances and vaccination" and believes that it has done "rather for demographic and headline effects, which is how this government manages absolutely everything."
He has also expressed his surprise that it was Sánchez himself who announced it: "For the good things he is in charge and for the bad news there is no president", has said.
The announcement of the end of use of the mask abroad as of June 26 has not convinced other communities governed by the PP, that they wanted to have been informed before, as the Andalusian president, Juan Manuel Moreno, has explained.
"It is not reasonable that after a year and a half of pandemic" and "alleged co-governance" a "clearly unilateral decision is taken without consulting the autonomous communities", declared Moreno, who has remarked that this announcement has been made," once again, using an institutional platform to engage in politics, "which constitutes" partisan use. "
He has also pointed out that "there are many experts who are saying that it is hasty" and although "we are all willing to take off the mask", he commented, "in Andalusia we are not going to force anyone to take it off".
The President of Castilla y León has also expressed himself in this line, Alfonso Fernández Mañueco: "We are all hoping that the mask disappears from our lives, but with prudence and under scientific criteria, not political."
In his opinion, Sánchez has abandoned the communities when they have had to make "hard and difficult" decisions, but he has reserved "easy and beautiful" decisions like this one as his own.
More concise has been the vice president of the Xunta, Alfonso Rueda, who has demanded a "de-escalation protocol" from the Government and has insisted that in Galicia this removal of the masks will be done "based on objective criteria and health data".
Sánchez, for his part, has not entered into debates and has taken advantage of his presence in an act of thanks to the educational community for expressing their satisfaction because "thanks to the health professionals, the educational community and the compatriots who have made it possible, we will be able to remove our masks abroad as of next Saturday."
The data keeps getting better
On Andalusia, the cumulative incidence (AI) has decreased in the last 24 hours by three points and stands at 176.2 cases per one hundred thousand inhabitants, something similar to that in Castilla-La Mancha, where the AI ​​is reduced by 9 points in the last week and stands at 78 cases per 100,000 inhabitants.
Hospitalized patients also decreased, the same as in Catalonia , where this Saturday there are 440 people hospitalized due to the COVID-19 virus, 48 ​​less than the day before, of which 152 remain in the ICU, one less than yesterday.
On Basque Country the number of serious patients due to covid also continues to decline and 47 patients remain in the ucis, a figure so low that it had not been registered since mid-October last year
Castile and Leon This Saturday has registered its third consecutive day without deaths related to Covid-19, and Extremadura also celebrates its second day in a row without deaths while the number of positives decreases slightly.
Asturias has returned, two weeks later, to alert level 1, Aragon has reported 88 new infections (two less than a day before) and no deaths; Cantabria has reported 47 (20 less than yesterday); the Valencian Community has reported 247 cases (22 less), and Navarra 58 with a 3.9% positivity rate.
For its part, Galicia has registered 94 covid-19 infections yesterday, Friday, seven more than the previous day, and La Rioja has also experienced a slight increase in its active cases, to 316, which is 6 more than last Friday.
Madrid and Catalonia ease restrictions
Although the latest data reflect an increase in cases (from 449 on Friday to 629 today), Madrid's community has published today in the BOCM new measures that further ease some of its restrictions, including the reactivation of the activity of discos and nightclubs.
Same as in Catalonia, where the Official Gazette of the Generalitat publishes this Saturday the resolution by which nightlife venues will be able to reopen as of Monday, the 21st, the last sector to resume activity after more than fifteen months closed.

www.informacion.es
Eddie is an Australian news reporter with over 9 years in the industry and has published on Forbes and tech crunch.