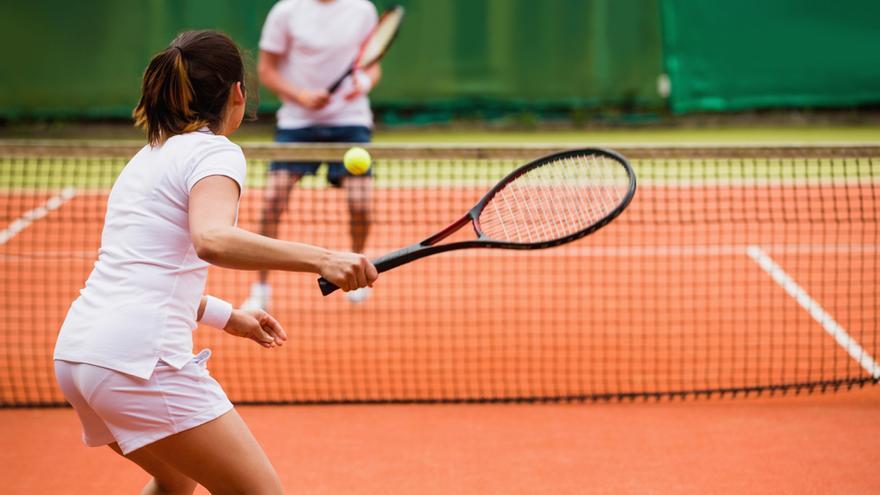 Reserving a tennis court is now as easy as entering the website of the club in question, filling in a couple of questionnaires and moving forward with a click of a button.
Well, actually, it is not that easy, because although the process is, in practice it is becoming a headache. The tennis boom in recent months throughout Spain it has been such that many clubs cannot cope with the demands of all those who want to use their facilities.
"We are already thinking of formulas for not die of success, because the difficulty in reserving tracks is leading many users to frustration. And in the long run, part of those people will end up leaving, "they explain from an important and traditional Spanish club.
That is perhaps the negative part of a phenomenon that, with greater or lesser intensity, is being experienced throughout the peninsula: the rise of tennis after the pandemic. Faced with the decline of many other sports, mainly team and indoor, tennis has grown in all measurable parameters: federative licenses, number of clubs and tracks, users, occupation of schools, sale of material for their practice …
Licensing
The data is clear. According to the records of the Royal Spanish Tennis Federation (RFET), the number of licenses had been decreasing annually and constantly since 2010. Then they were issued 110.050 throughout Spain, a figure that fell to the ground of 2020, set at 70.151. Perhaps the year does not seem representative due to the outbreak of the pandemic, but the data was almost identical to that of 2019: 71,091.
The reasons for this decline in the number of licenses have to do above all with the growth experienced by the paddle, a sport that has gained in popularity in recent years and that has emerged as an alternative, less technically and physically demanding, to tennis.
That transfer of users from tennis to paddle tennis seemed unstoppable. Well, at the close of the 2020-21 academic year, in the month of September, the number of RFET licenses skyrocketed to 80.318, experiencing a growth of 14,5% compared to the previous year and reaching levels unknown for Spanish tennis for five years.
The number of licenses has grown by 14.5% last year, reaching 2016 levels
"In the last decade there had been a decline, especially linked to competition and especially in women, perhaps because the 'Nadal effect', but now it has resurfaced again ", opines Chema Iñigo, sports director of the Chamartín Tennis Club in Madrid.
The clubs
The RFET club registry also offers signs of optimism. The 1,252 clubs in all of Spain in 2013 fell to 1,128 in 2020. In the last year there have been 16 new hires in the log and the number of tracks has been increased to 5,498, 68 more than the previous year and 150 more than in 2019. A trend that, according to the sources consulted for this report, has also made it possible to increase tennis-related jobs throughout Spain.
"The covid has had a lot to do with this phenomenon, of course. There were many team sports with closed facilities and tennis offered greater ease of practice," he says. Javier Soler, sports director of the RFET, who highlights the safe environment that tennis offers compared to other sports in the health circumstances of the last year: "It is a safe sport, in the open air, without contact between players … This has generated great confidence, especially in parents who wanted their children to play sports safely ".
"It is a safe sport, outdoors, without contact between players … It generates great confidence"
The different policies applied by the autonomous communities have also benefited tennis: in some, school sport was prohibited in closed spaces for months, in others it was only allowed with a mask …
"Before the pandemic we had about 220 students and now we have about 260, close to 20% more. And we have the school completely full, especially in adults, not even a pin fits. There is even a waiting list, which is something that has never happened to us, "he says. Juan Ramon Ruano, director of the tennis school of the Real Sociedad La Magdalena, in Santander.
Sport equipment
The increase in practitioners is also reflected in a significant increase in sales of sports equipment related to tennis: balls, rackets, sneakers, textile… "If we focus on material focused on beginners, the sales figure doubles that of 2019 in all sections. In the case of balls, the growth is higher than the sales of 2019 ", explain sources from the distributor Decathlon, where they have observed that the demand for advanced material has remained stable, with the demand for beginners and intermediate levels growing dramatically.
"The number of sales of material for beginners is double that of 2019"
"We have a small private store in the club, only for our members. I am in charge of placing the orders, with one a year is more than enough. Well, this year I have already had to do two, especially for the increased demand in beginner and medium ranges. We have already doubled the number of rackets sold in other years, "he explains. Ruano, from the Cantabrian club.
On Sport Forum, a distributor with a lot of presence in the north of Spain, on the other hand, they have not noticed such an intense 'boom' and they appeal to a "Small growth", especially in comparison with paddle tennis, which has been going up for years and which has done so with even greater intensity during these months.
All this leads back to the starting point, to the difficulty that there are in many clubs to be able to book a track. "We open the reservations for one day at nine in the morning the day before. At peak times, from five in the afternoon and on weekends in the morning, they fill up in minutes," says Iñigo.
15 minutes
"In our case, we enable it at eight o'clock in the afternoon. As long as you try it at eight fifteen, surely they will all be exhausted," Ruano agrees.
"We have experienced explosive growth, multiplying the number of competitors in our internal tournaments. We have everything full most of the year," they add from Madrid Somontes Club, affecting a phenomenon that is repeated in more clubs: many practitioners who sign up for internal tournaments have grown.
The challenge now for clubs, schools and federations is to ensure that those who have approached tennis attracted by health circumstances remain when normality finally returns to our lives.
"I am sure that a very large percentage of those who have come to tennis will stay, especially the children. I cannot imagine a rout of 10,000 licenses when normality returns ", predicts the sports director of the RFET.

www.informacion.es
Eddie is an Australian news reporter with over 9 years in the industry and has published on Forbes and tech crunch.