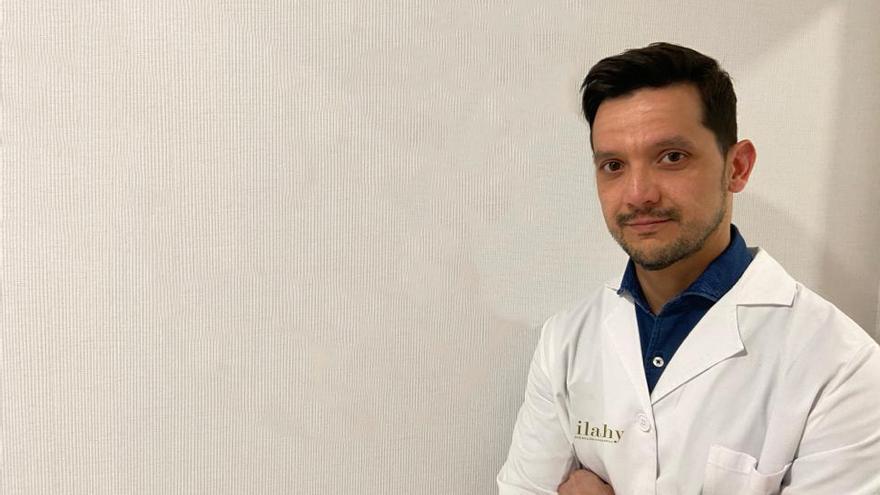 Obesity is one of the most prevalent diseases today. According to Spanish Society of Obesity (SEEDO), half of the population is overweight, of which 25% are obese. The problem of confinement, in addition, has added an increase in weight at a general level caused by lack of movement, excess free time and uncertainty about our nearest future. The shopping and eating habits that we were used to.
This, added to the situations of stress e inactivity, has become, in addition to a problem aesthetic, in a systemic problem that leads us to a constant concern for slim down. The ilahy Nutrition and Obesity Unit is at the forefront of the latest news for fight obesity championing his fight in the Valencian Community.
Now, with the incorporation of the new treatment of Gastric Endomanga, which manages to reduce up to 60% the stomach without surgery, ilahy once again becomes a pioneer in the performance of successful treatments to face it. Ilahy's digestive system specialist, Dr. Carlos Alberto Urdaneta, solves some of the most frequently asked questions about this treatment.
– What is Endomanga? What does it consist of?
Is a treatment endoscopic, recently developed, for weight control and obesity treatment, which has the characteristic of being carried out orally – by mouth – without making incisions in the skin or leaving scars and with a very fast recovery. It is a procedure that is carried out through a endoscopy digestive and which consists of narrowing and shortening the stomach using an endoscopic suture system that simulates the changes typical of a vertical gastroplasty or Gastric Sleeve.
– Advantages of the Endomanga.
The main advantage of Endomanga is that you get reduce stomach volume by 30 to 40% with a system of sutures that lasts in time from 15 to 18 sutures-, favoring greater satiety with more controlled meals and therefore, not only an initial weight loss is achieved but it can be maintained with the controls nutritional suitable.
– An advantage is that the risks and discomfort that can be seen in a vertical gastroplasty (surgical intervention) are avoided and the results exceed those achieved by endoscopic techniques such as the intragastric balloon.
The weight loss that can be maintained over time reduces the risk of suffer hypertension, diabetes, dyslipidemia and the pathologies that can be derived from these states.
– What type of patients is Endomanga aimed at?
This technique is aimed at patients with Obesity kind I Y II with a body mass index (BMI) between 30 and 40. Some patients with a BMI of over 40 could be candidates but studying each case individually.
– How much can the patient lose?
Like any bariatric endoscopy procedure, the Endomanga must go hand in hand with a adequate nutritional control and guidance and a psychological evaluation to guarantee good results. Weight loss can reach 15 to 30 kilograms in the first 9 months, but towards the end of follow-up it can reach up to 40 kilos.
– Can you regain the weight afterwards?
The success of the technique does not depend only on the procedure, as has been said previously, since adequate adherence to the tracing nutritional and psychological orientation are essential to achieve the objective, especially to achieve the re-education nutritional that allows the patient to know their body and adjust their diet to their needs.
– What type of follow-up does the treatment take?
After the procedure, the patient remains in 12-24 hour observation and later you will go home with the guidelines from feeding and treatment of the controls marked by a multidisciplinary team. This team includes the endoscopist, as well as nutritionists, psychology and aesthetics. The control usually lasts until 18 months after the procedure.
– How is the recovery?
As it is an oral endoscopic procedure, recovery is usually between 24 or 48 hours, with some inconvenience ABS and in the pharynx within the first 24 hours. They can also be presented sickness Y vomiting which are controlled with the respective medication. A prior personalized assessment is recommended to meet the needs of each case. At ilahy, the first diagnostic consultation is always free and without obligation.
More information:
Ilahy Elche
• C / Max Planck 3. Elche Parque Empresarial
• Tel. 966 915 154
• 616 26 40 75
Ilahy Benidorm
• C / Ramón y Cajal, 7 Benidorm
• Tel. 966 87 87 78
• 616 85 17 95
Ilahy Valencia
• Avda. De la Illustration, 1 Burjassot
• Tel. 963 00 30 20
• 689 49 20 20
Ilahy Torrevieja
• Av. Rosa Mazón Valero, s / n. Ozone Shopping Center
• Tel. 966 81 74 07
• 638 26 29 85

www.informacion.es
Digsmak is a news publisher with over 12 years of reporting experiance; and have published in many industry leading publications and news sites.