Dalia Ventura
BBC World News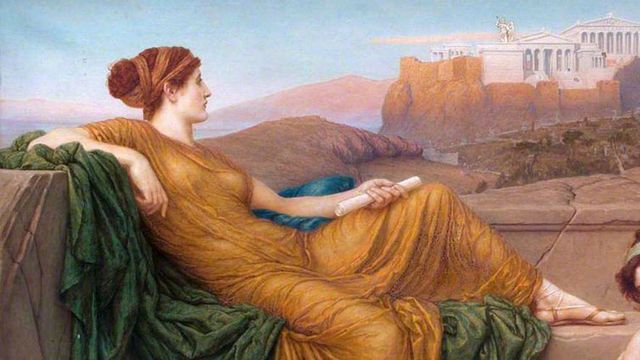 "…QWhat great art or power of enchantment this woman had, which allowed her to captivate as she did the greatest statesmen and gave philosophers the opportunity to speak so much about her in terms tan exalted"…
… Plutarco wondered in "Parallel Lives", the biographical collection he wrote at the end of the 1st century and the beginning of the 2nd, without much hope of finding the answer, since centuries had passed since the death of that woman.
Nor could the Greek historian anticipate that millennia later we would continue to ask even simpler questions about the same character, and that he would be the subject of debate among his modern counterparts.
Aspasia de Mileto is an enigmaDespite being the most celebrated woman of the golden age of Athens, little can be said about her with certainty that it is true.
We do not know exactly when he was born or when he died, how he came to be what he was, or what he was exactly.
And yet, when reading what has been written about her, it is difficult not to come to the conclusion that she was an unusual being, that even though she was beautiful, she was particularly distinguished by her intellect in the same environment as characters of the stature. of Socrates and Pericles.
A difficult question to solve
We know that he came from Miletus, the largest Greek city in Anatolia until before 500 BC, which was distinguished by its literary and scientific-philosophical figures such as Thales, one of the Seven Sages of Greece.
By the time Aspasia was born, around 470 BC, Miletus had joined the Athenian-dominated Delian League after clashes with the Persians.
Everything seems to indicate that Aspasia reached an unusual level of education for the women of the time and that, when he emigrated to Athens in the middle of the century, he installed a school for young people, which some say was an intellectual salon and others, a brothel.
Maybe it was both, if what he was doing was training other girls to dedicate themselves to what some scholars think she same was: a hetera.
Heteras were a class of independent professional courtesans from ancient Greece who, in addition to cultivating physical beauty, developed their minds and talents to a much greater degree than the average Attic woman would.
They trained "in the arts of dance, music, as well as rhetoric" and could "hold conversations with leading politicians and aristocrats about philosophy, politics, and current affairs," as Sarah Pomeroy, author of "Goddesses, prostitutes, wives and slaves ".
"They had access to the intellectual life of Athens and a popular courtesan who was not a slave had the freedom to be with whoever she liked."
And the one who liked him was none other than Pericles.
The Age of Pericles
When they fell in love, Pericles (495-429 BC) already dominated the politics of Athens, something he did for 30 years, when the cultural life of the city flourished, its democracy strengthened, its empire grew and the Acropolis was adorned with the Parthenon. .
Once again, we do not know if Aspasia was his wife, concubine or lover, what does seem true is that he "I loved her extremely".
That was stated by Plutarco who, although he sometimes retouched history because his intention was not to be exact but to exemplify the virtues and vices of the powerful, in this case he had no reason to do so.
"Twice daily", says the historian,"going in and out of the market square, greeted her with an affectionate kiss".
It may not sound very passionate, but that description of affection is unusual; that of Aspasia and Pericles is one of the few romantic loves recorded between a man and a woman in classical Athens.
From mouth to mouth
Her relationship with the great statesman would have been enough to make her notorious, but an indication that it was not just her beauty or love that made her so famous is that Aspasia was the target of attacks and jokes in comedy for her alleged influence on Pericles.
The comedians of classical Greece were critical of society and – then as always – being in their sights was a dubious honor granted only to relevant people.
In "The Acarnienses", the playwright Aristophanes, for example, blames Aspasia for the Peloponnesian War, an echo of earlier works that had blamed her for the role of Athens in the war between Samos and Miletus.
Although the accusations were not fair – nor were they intended to be in many cases – they evidence the perception that Pericles respected Aspasia's wisdom and political views.
Her reputation, for better and for worse, was such that it was said that it was she who taught the great statesman to speak and that from her pen sprang the great speeches that he delivered, including the famous funeral oration recorded in the history of Thucydides. of the Peloponnesian War (431-404 BC).
Impossible to prove it but if it had been so, it is tempting to imagine a smile on Aspasia's lips that day in Athens during the ceremony in honor of the fallen, when her lover declaimed the passage that said …
"…about the virtues of women, I will summarize it all in a brief advice: great will be their glory if they do not detract from their natural condition as women and if they can get their name on the lips of men as little as possible, whether in praise or criticism".
"I mean her"
Among those who attributed the authorship of the speech to Aspasia was none other than Plato, in what has been interpreted as a sign of the philosopher's rejection of the veneration of his contemporaries by Pericles.
In an ironic dialogue, he imagines a meeting between Menéxeno (who gives the work its name) and Socrates, in which the latter claims to be able to deliver a great funeral speech.
Socrates – …my teacher is a woman who is very expert in rhetoric, who has precisely formed many other excellent orators and one in particular, who stands out among those of Greece, Pericles, son of Xantippus.
Menéxeno – Who is she? You clearly mean Aspasia, right?
In the play, Socrates delivers a speech that he claims to have learned from Aspasia and although it is a parody it is likely that it contains more than a grain of truth, as various sources indicate that the founding father of Western philosophy admired the lady of Miletus .
Two strangers
But we are still in the field of conjecture because Socrates is also an enigma.
As with Aspasia, we have nothing written by him; everything is second-hand and most of it is vigorously disputed.
What we know of the philosopher is a set of interpretations, each of which represents a Socrates 'theoretically possible', as the historian of philosophy Cornelia de Vogel said.
However, according to various ancient authors, Socrates respected Aspasia's views.
Besides being the only woman to whom Plato granted a speech in all his work, Xenophon – one of Socrates' leading biographers – mentions her twice in his Socratic writings: Memorabilia Y Oeconomicus.
In both cases, the philosopher recommends following the advice of the milesia.
And both Aeschines of Spheto and Antisthenes, disciples of Socrates, wrote Socratic dialogues entitled "Aspasia", of which only fragments remain.
In a section of the dialogue of Aeschines preserved by Cicero in Latin, Aspasia is listed as the "Socrates woman", and is presented as a teacher and inspirer of excellence.
Love?
Interpreting these and other writings, it has been said that Socrates and Aspasia met when they were both in their 20s and had a long relationship. Some believe that at one time she was loving or that he at least loved her, but it is unlikely that the truth will ever be known.
As "there is no good evidence of her inner or intellectual life" due to the lack of primary sources that describe her – Madeleine M. Henry sentenced in her book "Prisoner of History" – nwe can only meet Aspasia.
But that doesn't mean that historians aren't going to stop trying.
One of the most recent hypotheses was that presented by Armand D'Angour, who argues in his book "Socrates in Love" that his research shows that Socrates obtained the inspiration for his original ideas about truth, love, justice, courage and the knowledge of Aspasia de Mileto.
"If the evidence for this thesis is accepted, the history of philosophy will take a momentous turn: a woman who has been almost erased from history must be recognized as the one that laid the foundations of our 2,500-year philosophical tradition", underlines the associate professor of Classics of the University of Oxford.
Meanwhile, Aspasia will remain "a key figure in the fifth-century intellectual history of Athens … (as well as) the most important woman of that era," as Henry admitted.
Remembera what you can receive notifications from BBC Mundo. Downloada our app and activate them so you don't miss our best content.

www.bbc.com
Eddie is an Australian news reporter with over 9 years in the industry and has published on Forbes and tech crunch.