Albert Camus discovered Buenos Aires in 1949, but unlike Antoine de Saint-Exupéry, who ended up in love with the Argentine capital, he saw a huge city with a "strange ugliness."
Much has been written about his novels – which include masterpieces such as Abroad Y The Plague-, his illness and his charms have also been talked about, but few know that one of the most prominent writers of the 20th century visited South America, and that the region left him with a bittersweet taste.
At that time, Latin America was still synonymous with exoticism in France, but that image was already changing thanks to the fact that more and more European intellectuals visited this corner of the world and published writings that were located in the region, as Saint-Exupéry had done with his novel Night flight.
The extraordinary journey that Camus made through South America was documented in the post-mortem autobiographical work Travel diaries, a story divided into two parts in which he also recounts his adventures in North America in 1946.
At just 35 years old, Camus was already considered one of the greatest representatives of French culture, his visit was part of a program to strengthen France's ties with Argentina, Brazil, Chile and Uruguay; an opportunity that the writer would take advantage of to visit a few friends he had in the South of the American continent, among whom was the Argentine writer Victoria Ocampo, who was also the translator of some of his works into Spanish.
His tour of South American lands lasted two months and began with a long 15-day sea voyage that took him from Marseille, in the south of France, to Rio de Janeiro.
Quite sick and suspecting the return of tuberculosis, the Franco-Algerian novelist visited other Brazilian cities such as Bahia, Porto Alegre, Recife, Sao Paulo, in addition to the three capitals of the so-called Southern Cone: Montevideo, Santiago de Chile and Buenos Aires.
It was in the latter where the journalist also suffered more disappointments and disagreements.
A big misunderstanding
Just before his arrival, the government of Juan Domingo Perón had banned his theater piece The misunderstanding for "atea", a work that was already enjoyed in various stages around the world, from Paris to Santiago de Chile.
"Peronism had no intellectual concerns, on the contrary, their populism led them to take into account more day-to-day needs. That is why they said 'espadrilles yes, books no', among other phrases, "says Inés de Cassagne, founding director of the Latin American Society for Camussian Studies.
"The Peronists had some prejudices with respect to authors like Camus, they did not understand the meaning of the work. They did not even read it, but they considered it subversive. It was all a great misunderstanding," the Argentine philosopher tells BBC Mundo.
At the request of the French embassy in Buenos Aires, Camus planned to give a conference in the city on behalf of the freedom of expression, but he canceled it after the Peronist government asked him to examine the speech. For him, freedom of expression it was priceless.
From that experience came his lack of love for Argentina and a couple of days after his arrival he would leave the capital earlier than planned.
A "rare ugliness"
But not everything was disappointment in Buenos Aires. There the writer strengthened his friendship with Victoria Ocampo, a close relationship that he would preserve until his last days.
They had met in New York about three years before and from then on they never stopped writing.
In fact, during his stay in the Argentine capital, Camus resided in the renowned Villa Ocampo, which had become a cultural and intellectual focus visited by great personalities.
Villa Ocampo was declared Argentine historical monument in 1997 and since Victoria's death in 1979 it has been administered by Unesco.
In his writings, Camus describes Buenos Aires as a city with "a lot of houses" and with a "strange ugliness".
His appreciation of the Argentine metropolis contrasts with that of the neighboring Montevideo, which captivated him.
His love for the Hispanic
"Light, uniform, Montevideo is surrounded by a chain of beaches and a maritime boulevard that seem beautiful to me," Camus wrote about the Uruguayan capital.
"Unlike Buenos Aires, Montevideo is a medium-sized city with beaches. Having been born in Algeria, near the Mediterranean, that is something that Camus appreciated," explains Inés de Cassagne.
"I think it was also a relief for him to arrive in Uruguay after Brazil, because of the language," he continues.
Camus was born in colonial Algeria in 1913 and although his parents were French settlers and French was always spoken at home, his mother's family, Catherine Hélène Sintès, had roots in Menorca. For that reason, the novelist always felt very close to the Hispanic culture and the language of his ancestors: Spanish.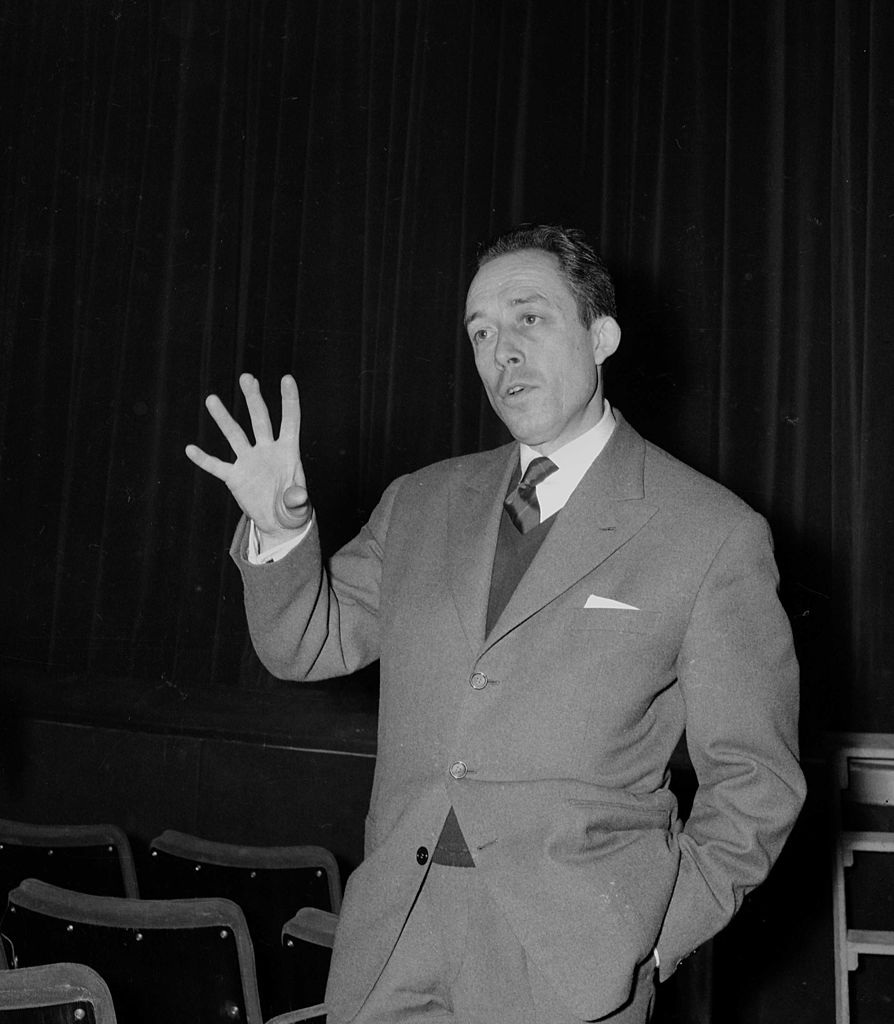 Getty
Light, uniform, Montevideo is surrounded by a chain of beaches and a maritime boulevard that seem beautiful to me ".
In fact, the first trip that Camus made outside his homeland was precisely to the Balearic Islands and in several writings he makes his love for Spain evident.
"By blood, Spain is my second homeland", the Franco-Algerian Nobel Prize winner said.
But in addition to their love for everything related to Spain, many French experts have spoken of what they have described as the "Latinities"of Camus: a deep interest in all the civilization of Latin origin, especially Italy and South America.
Chile, an "admirable" country
In Chile, the author of the Plague had a completely different reception than in neighboring Argentina. It was the last nation he visited on his tour of South America, but it is perhaps the one that received the most praise.
Camus described the southern country as "admirable" and in one of his letters he said that it is the only one that "has removed something"on him since the beginning of his journey.
"The Pacific and its great waves. Santiago squeezed between its waters and the Andes, with intense colors (marigolds are similar in color to minium, plum and almond blossom stand out against the white background of the snowy peaks", were some of the words that Camus had for Chile in Travel diaries.
"The Chilean landscape seemed wonderful to him. Santiago's location between the mountains and the sea impresses many and he was no exception", comments Argentine philosopher Inés de Cassagne.
"Also, compared to Buenos Aires, Santiago has a more moderate surface. Buenos Aires simply has an excess that does not go with Camus ".
In the Chilean capital, the writer gave lectures, met with intellectuals and stayed in the disappeared hotel Crillón.
Your first impression of South America
Camus arrived in Santiago one day before the protests began in the capital that would later be given the name "the bean revolution", after the government of Gabriel González Videla announced an increase in public transport prices.
Perhaps because of this or because of his deteriorating state of health, the Nobel Prize winner would write in his diaries that Chile is a country where he could live, but "in other circumstances."
In his journey through southern lands, the city in which Camus spent the most time was in the then capital of Brazil, Rio de Janeiro, which was also the one that gave him his first impression of South America.
"It is still night, but the coast is near: (I see) the black and rounded tops from the mountains, harmonious, very irregular, but the pieces on the peaks are round. They are the characteristics of one of the oldest lands in the world, "he says.
Jean Andreu, from the Pluridisciplinary Institute for Latin American Studies of the Jean Jaures University of Toulouse, states in his publication "A missed appointment"(A missed appointment) – which collects some of the impressions of Camus' stay in South America – that the intensity of the lights and the colors were two of the elements that most impacted the writer when he set foot in Brazil.
"In addition to the opulence of the vegetation (…) And also the urban spectacle of the huge modern buildings or the old colonial buildings ", he says.
"An immense and unfortunate luminous Christ"
And of course, Camus also dedicates a couple of lines to him in Travel diaries to one of the most recognized South American icons in the world.
"The Sugar Loaf with its four lights at its highest point (…) it seems to crush the city (with) an immense and unfortunate luminous Christ ".
The diary of Camus' journey through the Americas was first published in 1978, almost two decades after his death. The story consists of annotations without any modification or editing, so it contains repetitions and spelling negligence, as Andreu explains in his academic article.
One of his last big tours
Although both Recife with its "admirable colonial churches" and Bahia with its "snow-white" sand also received praise, the writer was less enthusiastic in describing two other Brazilian cities he visited.
São Paulo seemed "strange" to him and Porto Alegre simply "ugly".
"Despite its five rivers. These islets of civilization are often horrible," he said of the state capital of Rio Grande do Sul.
About Brazil, Camus also talks about the contrast between the favelas and the "luxurious palaces" located a few meters away.
Some experts attribute Camus's temper to tuberculosis during part of his journey.
Upon his return to France, the author was in a delicate state of health for months, for which reason he gave up tours of this magnitude abroad, making only a couple of exceptions in Europe.
But, in his writings he seems to have taken an unforgettable experience In the continent.
He took mixed feelings, but left a diary that, 71 years later, continues to serve as an inspiration for many cultural events, and whose anecdotes still cause intrigue and fascination around the world.
Remember that you can receive notifications from BBC News Mundo. Download the latest version of our app and activate them so you don't miss out on our best content.

www.bbc.com

Digsmak is a news publisher with over 12 years of reporting experiance; and have published in many industry leading publications and news sites.