Gerardo Lissardy
BBC News World, New York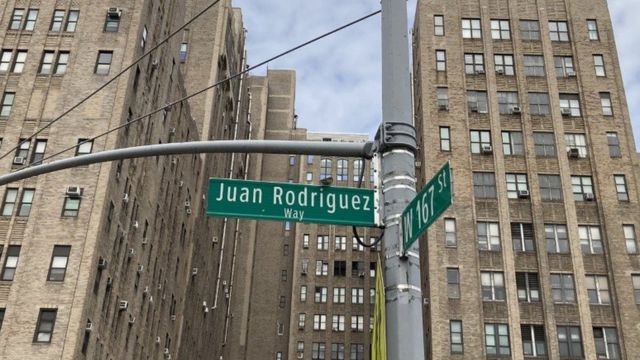 Delia Sosa, a 64-year-old Dominican immigrant, walks down a stretch of Broadway avenue in New York called 'Juan Rodriguez', but admits she does not know who that character was.
"By the last name, it seems Dominican", guess.
And when they tell him the fascinating story behind that name, Sosa opens his eyes bigger and bigger.
That street became the greatest recognition of the city for Rodríguez.
It crosses Washington Heights, an area of ​​upper Manhattan also called "Little Dominican Republic" due to the strong presence of immigrants from that country.
However, many New Yorkers are unaware that this man from Santo Domingo was the first non-indigenous inhabitant known in these lands, the first immigrant from a future city of immigrants.
"He is a kind of precursor of the multiculturalism of New York City," says Anthony Stevens-Acevedo, a historian who has investigated Rodríguez's journey, to BBC Mundo.
"A casuality"
About the life of Juan Rodríguez there seem to be more unknowns than certainties.
The most revealing data on its history come from documents found in the Netherlands. They point out that Rodríguez was a black or mulatto man who, in the spring of 1613, arrived in the area of ​​the Hudson River where New York City is today.
He arrived aboard a Dutch merchant ship from Santo Domingo, the place on the Caribbean island of Hispaniola that was then a colony of Spain and Rodríguez's birthplace, according to the recorded testimony of crew members.
The fact that his name appears written in documents such as Jan Rodrigues led to some speculation that he had Portuguese roots, but experts warn that evidence of this is lacking.
Everything indicates that the ship Jonge Tobias in which Rodríguez arrived on the Hudson River, presumably as a sailor, was exploring opportunities for the fur trade.
The truth, according to the documents of the time, is that when the captain of the ship announced that they would return to Holland, he did so with one less crew member: Rodríguez.
Some have wondered if it was abandoned by the Dutch, although crew testimonies indicate that Rodríguez got off the ship voluntarily after threatening to jump overboard if prevented, and received weapons and tools to survive until they returned a year. following.
This marks the historical importance of Rodríguez as the first non-autochthonous inhabitant of these lands.
The area where it settled then, discovered less than a century earlier by the Italian explorer Giovanni da Verrazzano for France, was inhabited by aborigines belonging mostly to the Lenape tribe. And it was uncolonized.
It is believed that Rodríguez managed to communicate and trade with indigenous people thanks to his familiarity with understanding different languages, acquired in his contacts with foreigners in Hispaniola.
However, Thijs Mossel, the captain of the ship where Rodríguez arrived there, was met with a surprise when he returned to the scene in 1614: Rodríguez was working for another Dutch expedition that had arrived shortly before.
A conflict broke out between the two vessels and, according to testimonies subsequently collected by the Dutch authorities, Rodríguez participated in the violent dispute, was injured and rescued by his new partners.
Although it is unknown what happened to Rodríguez from that moment on, Stevens-Acevedo explains that that conflict helped his story to be documented in the Netherlands.
"It was a bit of a coincidence what allowed us to know about Juan Rodríguez," says the researcher and co-author of a monograph on this character for the Institute of Dominican Studies of the City University of New York (CUNY).
"A black man, free"
Rodriguez's story seemed destined for oblivion until historian Simon Hart mentioned him in 1959 in a book on early Dutch voyages to the Hudson, which included quotes from the original notarial documents.
That allowed other researchers in subsequent decades to begin to see Rodríguez as an early example of an African-American presence in what is now the Big Apple.
In fact, it resided there before the Dutch founded New Amsterdam in 1624 and the English renamed it New York after conquering it in 1664.
Stevens-Acevedo describes Rodríguez as "a typical proto-Dominican of the time: a free black man, very used to taking his own initiative and a fierce defender of his freedom."
He has also been defined as the first Latino or the first entrepreneur in this part of the world.
There may be multiple explanations for the fact that his history is unknown in much of New York until today, beyond some academic or cultural circles, even after then-Mayor Michael Bloomberg approved in 2012 to name part of Broadway in his honor.
"People are focused on other things today: the covid, the future of the new generations, health and education," says Paulina Monte, a 65-year-old Dominican immigrant who also does not know who Rodríguez was.
James Nevius, an urban historian who has authored several books on New York, argues that there is a tendency to "whitewash" history.
"(Rodríguez) represents both diversity, the promise of New York City, and a constant struggle with people trying to take advantage," says Nevius. "In New York you can get to a certain level, but if there is someone above you and they think you are too smart for anything, they will push you away."
Remember that you can receive notifications from BBC News Mundo. Download the new version of our app and activate them so you don't miss out on our best content.

www.bbc.com
Eddie is an Australian news reporter with over 9 years in the industry and has published on Forbes and tech crunch.