Pierina Pighi Bel (@PierinaPighi)
BBC News World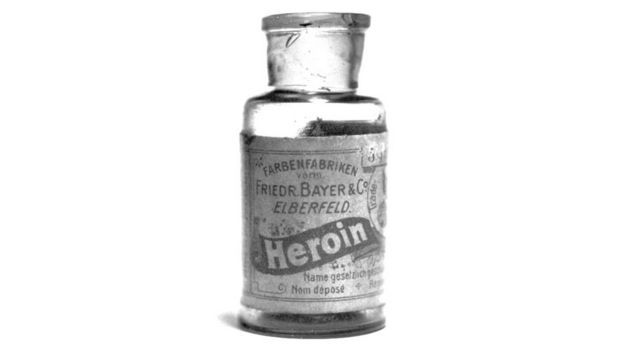 A few years after being produced in a laboratory for the first time, in the late 1800s, heroin was the main ingredient in a cough remedy.
Today, more than 100 years later, heroin is a highly addictive illegal drug that in the US alone has caused the overdose deaths of nearly 130,000 people in 20 years.
How was this opioid born and how did it end up being banned?
Origin
The chemical name for heroin is diacetylmorphine.
The oldest report of its discovery dates from 1874, when the English chemist CRA Wright synthesized it from morphine at St. Mary's Hospital School of Medicine in London.
At that time, "opium and morphine were already used in medicine, so there was awareness that (opioids) could be used," David Herzberg, a professor at the University of Buffalo, USA, told BBC Mundo. , and expert in the history of drugs.
But these substances were – and are – addictive, so "pharmaceutical companies were looking for pain relievers that were not addictive," Keith Humphreys, professor of psychiatry at Stanford University, explained to BBC Mundo.
Initially, some people expected heroin to be less addictive and have fewer side effects.
Furthermore, it was shown that "heroin calmed cough in tuberculosis patients and facilitated sleep," wrote Francisco López-Muñoz and Cecilio Álamo González, professors of Pharmacology at the Camilo José Cela University and the University of Alcalá, Spain, in an article in The Conversation published June 2020.
But even so, in the first years after its discovery, heroin did not arouse much medical interest.
It was not until 1897 that the research team of the German pharmaceutical Bayer, led by Professor Heinrich Dreser, began to look for a replacement for morphine and / or codeine (another opioid) to alleviate the symptoms of patients with respiratory ailments, according to documents from the Bayer Leverkusen archive.
One team member considered diacetylmorphine, so they put it through clinical trials with animals and then with people at Bayer and in Berlin.
Antitusive
The results showed that diacetylmorphine reduced coughing and helped expectoration and was described as a "heroic drug."
So in 1898, after these trials, Bayer began producing a cough suppressant that had diacetylmorphine as the main ingredient and called their product "heroin."
The remedy came in powder form in 1 gram, 5, 10 and 25 gram presentations. Then it came out in the form of syrup, tablets, lozenges and suppositories.
The antitussive "acquired rapid commercial success, being widely used throughout the world, especially as an antitussive", says the article by López-Muñoz and Álamo in The Conversation.
The remedy suppressed the cough caused by tuberculosis, pneumonia, bronchitis or any type of chronic condition.
By 1899, Bayer was selling heroin in more than 20 countries, according to documents in Bayer's Leverkusen archive.
Heroin was available over the counter in the US, so it was likely taken by children as well, according to Herzberg and Humphreys.
In fact, patients did not need a prescription to purchase narcotics such as heroin until 1914, when the US enacted the Harrison Narcotics Act.
Heroin was not only touted as a cough suppressant. "Also as a treatment for addiction to morphine and alcoholism," Humphreys told BBC Mundo. But the doctors quickly abandoned this idea.
What was said about the addictive potential of heroin?
Danger of addiction
Almost from the beginning of its commercial launch, there were warnings that heroin could be addictive.
In the medical literature between 1900 and 1906 "there are many articles that warn that this drug has addictive potential," David Courtwright, emeritus professor at the University of North Florida and an expert in the history of drugs, told BBC World.
In fact, according to the Yale University School of Medicine, "Physicians and pharmacists soon realized that patients required increasing doses and became increasingly dependent on the elixir."
However, despite these effects, heroin did not cause a serious addiction problem among patients who used it as a cough remedy, according to Courtwright, as has happened in the past 30 years with OxyContin, the based pain reliever. of opioids sold by the pharmaceutical company Purdue.
"Out of 350 cases of medical addiction at the beginning of the 20th century, of people who used morphine, opium, or heroin due to illness, only six of those 350 people were addicted to heroin. That's 1.7%. Most addicts to opiates in the early 20th century were addicted to morphine, which was used for many more conditions, "Courtwright said.
One of the reasons that patients did not necessarily become addicted to the heroin remedy, according to the expert, is that the dose of this drug in cough medicines "was very low", one or two milligrams.
"While I'm sure some patients did become addicted to heroin, there just weren't as many as addicted to morphine," Courtwright also said.
So why was heroin banned?
Prohibition
According to the specialist, the reason was that heroin "became popular among criminals in the 1910s."
"In the United States, the first references to the non-medical use of heroin are around 1910. That's when the drug becomes really controversial," Courtwright said.
And how did heroin get into the criminal world?
"The story goes that some prisoners in a state jail received heroin for coughs. Word spread among the inmates that it was a good narcotic and the rumor spread outside the prison," says Courtwright in a chapter of the book "One Hundred years of heroin ", edited by David Musto.
Although "it seems more likely that the rumor of the psychoactive potential of heroin came from multiple places," he adds in the text.
What's more, heroin turned out to be cheaper on the black market than cocaine —Another drug that was already circulating at the time — and easier to obtain than opium, the importation of which into the United States had been banned in 1909.
By 1912, young people in New York were using it as a recreational drug, says the Yale University School of Medicine.
Bayer tried to distance its product from heroin that was being sold illegally. But many American medical institutions were stopping using the remedy at least since 1916.
In 1924, the US Congress finally banned heroin.
Bayer ceased production of its heroin remedy in May 1940 for good.
Numerous countries joined the restrictions against this drug during the 20th century and its possession is now prohibited in most of the world.
Remember that you can receive notifications from BBC Mundo. Downloada our app and activate them so you don't miss our best content.

www.bbc.com
Eddie is an Australian news reporter with over 9 years in the industry and has published on Forbes and tech crunch.