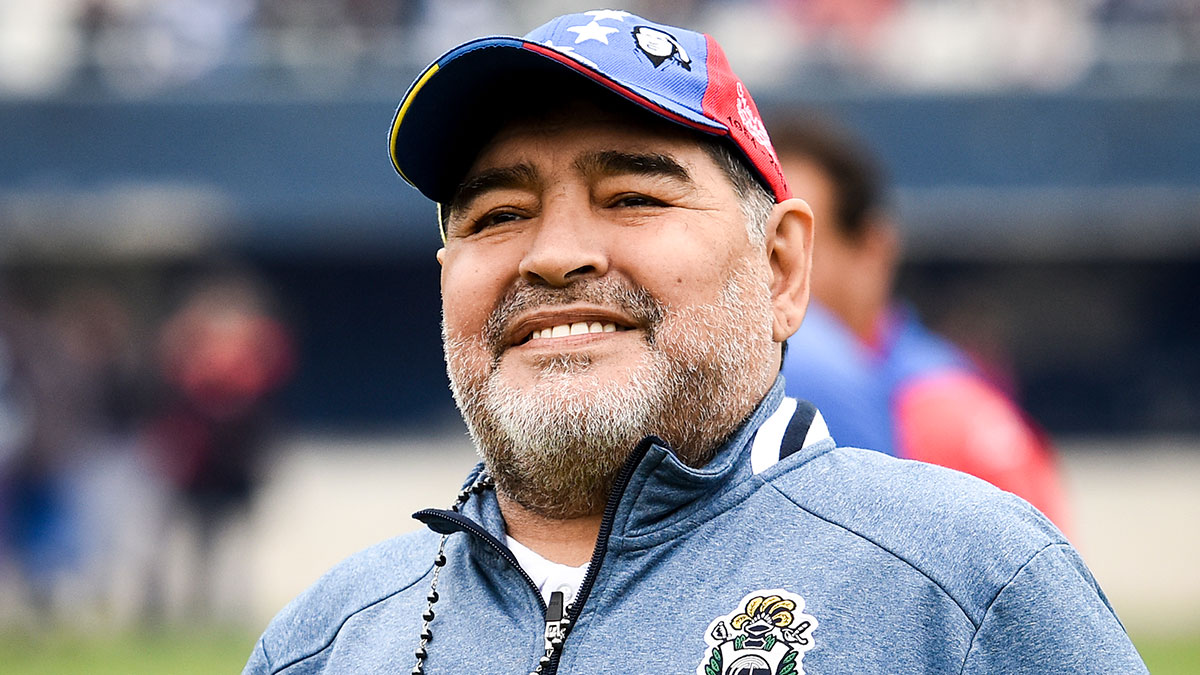 Maradona passed away last November.
Photo: Marcelo Endelli / Getty Images
Dalma Maradona, daughter of Diego Armando Maradona, showed his indignation through his Instagram account about the audios that appeared in which the neurosurgeon Leopoldo Luque, considered the family doctor of his late father, said that "The fat man is going to shit dying", and claimed that he vomited when he heard them.
"I just listened to the audios between Luque and the psychiatrist and I vomited. The only thing I ask of God is that Justice be done and that all those who have to pay pay "said Dalma Maradona through her Instagram account stories, where she also blamed the agent and friend of Maradona Matías Morla, who, according to her, hired the neurosurgeon.
⚽️ Dalma Maradona "vomited" when listening to the audios of Dr. Luque saying that "he is going to shit when the fat man dies", in reference to his father

📱 The leaked audios correspond to a conversation between Dr. Leopoldo Luque and a psychiatristhttps://t.co/Ez8Agn8gjg

– Game Time (@tjcope) February 1, 2021
The neurosurgeon Leopoldo Luque, considered Diego Armando Maradona's family doctor by the soccer star's relatives, said in a private audio that he is attributed that "the fat man is going to shit himself dying" and caused discomfort in the former footballer's daughters, who blame him for His dad's death.
"Yes, boludo. It seems that he did a cardiorespiratory arrest and is going to shit dying the fat man -colloquial expression that alludes to an inevitable death-. No idea what he did, I'm going there, idiot"Said the neurosurgeon Luque, as heard in some audios broadcast by the news website Infobae.
The medium published a series of audios sent on November 25, the day of Maradona's death, which are attributed to Luque and the psychiatrist Agustina Cosachov, who was in the home of the soccer star at the time of his death.
Luque you are a hdp and hopefully justice is done but let's not ignore that the person who introduces him to my dad, hires him and pays him a salary is Matías Morla! I just listened to the audios between Luque and the psychiatrist and I vomited! All I ask of God is that justice be done! 🙏🏻

– Dalma Maradona (@dalmaradona) January 31, 2021
Both are in the crosshairs of the judicial investigation which tries to determine if there was any type of medical negligence surrounding the death of the star, which could lead to an accusation of wrongful death.
"We entered the room (room) and it was cold, cold. With all the circulation marked. We started doing the resuscitation and she got her tone back a little bit and, let's say, her body temperature got a little bit back. All that, more or less, was 10 minutes that we did manual CPR and then the ambulance arrived. Now they are proceeding ", Cosachov explains in the private audios that he sent to his colleague Luque.
"Imagine, relax. Try to get down. This is so, it is so. He is a complex patient, whatever has to happen will happen. We will be there to bank the one that comes. That's it, we did what we had to do, Agustina. The family was aware of everything, everyone in communication. With patients like this, it is very difficult ", responds the neurosurgeon.
THIS … pic.twitter.com/tUpyFckAh1

– Dalma Maradona (@dalmaradona) January 31, 2021
Besides Dalma, his sister Giannina also used her Instagram account to hold Morla and Luque responsible. "If the truth always triumphs, you two go to prison", he assured.
"The lightness with which a private conversation on November 25 is published makes me sick. Nobody pays attention to anything, "Giannina added.



eldiariony.com
Eddie is an Australian news reporter with over 9 years in the industry and has published on Forbes and tech crunch.