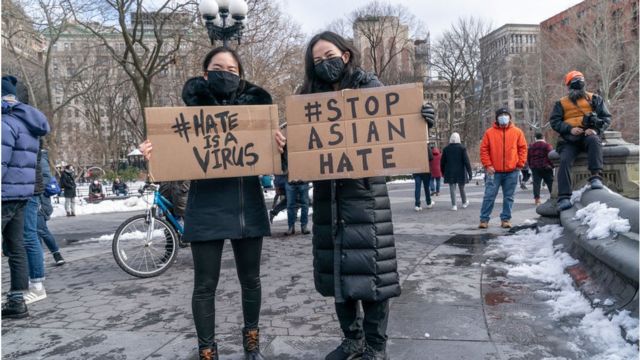 A series of shootings shook the United States again.
At least eight people were killed, six of them Asian, after a 21-year-old named Robert Aaron Long shot three locations Tuesday: a massage parlor and two. spas, all located in a northern suburb of Atlanta, Georgia.
He was formally charged with murder, and although the authorities indicated this Wednesday that it was too early to determine the motivations of the attacker and he himself denied racial motivation According to the police at a press conference, the fact that most of the victims were of Asian origin generated fears in that community.
And it is that hate crimes against people of Asian origin have skyrocketed since last year in the US, driven in part by far-right rhetoric that blames them for the covid-19 pandemic.
According to data from the organization Stop AAPI Hate, which tracks racist acts against people of Asian origin, only between March and December 2020, 2,808 complaints were reported in the country, of which 8.7% involved physical attacks and 71% included Verbal harassment.
Discrimination of this type even reached the NBA courts, when another player recently yelled "coronavirus" at the star player of the Santa Cruz Warriors, Jeremy Lin.
In a speech last week, President Joe Biden condemned "vicious hate crimes against Asian Americans" who have been "targeted, harassed, blamed and made scapegoats."
This Wednesday, commenting on the Atlanta shooting, former President Barack Obama also condemned what he considered "violence against people of Asian origin."
"Although the motive of the attacker is still unclear, the identity of the victims highlights an alarming increase in anti-Asian violence that must end," he tweeted.
Stop AAPI Hate, for its part, Although he also stressed that it was too early to know if it was a hate crime, he indicated that the fact, given the context, caused uncertainty and fear in a community that has been affected in recent times by racial acts against him.
"Right now there is a lot of fear and pain among Asians that needs to be addressed," the organization said.
What is happening to Asian communities in the US?
From being spat on to being verbally harassed, incidents of physical assault against people of Asian descent have multiplied since 2020 in the US.
Although federal data on hate crimes for 2020 have not yet been released, those for 2019 already showed the highest level in a decade and, after the start of the pandemic, the FBI warned that even higher levels could be reached.
Late last year, the United Nations issued a report detailing "an alarming level" of racially motivated violence and other incidents of hate against Asian Americans. "
According to civil organizations, it is difficult to determine exact numbers of such crimes and instances of discrimination, since no government entity has been tracking the problem in the long term and the reporting standards may vary from region to region.
However, some data published by different police offices and multiple complaints in local media reveal a growing phenomenon.
The New York City Hate Crimes Task Force investigated at least 27 incidents in 2020, nine times more than the year before.
In Oakland, California, police increased patrols and established a command post in the city's Chinatown as reports of violence against people with Asian features increased.
Verbal harassment is by far the most common, but rejection, physical assault, discrimination in the workplace, exclusion from establishments, and vandalism are also found in the databases of many organizations.
According to these statistics, women are more likely to be attacked than men.
What have been some of the most controversial cases?
In recent months, some of the cases of violence against people of Asian origin have not only made headlines in various media in the United States, but have also led celebrities and politicians to call for action to be taken.
These are some of the most notorious cases in recent times:
An 84-year-old Thai immigrant in San Francisco, California, died last month after being pushed to the ground while taking a morning walk.
In Oakland, California, a 91-year-old man was pushed from behind and fell to the pavement.
An 89-year-old Chinese woman was slapped by two people in Brooklyn, New York, and then set on fire.
A man on the New York subway slashed the face of a 61-year-old Filipino-American passenger.
Employees at several Asian restaurants in New York City told the newspaper The New York Times that now they always go home early for fear of violence and harassment.
An Asian American butcher shop owner in Sacramento, California found a dead cat in the store's parking lot; the police are investigating it as a hate crime.
An Asian-American family celebrating a birthday at a restaurant in Carmel, California, was reprimanded with racist insults by a Trump-supporting tech company executive.
Several Asian-American homeowners say they have been abused with racial slurs and stones thrown at their homes.
What about the state with the largest population of Asian origin?
More than 6 million Asian Americans live in California, the state with the most citizens of this community in the country, according to the latest population estimates. They make up more than 15% of the residents in the state.
The coronavirus hit hard and early there, paralyzing its bustling cities and businesses. The virus has already claimed more than 50,000 lives in California.
Solo From March to May 2020, more than 800 covid-19-related hate incidents were reported in 34 counties across the state, according to a report released by the Asia Pacific Policy Planning Council.
Since then, those numbers have escalated in Orange County, where incidents of hate against Asians increased by 1,200%, according to data from the Center for the Study of Hate and Extremism.
In neighboring Los Angeles County, hate crimes against Asian Americans increased 115%, CBS News reported.
For what is this?
Civil organizations point out that the violence may be related to the rise of what they call "anti-Asian sentiment" in the United States.
Some have directly blamed the anti-China rhetoric of former President Donald Trump, who repeatedly referred to the pandemic as the "China virus" or the "kung flu" (Kung Flu).
Large numbers of people of Asian descent have described an abrupt change in their experiences after the coronavirus.
38-year-old Kimberly Ha told the BBC that she noticed a change as early as February 2020, when a stranger started yelling at her while she was walking her dog in New York.
"He shouted: 'I am not afraid of the radioactive Chinese.' And he began to point at me, shouting: 'You should not be here, get out of this country, I am not afraid of this virus that you brought'", said the woman who has lived in the city for over 15 years.
According to Amanda Nguyen, activist and founder of the civil rights nonprofit organization Rise, these incidents are also explained by the "Widespread omission" of Asian Americans in the country's social and cultural conversations.
Although the Asian population grew faster than other groups in the last US census, community stories are not widely covered in the media and their concerns are not surveyed by political parties, Nguyen told the BBC.
Some federal agencies don't even include the Asian-American and Pacific Islander community in their definitions of racial minorities, he notes.
Nguyen says that people who have targeted Asian Americans since the pandemic started "can't really tell the difference and they don't care if we're from one country or another."
"They have made us a scapegoat to represent their violence."
Mr. Nguyen, the more visibility crimes against Asians receive, the better.
He points out that laws can help solve the problem, but that the United States also needs a cultural change.
"We are in a time of reckoning right now," adds Nguyen.
"We are afraid because we have been systematically erased at all levels and people can start to fight that if they report on us," he said.
What I know is doing in US to combat the problem?
During his first week in office, President Joe Biden signed an executive action that essentially prohibits the use of discriminatory language against this community within the federal government.
But, with Democrats now in control of both houses of Congress, lawmakers and activists are calling for more attention and resources on the issue.
California Congresswoman Judy Chu, president of the Asia Pacific American Caucus, called the recent incidents "a tipping point" for the community.
She and other lawmakers are pushing for the US Department of Justice to expand its efforts to report, track and prosecute hate crimes.
At the state level, California lawmakers allocated $ 1.4 million in state funding to expand data collection, advocacy initiatives, and resources for victims.
On the ground, there are also more local efforts to combat hatred.
In Orange County, neighbors stepped in to help an Asian-American family after a group of teenagers repeatedly attacked them for months with little police intervention.
Neighbors now stand guard outside the family home every night, he reported. The Washington Post.
Now you can receive notifications from BBC Mundo. Download the new version of our app and activate them so you don't miss out on our best content.

www.bbc.com
Eddie is an Australian news reporter with over 9 years in the industry and has published on Forbes and tech crunch.