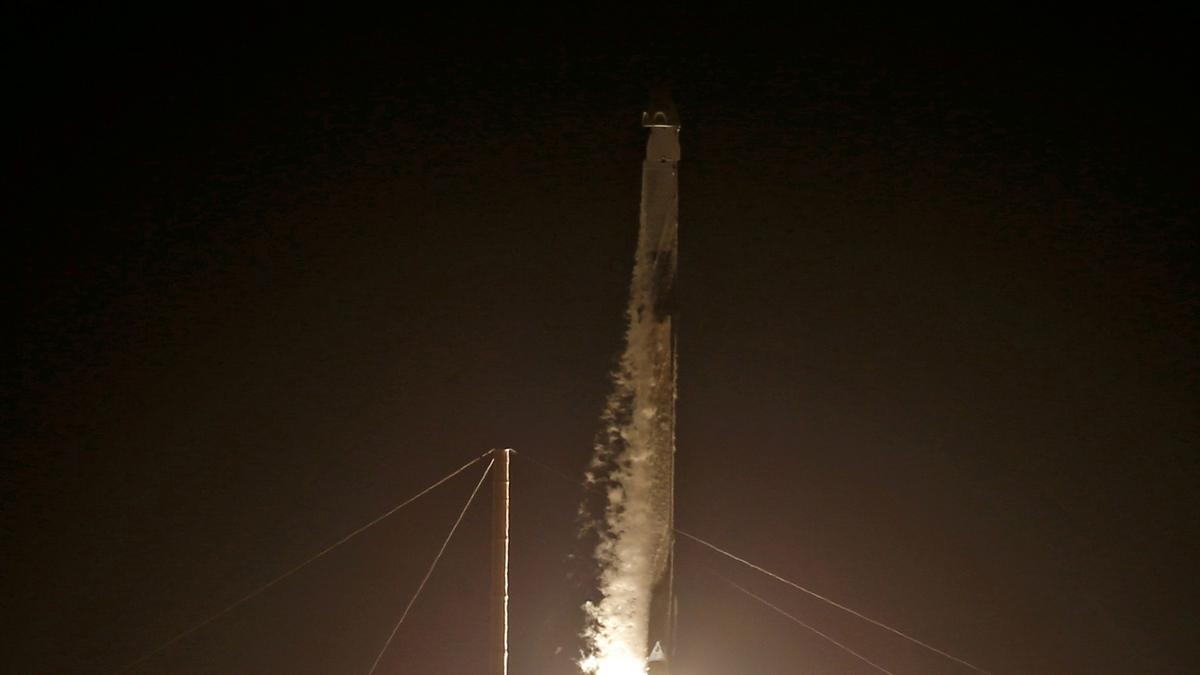 The first space mission composed entirely of civilians, without professional astronauts and in charge of the private company SpaceX, took off this Wednesday successfully from the Kennedy Space Center in Cape Canaveral (Florida) to orbit the Earth for three days. The historic launch of the so-called Inspiration4 mission occurred at 20:02 on Wednesday (00:02 GMT on Thursday, September 16), as scheduled, aboard a Dragon capsule, powered by a Falcon 9 rocket from Elon Musk's company. Amid shouts and applause from the control center, all stages of the mission launch were accomplished, thanks to favorable weather conditions. The reusable part of the Falcon 9 rocket landed a few minutes after liftoff on SpaceX's 'Just Read the Instructions' platform in the Atlantic Ocean.
This time the crew members are not professional astronauts but billionaire Jared Isaacman, aeronautical engineer Chris Sembroski, medical assistant Hayley Arceneaux, who is a cancer survivor, and scientist, pilot and educator Sian Proctor, who were trained for six months to this scientific mission. The four civilians will cross the Earth at a speed of about 28,160 kilometers per hour and will circle this planet every 90 minutes. They will reach a height of about 575 kilometers from Earth (357 miles), about 160 kilometers (100 miles) more than the International Space Station (ISS), "farther than any other human space flight since the Hubble missions," according to SpaceX. . It is also a distance greater than that of the suborbital trips that millionaires Jeff Bezos and Richard Branson made this year aboard the ships of their respective private space companies.
During the pre-launch broadcast, Arceneaux, who was diagnosed at age 10 with bone cancer and at 29 is the youngest American to go into space, was proud of the Inspiration4 mission, which also seeks raise money for St. Jude Children's Hospital, in Memphis (Tennessee), where she was treated as a child. Arceneaux, also the first person with a prosthesis to travel into space (which replaced part of her femur), said today that she is proud to represent those "who are not physically perfect." The mission, the fourth manned for SpaceX, has a goal of raising $ 200 million for the children's hospital. For her part, Proctor, the other woman in the crew, was happy to be the "first black female pilot" to go into space.
Both the capsule and the rocket had already been used in other missions, as part of a strategy by the SpaceX company that has lowered the costs of space exploration.
The orbital trip, commanded by Isaacman, founder and CEO of Shift4 Payments, will last three days and will end with the drop of the Dragon capsule into the Atlantic Ocean off the coast of Florida with the help of a parachute.

www.informacion.es
Eddie is an Australian news reporter with over 9 years in the industry and has published on Forbes and tech crunch.