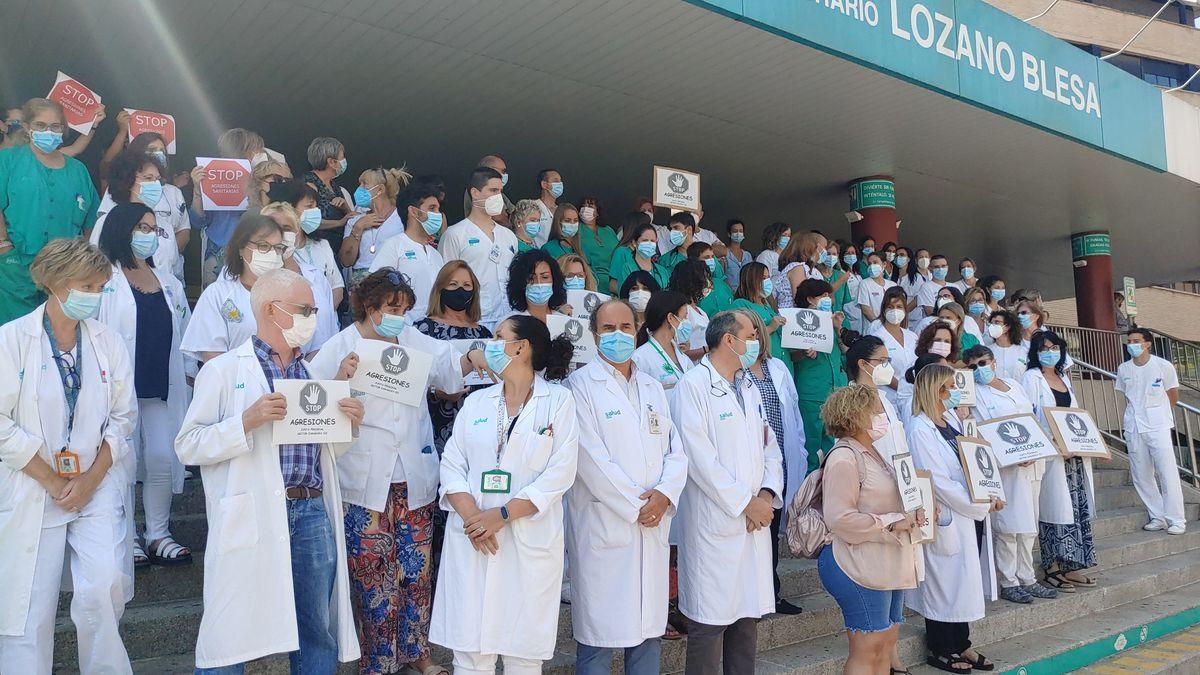 The duty judge has agreed release with charges for five members of the same family that last Monday they attacked the health and security personnel of the Clinical Hospital of Zaragoza after learning that the mother of a newborn had been deprived of her guardianship and custody. In addition, the magistrate has imposed a restraining order from the hospital center. The aggression has caused great concern in the health centers of Aragon. In fact, the staff of the Zaragoza Clinical Hospital has manifested at noon this Wednesday on the access steps to the health center to protest the aggression and demand that protection measures be taken to prevent the repetition of these violent episodes. The person in charge of the staff meeting of Sector III, Mar Ramos, convener of the concentration, has indicated that several nurses were attacked and suffered minor injuries and anxiety attacks and has requested that "action is taken" and that "the perpetrators of the events are punished to prevent further attacks."
Three monthly assaults
The manager of Sector III, José Ignacio Barrasa, who has joined the demonstration, like the rest of the management staff, has reported that in their health field are produced monthly at the rate of three assaults to toilets.
"There have always been attacks on health workers and we insist that all of them be reported so that there is a clear idea of ​​their number," said Ramos, who said that a meeting with the Administration will be held tomorrow to address the situation. "It is about taking all the necessary measures to avoid new attacks of any kind," added the person in charge of the staff meeting. ANDAmong those attacked were several nurses, a doctor, a social worker and the security guards of the Clinic, who were the first to react and reduced the aggressors, who were detained by the Police.
Review protocols
The attackers, members of the same family residing in Tauste and with numerous antecedents, broke the fire extinguisher cabinets and other glass elements and later they pounced with sharp glass on the toilets and security guards. Several of those affected suffered anxiety attacks and minor injuries, said Barrasa, who pointed out that the management of the center is in contact with the legal services of the DGA to initiate legal actions if necessary apart from those that will be taken ex officio . It is also planned to review the protocol and analyze what happened with Social Affairs and other departments to see if there are aspects that should be changed for the sake of greater security.

www.informacion.es
Eddie is an Australian news reporter with over 9 years in the industry and has published on Forbes and tech crunch.