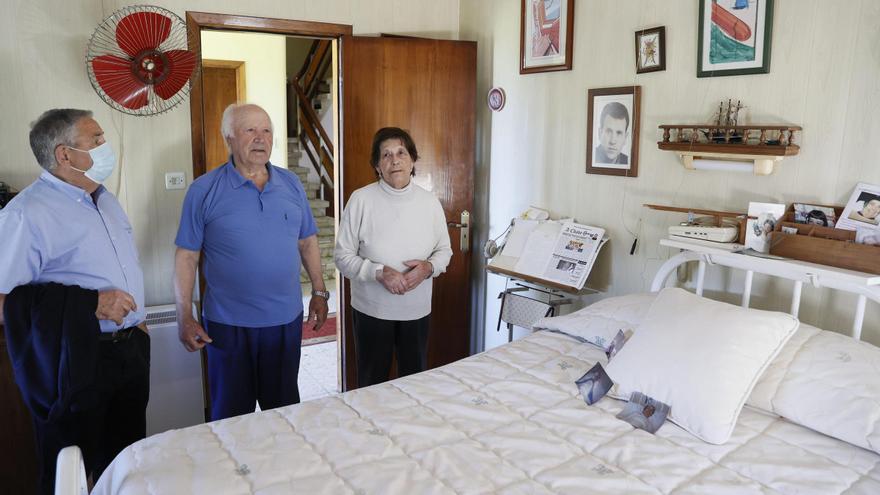 Ramón Sampedro Cameán, in his own words "a head attached to a dead body" for the consequences of a fatal dive on the beach of As Furnas, ingested on January 12, 1998 a poison that caused his death. A lethal dose of cyanide To which he resorted due to the non-existence of a law for euthanasia that has been made to wait twenty-three years and that this Thursday will be approved by the Congress of Deputies. The room of the Galician tetraplegic, in the village of Sieira, in Xuño (Porto do Son, A Coruña), is the same as then. Absolutely nothing has changed.
On the bed, covered with a spotless duvet, three photos of the first Spaniard to claim the right to a dignified death in court, one of them smiling. And, above the headboard, the telephone, very close, on one of the sides, to the pages in which this merchant marine, who suffered the accident in 1968, at age 25he wrote.
In the rest of the room, the television that could turn one way or the other, the record player, the books (he was a devotee of Pablo Neruda), a stuffed animal, and the two windows through which he could see the sea and which are opened daily to ventilate the room.
Manuela Sanlés, his sister-in-law, now an octogenarian, opens the door to Efe, after crossing a portico of vineyards and passing under a huge orange tree, all before crossing the threshold of the door.
With her, her husband, José, brother of Ramón, 85, who bears an amazing resemblance to the deceased. The couple will be vaccinated against covid-19 this Friday, coinciding with his saint.
It is easier for José, or Pepe, to talk about the pandemic than about the vindication of the one who is no longer there but who is still very present. "Still even today I don't believe it", points out about assisted suicide, a concept that, of course, does not even mention. Nor does he talk about euthanasia, but, without saying that word, he does specify: "For him, I didn't want it. But he wanted it. He proposed many things to me."
At first José believed that Ramón was not serious, but when their mother, Isolina, a cancer victim, died, he saw his only brother (the third is a sister) more persevering.
Ramón had a very bad time once his mother fell because he, lying on a mattress, could not help her. He also failed to do anything when a niece of hers was choking. In one mishap and the other, he could only scream like a madman for help.
José recalls that what Ramón longed for was the norm that he demanded so much, to the point of reaching the European Parliament. "He told me: I want this law to come out, which is what I ask for. The authorities have to comply with what we ask for.". But they did not. He did not find support in justice and neither in the political class of the time.
"Here we have everything of his, the wand with which he turned the pages, the pen that he handled with his mouth, the fan for the summer heat … He is missing."
Manuela can't help but tremble and show resignation: "He was tired. No one got the idea out of him. Here we have everything of his, the wand with which he turned the pages, the pen that he handled with his mouth, the fan for the summer heat … He is missing ".
Pepe Vila was a close friend of Ramón Sampedro, since childhood. They shared school and trade. The two sailed and exchanged letters. The day Moncho was crippled from the neck down, he was going to ask for the hand of a first cousin of Pepe's wife. The day Ramón got out of the way was Pepe's birthday, who came to the world on January 12, 1945. He never commented with him why he had chosen that day to leave.
Every year Pepe organizes an act of remembrance and gratitude to Sampedro, to which he recognizes his "dedication" to the defense of a fundamental right with "effort and sacrifice". His was not "an occurrence" but a demand "responsible, thoughtful and with all the consequences."
Every year, on the Sunday closest to January 12, he is honored in that virgin sandy area, a paradise for surfers, with a rock, the best known stone, from which Ramón fell and which is four meters high. .
There is a monument with a bust made by the town hall, but that is not by far the one that Pepe and Xosé Lois Vilar, another of his companions on his adventures, like the most. The two feel more comfortable in front of a plaque with the following inscription: "Ramón Sampedro Cameán. Defender of life and death. Sailor on land. Poet, neighbor and friend."
Xosé Lois thinks that his colleague would be "moderately satisfied" at this moment. The comment is made with caution and making it clear that it interprets what he could experience. He thinks that Ramón would think that the door is opening to attend to a human need of people who see themselves very on the edge, and that is interesting, but at the same time he dictates that he would complain about the bureaucracy.
"Because it must be said that this law does not meet all expectations and that it has serious problems with regard to the processing. You have to start with three doctors, a commission … Come on, if you don't have a family, some colleagues who will help you dress up a lot, help you in transit, because this is not easy. "
"Living is a right, not an obligation; I had a conception of life as a joy that you can experience"
He, Ramón, points out, always said that "living is a right, not an obligation; he had a conception of life as a joy that you can experience" and was very contrary to the idea of ​​"enduring". "For him the norm would fall short," he considers.
With everything, Xosé Lois is convinced that progress will continue because "we understand that there is a pedagogy of time", because a time ago also palliative care "was seen in that way", and there were no prior instructions, and no last wishes, he enumerates.
And he greatly appreciates the work of the Right to Die with Dignity (DMD), as his work has been and is key, while regretting that this moment has come after many citizens have had to leave in "bad circumstances."
José was at sea when he found out about his brother's mishap. He learned what had happened three months later, when he received a telegram in New York Harbor. He was unable to travel home until his ship, a German, reached Hamburg. When he arrived in Galicia, he quickly went to the sanatorium where his brother was, accompanied by his father, Joaquín. "I saw him in bed. He smiled. He told me there was no cure." The head was shaking. The rest of the body, inert, no.
Pepe, before his niche, confirms that "living head" defined him perfectly. "Alive, very alive, it was a luminaries". At school the two of them added, subtracted, multiplied, divided, read and wrote the right thing. They had a teacher, Fernando Manuel Vázquez, buried very close to Ramón, who was an eminence. And Ramón ended up being like that teacher. "But it was done. As a young man he was just a bunch", Pepe points out.
Ramón rests between his mother, who died at the age of 71, on May 13, 1980, and his father, who left with 94. on April 18, 2000. Ramón survived two years. He could not bear the television broadcast of the moment of his son's death.
Ramón Sampedro left 45 long minutes with his last moments and a letter addressed to the authorities and Spanish society in general. "It is torture to always be attached to the dead body", "life is something else", "I do not have the accounts of happiness", confessed someone who tried to maintain a friendly demeanor and who empathized with children believe that the pinching hurt. Ramón Sampedro started a debate in which, finally, he got everyone on board.

www.informacion.es
Eddie is an Australian news reporter with over 9 years in the industry and has published on Forbes and tech crunch.