MadridUpdated:
«In Simón Bolívar's 'Letter from Jamaica' there is not a single idea that is not closely linked to hatred of Spain. Without Hispanophobia, that document would simply not exist", assured Miguel Saralegui in an article published in the
'Indian Magazine' in 2017. The Chilean historian was referring to the famous essay written, in 1815, by the well-known 'Libertador', which yesterday returned to the present with the controversy generated in Colombia, during the inauguration of President Gustavo Petro, after the Felipe VI will not rise before the passage of his sword.
«The King of Spain was the only one to remain seated before the arrival of the sword with which Bolívar fought the Spanish Army more than 200 years ago»,
could be read on Twitter. Criticism that was soon joined by Juan Carlos Monedero, a founding member of Podemos, and pro-independence deputies from Catalonia such as Jordi Salvador, from ERC, who described Felipe VI as "unpresentable" for his gesture.
Most historians, however, say that it is impossible to determine whether or not the tizona belonged to the Liberator, but what almost everyone does not know is that the famous guerrilla spent his best years of youth in Spain.
Born in Caracas in 1783, Bolívar's childhood was not exactly stable. His father died of tuberculosis when he was 3 years old. His mother, from the same disease, in 1792. Little Simón was about to turn 9 when he had to move in with his grandfather Feliciano, but he was also very ill and moved in with his uncle Carlos. But this, finally, entrusted the custody to his brother Esteban, who was in Spain. The future 'Libertador' embarked in the Venezuelan port of La Guaira, on January 19, 1799, in search of the stability that he had not found in the Venezuelan capital.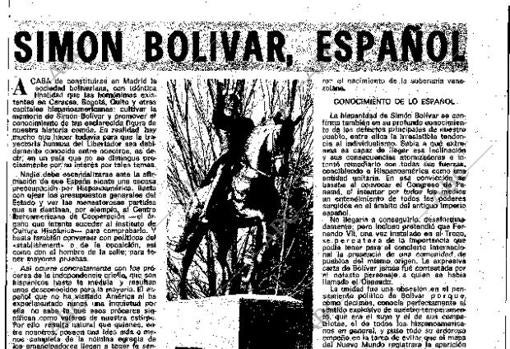 Sun Gate
After a few months in Veracruz (Mexico), the young man arrives in the Peninsula and, later, in Madrid. The first months he lived in the house that his maternal uncle had on Calle Jardines, next to Puerta del Sol. He was a serious man, attached to Spanish traditions and a future deputy of the Cortes of Cádiz. Bolívar would later acknowledge that it was in the capital of Spain that he came into contact with the works of Homer, Virgil, Horace, Dante and Cervantes. Also where he began to study grammar, poetry and philosophy and where he became familiar with European classical and humanistic culture. But, above all, the city in which he met the woman from his life, María Teresa Rodríguez del Toro, in the summer of 1800.
The chronicles narrate that the future military man fell in love with the young aristocrat from Madrid at the very moment he saw her. "My head was filled with the vapors of the most violent love and not with political ideas", he would write years later, when he had already written his 'Letter from Jamaica' and had embarked on his independence crusade. Everything was so beautiful that, on May 26, 1802, after two years of courtship, they were married in the now defunct church of San José, which was located on what is now Calle de Gravina, in the Chueca neighborhood. He was 19 years old; her, two more.
To her dismay, she died suddenly eight months later of yellow fever. He was so in love with the daughter of the Marquis of Toro that, on her tomb, he swore that he would never marry again. And he fulfilled it. «It was a hard and decisive blow in the life of Bolívar, which plunged him into the deepest pain. In the future, he will never deliver pure and permanent love to another woman, nor will any woman bind him permanently, "explained the Venezuelan historian José Luis Silva Luongo in his biography.
'Bolívar, heritage of all' (Luis Jesus Silva Acosta Foundation, 2003). But the most surprising thing was the confession that the independence leader later made regarding this event: «The death of my wife put me very early on the path of politics and made me follow the chariot of Mars, instead of the plow of Ceres . If he had not been widowed, he would not be General Bolívar.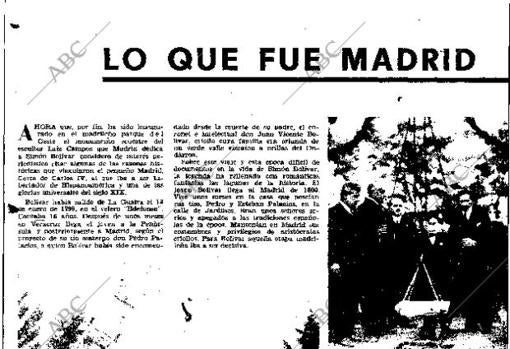 Ferdinand VII
He was so passionate during his stay in Madrid, in which he began to shape his political ideas, that he spent five days in jail after dueling with two royal guards over a mess of skirts. He served his short sentence in the prison located in the current headquarters of the Ministry of Foreign Affairs, located in the Palacio de Santa Cruz, next to the Plaza Mayor. Much more noteworthy was his fight with the young Prince of Asturias, the future Ferdinand VII, during a game of shuttlecock, a sport similar to badminton, held in Aranjuez. It was his first encounter with the monarch who would later dispute the independence of what is known as Gran Colombia (Venezuela, Colombia, Peru, Ecuador, Bolivia and Panama). The Queen consort, María Luisa de Parma, had to intercede for calm to return.
After leaving Madrid, Bolívar dedicated himself to traveling throughout Europe and the world, forming the rebel he would later become. But before he finished 1803, he decided to make a second trip to Spain. It was again in Madrid where he heard some words from the German geographer Von Humboldt that deeply impressed him and marked his path: «Spanish America is ripe for freedom, but it needs a great man to start the work».
In 1815, the independence leader forgot his happy years in the Spanish capital when he was in Kingston writing the aforementioned 'Letter from Jamaica'. The same document that leaders such as the Castro brothers in Cuba, Hugo Chávez and Nicolás Maduro in Venezuela or Evo Morales in Bolivia have used in recent decades to attack Spain and describe it as "oppressor" and "genocidal" for the colonization of America.



www.abc.es
George is Digismak's reported cum editor with 13 years of experience in Journalism