NorthOne is more false than Wes Anderson: His wise manners, sonorous voiceovers, and detailed rectilinear compositions are now so familiar that parts of YouTube have been invaded by Anderson pasticheurs, such as Elvis impersonators in Las Vegas. And with this over-familiarity has come a bit of a backlash: the feeling that Wes Anderson is a boring treat for college students.
His new movie, The French Dispatch, long delayed by Covid, has been condemned for more of the same thanks to a widely disassembled trailer. To which I can only say … sure, yes, more fun, more buoyancy, more elegance, more wonderfully eccentric invention, more originality. You may not be at the zenith of what you can achieve, but for moment-to-moment pleasure, and laughter, this is a treat.
The French Dispatch is a riff and tribute to the New Yorker magazine, with its legendary roster of writers, its famous insistence on standards, university office culture, distinctive cartoon and type design, metropolitan sophistication aimed at an American audience. in general; in fact, I wonder why we haven't noticed the New Yorker before as an Anderson influence.
The French Dispatch is supposed to be a special feuilleton-like supplement in a fictional Kansas newspaper, a guide to the intellectual life of France produced at the magazine's heyday in the late 1960s by a gallery of brilliant American expats in the imagined city French province of Ennui. -Sur-Blasé – although that name is the only time the comedy gets a little too broad.
The film is a kind of short story anthology, set in a postmodern Clochemerle, based on the interpretations of full-length feature stories by its superstar writers, who almost all have some personal, and indeed sexual involvement with what is happening, quite against. boring ideas about journalistic neutrality.
The owner and publisher is the shy, fatherly but authoritarian Arthur Howitzer Jr, played by Bill Murray, a figure clearly based on Harold Ross, but also, perhaps, the late Robert B Silvers of the New York Review of Books.
Tilda Swinton is the art critic JKL Berensen, who tells the story of convicted murderer Moses Rosenthaler (Benicio Del Toro) for whom prison guard Simone (Léa Seydoux) acts as a nude model and muse. Frances McDormand is Lucinda Krementz, a writer who dives deep into Ennui-Sur-Blasé's hectic revolutionary student scene, and ends up having an affair with her young Che-ish leader Zeffirelli (Timothée Chalamet).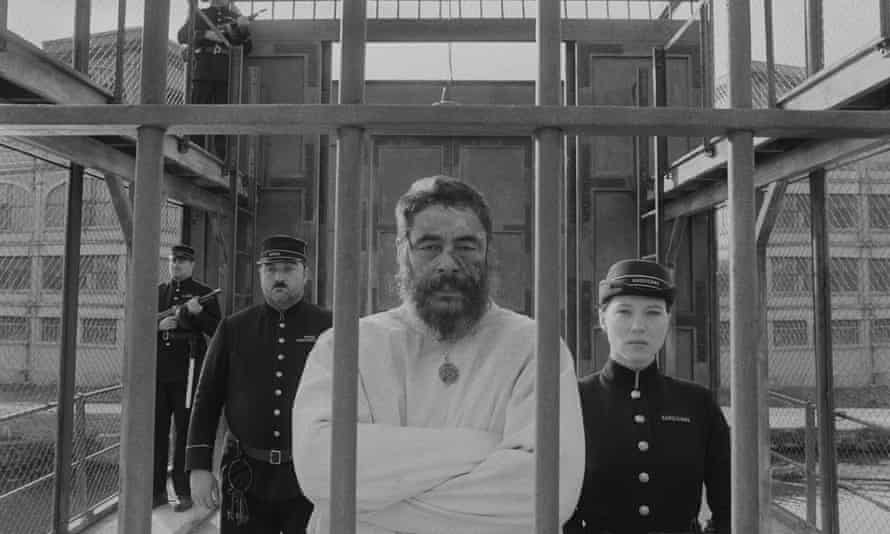 And Jeffrey Wright gives a wonderfully balanced performance as food writer Roebuck Wright, as James Baldwin, a gay man of color, recounting in a television interview (a framing device no one else granted him) his attempt to interview the chief of police. special, Lieutenant Nescafier (Stephen Park), whose job it is to provide special food for Police, and Roebuck's subsequent eyewitness account of the abduction of the commissioner's son (Mathieu Amalric). And, of course, the repertoire cast includes many other big names in cameo appearances.
Mr. Howitzer can be a stern foreman – he fires a copyist simply for bragging about telling him the printing deadline is approaching, but he has only two maxims: don't cry and try to make it look like he wrote it that way on purpose. Perhaps those are also Anderson's watchwords: lack of sentimentality and deliberation. But in fact there is a strange bath of melancholy in the end credits, as the magazine closes and we are semi-seriously invited to feel sad at the end of a non-existent publication.
How does the New Yorker feel about the implication that it is something unconventional from the past? I can not imagine. But there is certainly a lot of delight in Anderson's incredible images, like those of his near-namesake, Roy Andersson. There are too many examples to choose from, but I loved the pinball machine, called "Modern Physics", the French pop star called "Tip-Top" voiced by Jarvis Cocker, and the extraordinary "then and now" split screen frames. showing how parts of Ennui-Sur-Blasé have changed since the 19th century. The French Dispatch is a lot of fun – I'm pulling it off the newsstand.

www.theguardian.com
George is Digismak's reported cum editor with 13 years of experience in Journalism