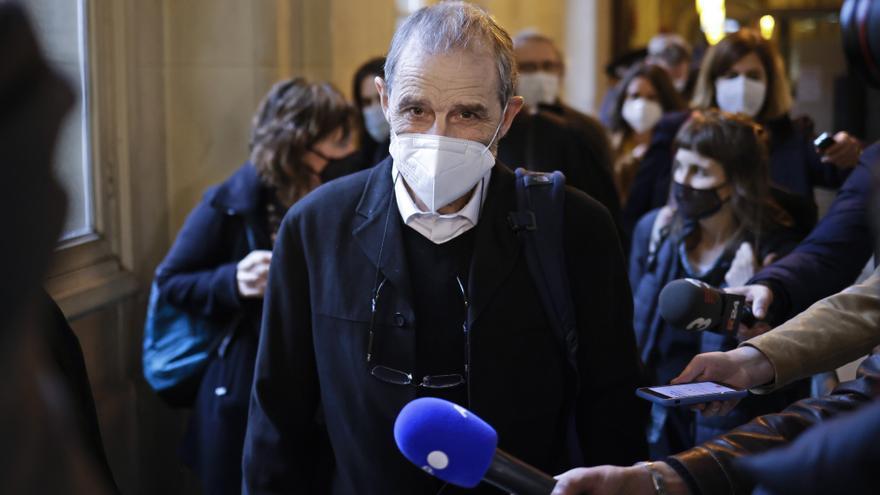 The French Prosecutor's Office claimed five years in prison for José Antonio Urrutikoetxea this Wednesday because it considers that, contrary to what the former ETA leader affirms, did not cease to belong to the terrorist organization until he himself announced its dissolution in May 2018.
The prosecutor, who asked the Paris Correctional Court that in case of being convicted his imprisonment be deferred (he would enter prison a few days or a few weeks after the sentence was known), said that the jail sentence would have to be accompanied by the definitive expulsion from France of Josu Ternera.
His main argument to justify this penalty is that there was "no break" of Urrutikoetxea with ETA, despite the fact that he insisted during the two days of the process that he left the organization in September 2006 due to dissent, since he considered then that the armed struggle had to be stopped.
The representative of the Public Ministry repeated that in the period from 2011 to July 2013, for which he is indicted in this case, he was living in hiding and, if it was true, as he claims that he was no longer in ETA, should have been given because it was known to be sought. In this regard, he added that in those years there was no reason to fear that if he was tried in Spain his rights would not be guaranteed.
Above all, he stressed that If in May 2018 he was one of the two people who read the band's dissolution statement, it is because "he was a member of this terrorist organization".
This judgment is consequence of the sentence to eight years in prison that he had received in 2017 in absentia, before being captured in the French Alps in May 2019. After his capture, as is his right, he asked for the process to be repeated in his presence and the prosecutor considered that the first sentence was "excessive".
But, despite everything, he considered that his current position on the gang's activity is "ambiguous", since "it is difficult for him to recognize that ETA's actions were terrorist", in relation to the answers he gave him in the interrogation of this late.
Although the prosecutor acknowledged that there is multiple evidence that Urrutikoetxea was between the end of 2011 and until January-February 2013 (during most of the prosecution period) forming part of a delegation with the ETA members Iratxe Sorzábal and David Pla that he intended to negotiate with the Spanish Government, he pointed out to the court that it is not competent to rule on these facts.
The defense line of Josu Ternera, who He is 70 years old and has been released under judicial control since the summer of last yearHe (with an electronic bracelet), goes on to emphasize that since September 2006 he has been disconnected with ETA.
Also to underline that if he was part of the negotiating delegation in Norway and put his voice in the band's dissolution message, it is because they were looking for him because of his career and his willingness to put an end to the armed struggle because he had been involved in various processes negotiation.
His lawyer Laurent Pasquet-Marinacce emphasized that in the investigations opened in France on ETA, "not a single element" has been found that Urrutikoetxea had any relationship with the band since 2005 and the reason is that "he had no contacts" with its members.
Pasquet-Marinacce asked the court for acquittal even in the event that the judges that comprise it consider that he was still in the band, given that in his opinion he had maintained for a long time "a demonstrated distance" with the organization of violent actions.
The trial has been seen for sentence, which will be made public on September 1, twelve days before the second pending trial in France will be held, and which will again be the repetition of another in which he was sentenced in absentia in 2010 to seven years in prison .
The French Justice, on the other hand, has ruled definitively by its delivery to Spain for two reasons.
The National Court of Madrid claims him for his alleged responsibility in the attack against the headquarters of the civil guard of Zaragoza in 1987, in which there were eleven deaths, and by the financing of ETA through the herriko taverns.

www.informacion.es
Eddie is an Australian news reporter with over 9 years in the industry and has published on Forbes and tech crunch.