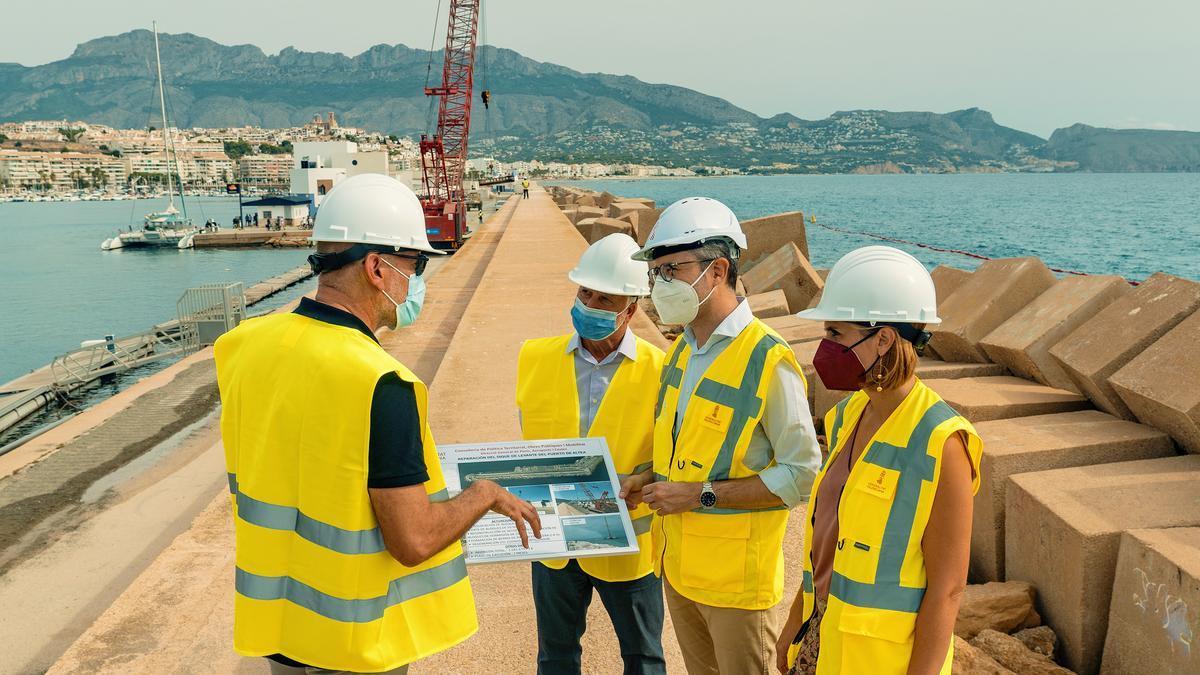 The Minister for Territorial Policy, Public Works and Mobility, Arcadi Spain, has highlighted the Generalitat's investment of about 1.7 million euros in emergency works in the port of Altea, "sustainable and compatible with the environment, which will guarantee security and will increase the integration of the port with the city. "
Accompanied by the general director of Ports, Airports and Coasts, María Luisa Martínez, and the mayor of the town, Jaume Llinares, Arcadi Spain has visited the port of Altea this Tuesday to do monitoring of the emergency works that are being carried out to repair the Levante dike.
According to the minister, "promoting the ports of the Generalitat, in collaboration with the town councils, is a priority for the Consell not only because of its economic importance, but also because of its social and cultural significance."
He also indicated that "it is necessary to strengthen our ports since for many years they have not had the investments they needed, but now, we are turning this situation around with significant investments, such as in this case in Altea with almost 1.7 million euros. euros to improve the entire breakwater ".
For the minister, it is "a very important action, which will last until November, to guarantee the security of the port and the integration of the entire port in the city in safe conditions."
In this sense it has indicated that "to the ordinary deterioration suffered by the shelter dam due to erosion and lack of maintenance, has been added that caused by the intensity of the temporary past that has forced to act urgently".
In addition, he has highlighted the sustainable nature of the investment, "very positive not only for the economy, for the port, for the residents of Altea and the people who come to enjoy this place, but also, to take care of the environment and protect the posidonia, which has the studies and the use of all the means we have to take care of the environment while we defend and improve our ports. "
The shelter works of the Port of Altea are designed using a sloped dike typology with two alignments and it is in the second where significant damage is recorded. The first works began last April, with underwater inspections, bathymetries, drone flights, topographic surveys, and technical studies necessary to know the real state of the dike, as well as to process the mandatory environmental authorizations, of which there are favorable reports.
The development of the works is being coordinated at all times with the work carried out in the fishermen's market and the ice factory, as well as the truck traffic related to these activities. It is planned to homogenize the surface of the buffer basin that presents accumulation of carry-overs and breakwater washes in some sections

www.informacion.es
Eddie is an Australian news reporter with over 9 years in the industry and has published on Forbes and tech crunch.