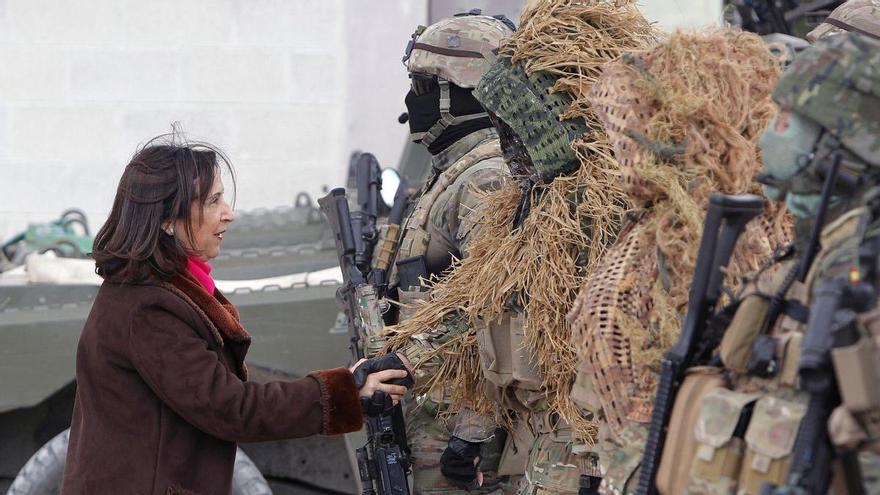 The Council of Ministers approved this Tuesday a Royal Decree modifying the remuneration regulations of the Armed Forces personnel, so that the 133,000 soldiers with destination will see their monthly salary increased between 89 and 113 euros on average.
As explained in a statement by the Ministry of Defense, the Royal Decree introduces, with economic effects of January 1, 2021, an improvement in the 2005 remuneration regulations, which is the increase in the general component of the specific supplement, which is the one received based on employment.
The Government spokeswoman, María Jesús Montero, explained in the press conference after the Council of Ministers that this complement did not suffer any increase since 2005, while the training requirements to enter the military career have been modified in the Troop and Seamanship laws and in that of the military career.
In the opinion of the Executive, there had been a "gap" between training requirements to enter the armed forces with the salaries, so it was necessary to "match" both criteria, once in November 2020 the pay loss of military personnel in reserve with more than sixty-three years was corrected.
With the General Budgets of the Ministry of Defense for 2021, the Government indicates that the improvement process, which has made it possible to meet the 0.9% compensation update agreed for public employees.
In addition, the employment supplement of the Troop and Marine personnel at level 14, the minimum set for the complement of assignment of the civil servants and all the positions likely to be occupied by Troop and Navy personnel and some non-commissioned officers and officers positions are improved, by increasing the first thirteen types of the singular component of the specific complement.
In this way, they are strengthened as well the first jobs of each scale: 13.1% for the employment of soldier and sailor, 8.6% for that of sergeant, and 12.8% for that of lieutenant / ensign.
Intermediate jobs are also promoted by increasing the amount of the general component by 11.3%, for the employment of Commander / Lieutenant Commander, by 11.3%, for brigade employment and by 8.2%,
The cost of all the compensation measures approved for military personnel is 198.098.622 euros, and supposes an increase in the salaries of all the military with destination: of 100.6 euros per month for the employment of soldier and sailor, of 113.1 euros per month of estimated average for the employment of brigade and 89.9 Euros on average, at least, for the job of Commander or Lieutenant Commander.

www.informacion.es
Eddie is an Australian news reporter with over 9 years in the industry and has published on Forbes and tech crunch.