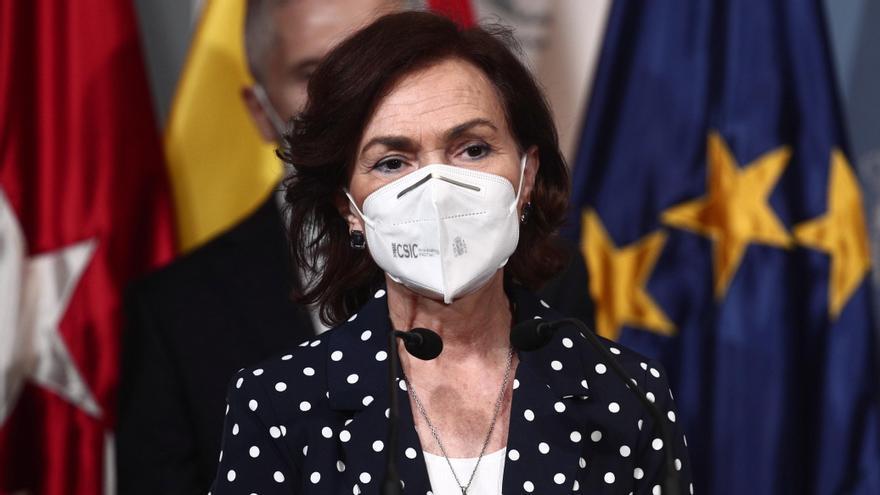 The First Vice President of the Government, Carmen Calvo, denied on Wednesday that the United States had admonished Spain for attacking freedom of the press and called it "Trump's last blow" the US State Department report on human rights.
The annual human rights report of the US State Department, published this Tuesday, collect complaints from various organizations on the restrictions that ensure that the President of the Government has imposed, Pedro Sanchez, to freedom of the press, although Washington does not express any opinion on the matter.
"It is neither a report nor a warning", the first vice president assured in statements to the media after attending, together with the Interior Minister, Fernando Grande-Marlaska, the inauguration of Mercedes González as the new government delegate in Madrid.
Consider that Bald that "no country can tell a democracy like the Spanish one how our freedoms work and in this case our freedom of expression and our media. "
"NI say the most and I particularly deny that the Trump administration can say anything to a country like ours and much less to the freedom and dignity of the media, "he stressed.
The Minister of the Interior has also argued before journalists that in Spain the right to information is a "basic element" of the rule of law that "does not admit discussion.
The US State Department document states that on March 1, 2020 Sánchez accused the "conservative" media of "agitating society" whenever they lose an election; and that that same day the vice president, Pablo Iglesias said that the media critical of the Government had "offended the dignity of journalism.".
Also in March, according to the document, Iglesias threatened to send a journalist to prison for publishing compromising information about his party, especially regarding its funding.
Those comments were immediately condemned by the Madrid Press Association, the State Department collects.
In addition, the document includes complaints from Reporters Without Borders (RSF) about Vox, a party that he accused of having provoked verbal and physical attacks against journalists during demonstrations in May protesting the restrictions that the Spanish government had imposed to prevent the spread of the virus.
The report contains a chapter from each country in the world and in Spain it states that there was no information on significant human rights violations and that "the Government had mechanisms in place to identify and punish officials who committed human rights violations or committed acts of corruption ".

www.informacion.es
Eddie is an Australian news reporter with over 9 years in the industry and has published on Forbes and tech crunch.