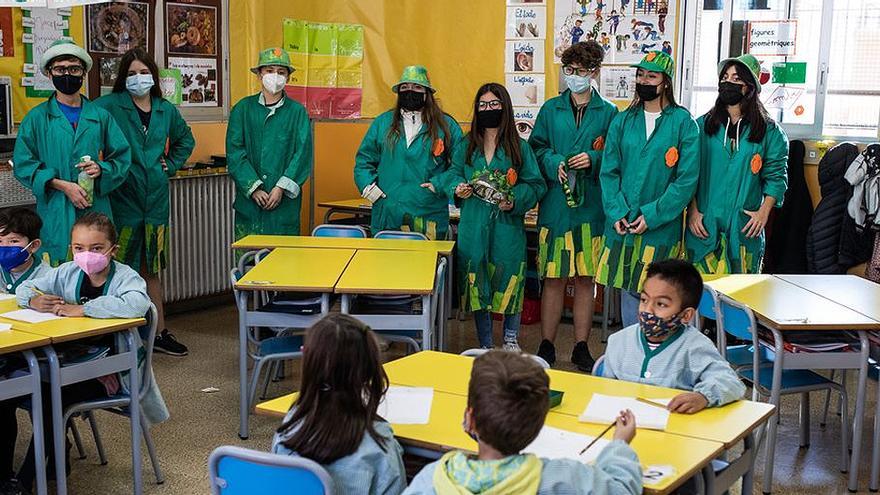 Resistance of "ancient people"
One of these sustainable schools is Sant Ramon Nonat. Your head of studies and coordinator of the centre's environmental commission, Lluís Sala, points out that "the children have already serial" the awareness and concern about the climate crisis. Warns that the problem is "out". "At school they are soaked. The problem is that once outside they find resistance in certain environments. They run into old structures, of old people with old ideas," says Sala who, despite everything, is optimistic: "These young people are the next generation of rulers ".
In Sant Ramon Nonat they have had an 'Escamot Verd' for 15 years, ESO students who are climate activists. They act as educators, take to the streets to educate citizens and have participated in youth meetings where they have put forward proposals to combat the climate crisis. They do so convinced: "Climate change is going very fast, and we have to act now," say Gabriel, Paul, Noa, Cecília, Irene, Alba, Carolina, Lucía, Iván, Martina, Guillem, Albert and Dani. Is it so upset with world leaders who have in their hands the possibility of stopping the crisis: "We are sick of not listening to us, talking and doing nothing"." We can do things, but we need the help of those in charge to expand the impact, "they conclude. They claim that their Escamot was already active" before Greta Thunberg", although they acknowledge that Thunberg made them realize the power of young people to change things.
Another school in the program, Sant Gregori, is defined as 'School of the Forest'. A line of work that assumes that kindergarten and elementary school students – and from this year also those of 1st ESO – carry out periodic departures to Collserola to soak up nature. The result: they end up being great connoisseurs of the flora, fauna and geology of the area. In addition, this knowledge is transferred to other subjects, such as mathematics or languages. Begoña Vendrell, biologist and teacher of ESO and Baccalaureate, is the promoter of this project. Matches room in which children "they already carry in their DNA" concern for the planet and highlights that these walks "go further": they generate in children an "interest" in nature, make them more observant, learn to value "the beauty of things" and involve families in it.
Impact on families
The role of children as 'weather agents' in their families This is corroborated by Alba Galofré, who explains that although there are no absolute figures, a study carried out with the University of Barcelona reflected that there is a real impact of that formation. A significant fact is that the centers that have recently joined the Escoles + Sostenibles program have done so because the families have requested it. "They are mothers and fathers who were children 20 years ago. Now they have asked the schools their children attend to be more sustainable."
In L'Hospitalet de Llobregat, the Institut Bellvitge also has a Green Council. Your spokesperson, Mercè Gonzàlez, puts the finger on the sore when stating that schoolchildren are very aware of the crisis on the planet, but what "costs more" is to act in coherence. And there he points to the political class and society as a whole: "A collective pedagogy is needed," he claims.
There is still a long way to go until society as a whole changes consumption habits. "That is why environmental education is needed", highlights Galofré, who points out that primary school is the "sweet part" of learning. But in ESO and Baccalaureate, young people already challenge society and politicians to carry out real changes.
Manifesto to COP26 leaders
Precisely, within the framework of the recent Global Forum on Food Policies, the collective of Youth for the Climate Emergency –among which is Escamot Verd– delivered a manifesto to the mayor of Barcelona, Ada Colau, which she promised to take to the Glasgow COP26 summit. In this manifesto, young people ask for "coherence and commitment to international agreements, independence of economic interests, criminalization of unsustainable practices, regulation of misleading advertising, introduction of environmental awareness in the curriculum of educational centers, responsible school canteens with organic and local food, moderation of the consumption of meat of industrial origin and prevention of food waste ". World politicians have duties.
The world has one last chance to avoid climate catastrophe and this is the Glasgow Climate Summit (COP26). Between October 31 and November 12, governments around the world will discuss how to stop the advance of the climate crisis. Here you can find all EL PERIÓDICO articles about COP26

www.informacion.es
Eddie is an Australian news reporter with over 9 years in the industry and has published on Forbes and tech crunch.