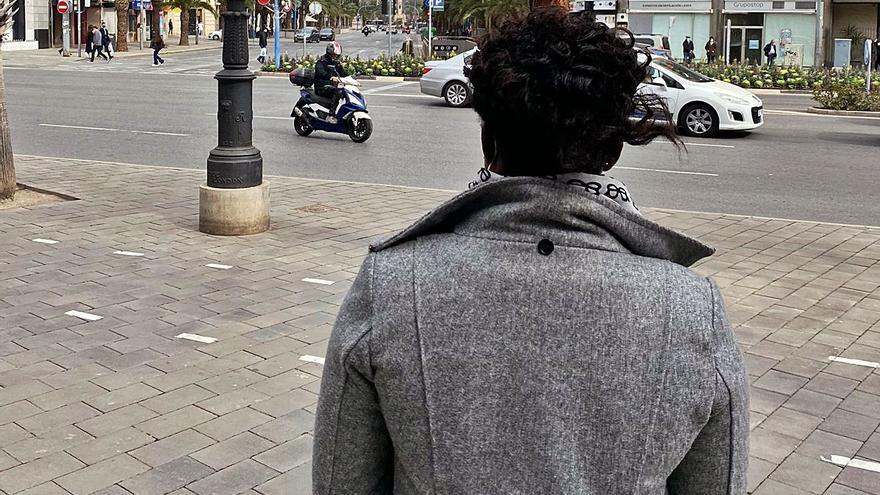 A chair in the hairdresser is Carla's altar. When a lady comes in and asks for side bangs, curls or an ink bath for gray hair, she listens attentively inside the premises from a cornered table. She does not attend or give her opinion, since she is not an employee, although she has spent hours and hours there for several years. Some days he just approaches and others he stays behind his court; she often listens carefully to the owner's tricks and thinks about how she would apply them. She looks forward to an invitation that arrives from time to time to take up one of the scissors, a daily kindness that the store worker keeps with her, a new enthusiast of the world of beauty. And that gesture, that of the employee, is not just that. It is so much more. The first time the worker had the detail was a long time ago, and it meant the push to start a transcendental change that is still forging today: Carla's exit from the world of prostitution, where this woman has been involved for more than eight years.
Carla -not real name- was struck by how they spoke, how they dressed and how they behaved Nigerian women who returned to their country to visit after spending some years in a Europe drawn by the best of artists. Neither spoke about what they did or what they had done, but they seemed so happy that Carla just wanted the same thing.
He thought about it and ended up embarking on the great journey to cross part of Africa until he jumped into the water from Libya in one of the boats that did manage to get there. He stepped on Italy, he started to run, He took refuge in a house, a guy picked him up at dawn and brought him to Alicante, where he has lived for eight years, the same time that he realized that all those forms, on many occasions, had a very expensive cost behind.
That guy he released him on the floor of a girl, a neighbor of the Altozano neighborhood. From that moment on, that neighbor, of the same nationality, became the only person he knew in the city, and she had never seen him before.
The first two weeks went well. The third to the newcomer no longer fit some ideas. When he asked his partner how to enter the world of work, the options were narrowed. «I asked him how he could work in a bar or cleaning, and he laughedHe told me that this was not easy here, that without papers nobody could do it, "says Carla from a bank on Avenida Salamanca. However, she did see her go to work: she put on makeup and went out when the sun went down to return at dawn. Something was wrong with him. "At first he hid it from me, then he ended up telling me that he was a prostitute," says this young woman.
The entry into the black tunnel from which he fights today came to the fourth week, when his partner told him that she would kick him out of the house if he did not contribute money for the rent, and suggested that he go out with her one night. At first, Carla refused, collapsed and regretted having rowed to Europe, so she asked to return home with her seven siblings. «Then she sat me down, told me not to worry, that 95% of Nigerian women who had come like me were engaged in prostitution, and that the other 5% were those that their husbands had brought, "he says. His first decision then vanished among the most complicated of contexts – a father who had sold land to pay for his trip, an uncertain road in a boat …-. "The first time a customer stopped me, I had the feeling that the earth was opening up and that I was getting inside," he recalls.
The permission
Still today he has not come out of that sensation, although he assures that the passage of time has softened that tremendous first impact. Carla is one of the women who are prostituted in order to get ahead. As he explains, doing so is the only way he has to survive at least until he has a residence permit.
That is precisely the moment that he envisions as the beginning of a new life, the moment for which he has been preparing for years: obtaining his permission. Does it with hope to get it soon and along with a fundamental accompaniment: your hairdresser. «When I got here, I started going to a hairdresser. Every morning, so as not to get bored at home, I went to the place as soon as I woke up, "he says. "The woman who works there is like everything to me now," he stresses.
He spent entire mornings at that table, listening and watching how people worked. Soon he began to take an interest in the trade and from time to time they let him hold scissors to make part of a cut. "I didn't know much, but I had known something in Nigeria," he says. They started to make friends.
Encouraged by her great support in the city, Carla enrolled in various Spanish classes in different NGOs until has mastered the language to perfection, and began her first esthetician course. "There were women who came in and asked if they did their nails at the hairdresser, and since no one did, the hairdresser suggested that I learn," she explains while emphasizing the enormous engine that has meant that they trusted her.
Her ambition to learn continued, and since 2017 she has been training in different beauty courses: beautician, hairdresser and makeup, always with an eye on having everything prepared so that, when the permit is, she can immediately leave the streets. «I leave it without thinking as soon as I have papers and find a job. What I don't want is to stop earlier and then have to go back. I want it to be forever when I do it, "he says.
Carla's days now start from an academy in the center of the city, where she does her second training, specializing in artistic, fantasy and wedding makeup. Although he has been about to leave it. Prostitution in the streets of Alicante has decreased since the coronavirus entered the scene.Many women have moved to flats, spaces that are much more vulnerable due to the great isolation, and others have returned to their countries of origin. Carla stopped entering and could not pay the monthly payments that followed the month of March, but thanks to a social entity that has decided to take charge of her training development, she has finally been able to continue.
When his class ends, as always, he moves to the corner of the premises, an establishment near Carolinas, Los Angeles or Altozano. "When I finish the academy, I go to the hairdresser," says the young woman, who has not seen her family since the day she left her country. This hairdresser continues to leave a gap between her clients from time to time, and helps Carla with about one hundred euros a month.
The great hope of this young woman has three legs. The first is to get a document from your country to help you expedite the processing of your residency, the second is to be able to leave prostitution forever, and the third is to return to visit Nigeria to see your parents and siblings. It is a very great hope that only has to arrive with what he has, trying to escape the nights along the road. In the meantime, feeds on small gestures, like the polite invitation to pick up a pair of scissors or a conversation that encourages you to train. "This hairdresser is now like a mother to me," she confesses.

www.informacion.es
Eddie is an Australian news reporter with over 9 years in the industry and has published on Forbes and tech crunch.