The heat wave that has affected Spain since Wednesday is also bringing high temperatures to other areas of the Mediterranean. In Syracuse (southern Italy), the mercury rose to 48.8 degrees last Wednesday, while in Kairauán (Tunisia) it reached 50.3ºC on the same day. Although those figures have yet to be validated by the World Meteorological Organization, show that the intensity of these phenomena continues to grow, as the IPCC, the UN panel of experts on climate change, warned in its recent report. "This is a very intense heat wave. Last week temperatures reached 47 degrees in Greece and 46 in Turkey, and now it is moving towards the western Mediterranean, also with very high temperatures, with more than 48 degrees in Sicily and 50 in North Africa ", he explains Gaétan Heymes, meteorologist for Météo-France, the French national service. The experts consulted point out that over the weekend the high temperatures will continue in mainland Spain —except for the Cantabrian—, the Canary Islands and Portugal, with great risk of fires.
If confirmed, the measurement carried out by the regional government's Agrometeorological Information Service (SIAS) in Syracuse, a coastal city in the far eastern part of Sicily, would mean a new heat record in Europe. Until now, the highest officially registered mark so far was 48 degrees in Athens, in the year in 1977. In 1999, 48.5 degrees were reached at an unofficial station in Catenanuova, also in Sicily, but they were not confirmed.
Rubén del Campo, spokesperson for the State Meteorological Agency (Aemet), explains the process to validate these records. "First of all, the data has to be official, that is, from an official meteorological service. Once that body sees that the figure is consistent and that the station is well installed and in good condition, it contacts the WMO, which is in charge of checking the documentation, the technical characteristics of the station, and they can even visit the station to check it out ". It is a long process that usually takes several months. The expert gives an example: "In 2020 more than 20 degrees were measured in Antarctica, but the investigation showed that the station's system that protected it from solar radiation was damaged and an unapproved one was put in its place. So that record was annulled. "
WMO expert Robert Stefanski confirms: "We are seeing very high temperatures in Italy, Greece, the Balkans and Turkey. In Tunisia they have just achieved a provisional temperature record, although it is still necessary for a group of climatologists to verify that figure and validate it. Normally, the measurement stations are well maintained by the national climatological services, but we have a group of experts to verify this type of records ".
The record in Spain: 46.9 degrees in Córdoba
The Aemet spokesperson points out that the official maximum reached in Spain is 46.9 degrees, measured at the Córdoba airport on July 13, 2017. That same day, 47.3 ºC was reached in nearby Montoro (Córdoba ), but it is a secondary station (not integrated into the main network), so it is a record still pending validation. Del Campo does not foresee that these maximums will be exceeded during the current episode, but perhaps others will: "The measurement station of the Retiro Park, in Madrid, registered its record of 40.7 ºC in 2019. There are possibilities that it can be beaten on Saturday, and also that it is the first time that it exceeds 40 ºC for three consecutive days ".
The Italian scientist specializing in climatology Antonello Pasini, from the National Research Council, recalls that this heat wave comes just a few days after the IPCC report that warned that humans have already caused unprecedented alterations in the climate system. "The extreme phenomena that occur in the Mediterranean and in Italy are largely due to anthropogenic global warming and the emission of greenhouse gases into the atmosphere. This global warming has produced important changes in our latitudes, especially in air circulation. The equatorial-tropical circulation has expanded northwards, so that the African anticyclones, which used to remain over the Sahara desert, can now enter the Mediterranean ", he explains.
And he continues: "Until a few decades ago, Mediterranean summers were dominated by the famous Azores anticyclone which, arriving from the Atlantic and entering the Mediterranean, acted as a stable air cushion that protected us from disturbances from northern Europe. and the fierce African heat. Now, with this widening of the equatorial-tropical circulation, the African anticyclones have a free way to enter, causing strong heat waves ".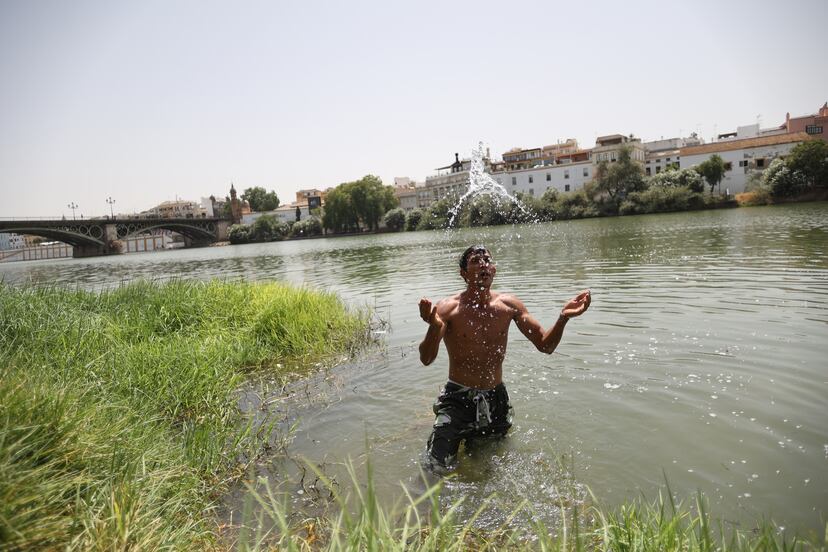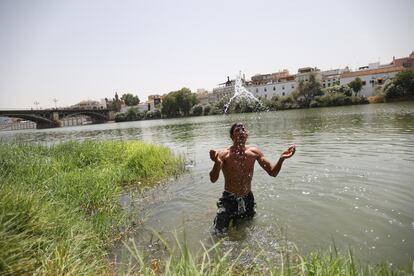 Mar Gómez, meteorologist from Eltiempo.es, also considers that it is an "extreme" phenomenon: "In recent days we have seen that Greece and Turkey had very high temperatures, which have also caused serious fires, and now we are seeing that the western Mediterranean area also suffers from very high levels. high heat. This weekend we will see how these temperatures affect a large part of Spain and Portugal, especially the Guadalquivir valley, which could reach 46 degrees in some places ". Heymes, from Météo-France, points out that "we will see some very high temperatures in Spain in the coming days, especially this Saturday, both day and night. In Madrid you can exceed 41 degrees and in Córdoba touch 47 ".
Fires in various countries
In fact, this episode has aggravated the many fires that are spreading through southern Italy, especially in Sicily, where the inhabitants of some areas had to be evacuated, and in Calabria, where four people have died as a result of the fire and the Army has been mobilized to fight the flames. Across the country on Thursday there were more than 60 active outbreaks, also counting those of Sardinia, Basilicata, Campania, Lazio and Apulia.
The images of the serious fires that devastated Greece and Turkey last week – where now also suffer great floods – still remain in the retina. The Prime Minister of Greece, Kyriakos Mitsotakis, attributed these fires to the "climate crisis" on Thursday. Meanwhile, in Algeria they are fighting for the third day in a row against a hundred outbreaks in the north of the country, which have so far left 69 fatalities. The fear of these catastrophes now reaches Spain and Portugal, which are currently at the highest risk of fires, according to the authorities of both countries warned on Thursday. Several autonomous communities decreed this Thursday measures to avoid these incidents, including Catalonia, Aragon, Castilla-La Mancha and the Valencian Community.
Some localities are also setting up climatic shelters, that is, refrigerated places open to the public that do not have air conditioning or other ways of withstanding the heat. This is the case of Castell-Platja d'Aro (Girona), which has enabled two of these places. Meanwhile, Barcelona has 162 spaces spread throughout the city (civic centers, sports complexes, museums, libraries and gardens adapted to incorporate shaded and hydrated spaces) that are open throughout the summer, but which can be especially useful on these dates.
You can follow CLIMA AND ENVIRONMENT at Facebook Y Twitter, or sign up here to receive our weekly newsletter



elpais.com
Eddie is an Australian news reporter with over 9 years in the industry and has published on Forbes and tech crunch.