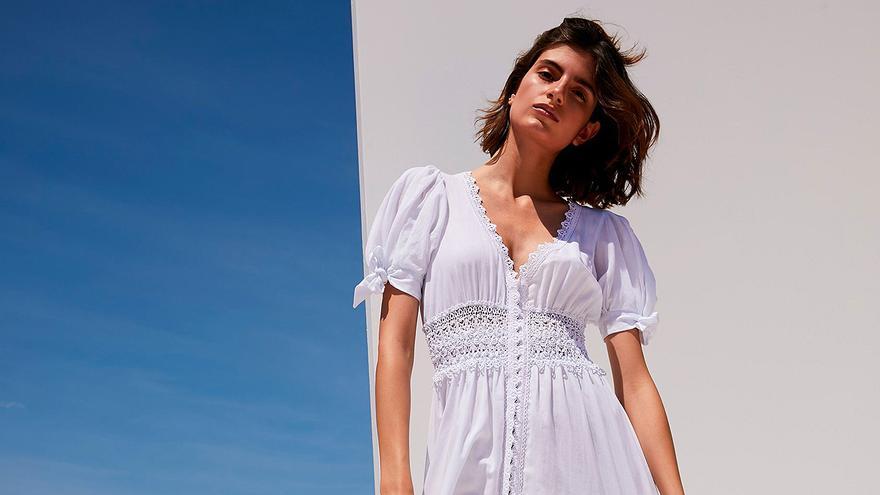 White flowing dresses, crochet, colorful rhinestones, fringes and 'cowboy' boots make up some brushstrokes of the Ibiza style, a trend in itself that every summer takes over outfits from inside and outside the white island in a marked style that refuses to go out of style.
Trends change and evolve, but some hold on tightly and are reluctant to abandon fashion. It is the case of the Ibizan style that, every summer, it comes out to inspire different styles that transcend the borders of the Balearic island and impregnate all kinds of 'looks'.
The entry into the seventies meant for Ibiza the arrival of the first hippies, coming from different countries. In addition to a bohemian philosophy that today is associated with the island, they brought garments, colors and fabrics from different parts of the world, which together with the traditional island clothing resulted in an eclectic air that, to this day, remains a hallmark of the island.
Eclectic, bohemian and often handmade, Ibiza has its own style that far from staying on the island, creeps into styles outside its borders every summer season. Basics such as linen shirts, fringed dresses and other floaty white ruffles contrast with suede split boots and colorful rhinestones to form an identity.
"In Ibiza people come to liberate themselves, to discover, and fashion goes hand in hand with all this, it is linked to moments of enjoyment," the designer told EFE Virginia Vald, whose creations wore in the last Adlib catwalk Ibiza fashion supermodels from the nineties such as Nieves Álvarez, Martina Klein or Verónica Blume.
Their wedding dresses and also ready-to-wear (ready-to-wear) have become an emblem of the island's fashion over the years., with creations among which white and lace predominate, with fringes, rhinestones and two-piece sets that models wear with split leather boots or accessories such as cowboy hats.
Very flowy dresses, lace, exclusive woven guipures and noble fabrics such as voile (100% organic cotton) are some of the signs of Charo Ruiz Ibiza, one of the first designers of the island to be enshrinedr dresses that worship this particular aesthetic, the one that in the words of Alberto Amador, its fashion director, "prints a lot of character."
For the director, the essence of this outfit lies not only in aesthetic reasons, but also in usability. "They are garments that first of all have to be comfortable for the summer and its high temperaturess, being easy to move, breathable and very flattering, "he says.
After several years in the brand, the equation with which he defines island fashion is simple: "Feeling good does not go out of style, and many of these garments are like a basic t-shirt, but in a pretty version." A fact that is accompanied by the chromatic range, generally around neutral colors, which hardly go out of style.
Ruffled white lace and artisan manufacturing processes are what define Tony Bonet Ibiza's commitment, for whom the key to this style lies precisely in this know-how, which rescues the concept of "slow fashion" so in vogue in recent seasons.
"The secret of this fashion is that it is a very artisan movement, in which the comfort that comes with the use of good fabrics prevails", says the designer, for whom this factor works as the basis of a marked aesthetic that "has known how to evolve over the years and trends without losing its origins", he points out.
Bonet emphasizes that there are many designers that make up the fabric of Ibizan fashion, beyond large fast fashion stores that replicate these trends with the arrival of each summer. "We are many creators, but we make a fresh fashion with movement that identifies us".
"More than a designer, I consider myself a fashion artisan", explains the creator, pointing to the durability factor of this type of garments that craftsmanship gives, that each summer can be taken out of the closet to be worn without the deterioration of fast fashion.
"My mother is still wearing 20-year-old dresses that are in perfect condition," she says.
Craftsmanship, an eclectic mix and a bohemian air that the island itself transmits make up its own style that resurfaces with force every summer and places the Balearic island as a summer fashion benchmark who does not understand seasons or trends.

www.informacion.es
Eddie is an Australian news reporter with over 9 years in the industry and has published on Forbes and tech crunch.