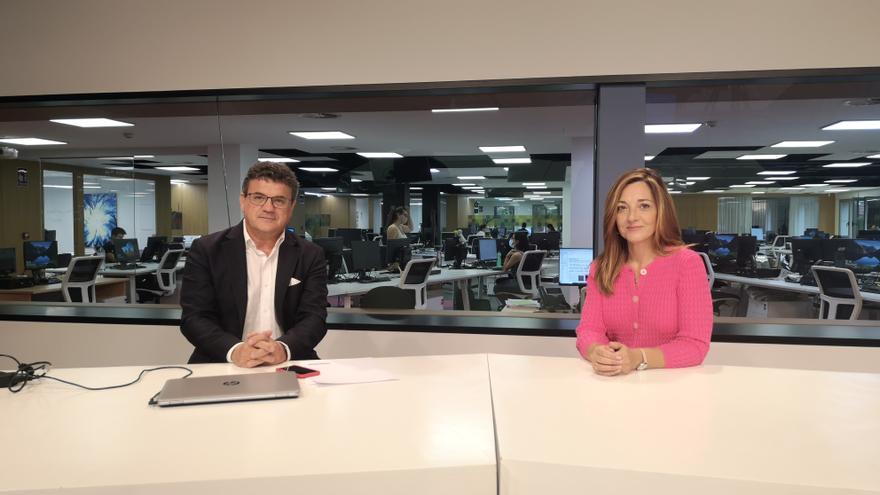 "With insurance we buy peace of mind." With this phrase, the director of Seguros Territorial Este Banco Sabadell, Rosa María Gómez, summarized the importance of these policies on a day-to-day basis of people as it is a tool for protection and whose hiring will define "the way we look to the future." In a dialogue with the director of the INFORMATION Club, Toni Cabot, the head of Banco Sabadell also explained how covid-19 has impacted the insurance sector.
One of the first consequences has been the modification in people's perception when facing the present and the future. «The pandemic has changed our concerns and our way of looking to the future. At this time, we are more sensitive to all issues related to the Health and the lifetimeSome topics that were previously taboo and now have become a little more normalized, "said Rosa María Gómez.
For this reason, the insurance industry has experienced an increase in the number of policies contracted in recent months, especially those related to health and life insurance. Insurance has a lot to do with people's daily work and is a reflection of the questions that the population asks in their day-to-day life. And, in this sense, health has been one of the topics that people have asked the most questions about in the last year.
An exercise in which, in addition, it has been seen that Public Health cannot reach everything or everyone. «There are many people who have seen how their ailments or diseases were not diagnosed in time, as has happened with breast cancer, and this is something that has led a part of the population to become a health insurance to be more agile and have greater peace of mind», Pointed out the director of Seguros Territorial Este Banco Sabadell.
Adaptation to the pandemic
To cope with the new stresses generated by covid-19 in the healthcare system, insurance companies have adapted to offer the best possible solutions to current needs. Thus, he recalled how Banco Sabadell already includes in its insurance coverage for pandemic, without price increase, something that was previously unthinkable, including in the Health insurance "The possibility of having up to two free antigen tests per month without an increase in costs".
In addition, he highlighted that Sabadell Bank It has Life Care life insurance that provides protection against covid-19 so that the insured are not left unprotected due to the disease. In the same way, this policy contemplates a economic protection against unforeseen situations and unwanted as it is that a family is compromised to face the payment of the mortgage loan after suffering a serious organic incident or due to the death of a relative.
Leave a debt or a home
On this point, Rosa María Gómez explained that hiring an insurance policy can make the difference between "Leave a debt or leave a home". In this regard, he exemplified that in recent months, the sector has made 60,000 payments to the relatives of deceased persons, with an average capital of 45,000 euros, of which 4,700 have been used to pay mortgages.
When it comes to taking out life insurance, the expert gave a series of advice to all interested parties and, above all, encouraged them to always act prudently and with the advice of professionals. "The customization is essential and we must understand very well what the particular family and economic situation is because a person without children, a young person, someone without debt is not the same … We must analyze all the variables to offer the most appropriate solution for each profile, "he said. .
Among the points to take into account, he highlighted that some of the most important, such as defining what economic amount has to be specified and who will be the beneficiaries. «We must bear in mind that life insurances They are not part of the hereditary estate, since it is the owner who makes the decision of who he wants to collect and in what percentage. It can be modified at any time, "he explained, while underlining that" it is possible to collect insurance much earlier than an inheritance.
What capital to insure
Studies show that a family or a person can take an average of three to five years to overcome the ravages of the death of a family member or economically dependent person. For this reason, the expert advised that the appropriate thing is to multiply the salary by three or by five to "know the minimum capital that we must insure, to which the existing loans should be added."
Life Care, Banco Sabadell's life insurance
Life Care de Banco Sabadell it's a life insurance that provides peace of mind thanks to the coverage of death and absolute permanent disability (IPA), either due to accident or illness, protecting what clients value most. The disability coverage is, as explained by the head of Sabadell, especially relevant for young people who may suffer an incident that prevents them from continuing to develop their professional activity normally and may even require additional costs for your treatment.
Life Care Woman helps policyholders fight cancer
Life Care Mujer is a product that seeks to help and support women at the time of diagnosis of the disease, such as breast, ovarian or uterine cancer, among others, thanks to the coverage of serious diseases, which helps to minimize the economic and psychological impact that the oncological process entails. Life Care Woman advances a financial grant at the time of the cancer detection gynecological so that the patient can use it in those unforeseen expenses that she decides.
More than 100,000 interventions in homes
The declaration of the State of Alarm, the obligation to be at home and the popularization of teleworking has forced millions of people to spend more time at home. Something that has caused a increase in claims within the home and a increase in robberies happened in second homes. In data, Rosa María Gómez, director of Seguros Territorial Este Banco Sabadell, indicated that, according to Unespa data, theft claims have had an average cost for insurers of 1,600 euros, while they made more than 100,000 interventions in homes with a value of 50 million.
With these figures, the person in charge of Sabadell Bank wanted to show the cost of this type of intervention in households and the savings it entails take out home insurance when facing an incident at home. "At Banco Sabadell we have a customer satisfaction rate of 94%, our operators are scored with 9.12 and in agility we have 8.5", he described.
Regarding the real estate, Rosa María Gómez also gave some recommendations to take into account when it comes to value the container and content. "The home is the biggest investment of our life and it is vital to have it well insured, but there must be a correspondence between the real value of the content and the continent," he pointed out, while lamenting that many customers "lower capital to lower costs and Is it a bad idea".
He also dedicated a moment of his intervention to Civil Liability in this type of insurance, something very important when he used to refer to a series of very important compensation. "In the home insurance of Sabadell we insure 300,000 euros in this concept and it can be lowered to 150,000, although it is advisable to keep it at the maximum."

www.informacion.es
Eddie is an Australian news reporter with over 9 years in the industry and has published on Forbes and tech crunch.