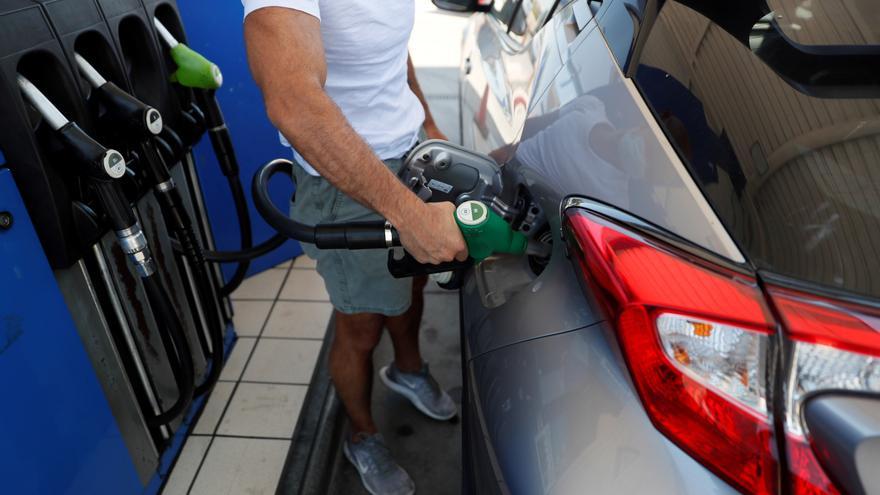 The price of fuel continues to set annual highs week after week, staying at levels not seen since 2014 in the case of gasoline and since 2018 in that of diesel, and causing that in the middle of August, with mobility triggered by the summer holidays, filling the deposit is up to 15 euros more expensive than a year ago.
According to the latest data from the Oil Bulletin of the European Union (EU), Gasoline is currently paid in Spain at an average of 1,419 euros per liter, while diesel does it at 1,270 euros, which represents an increase of 23% and 20% respectively compared to the same period in 2020, and 7% and 4% compared to 2019, before the pandemic.
With these prices, filling a 55-liter tank with gasoline costs around 78 euros, compared to the 70 euros that it means to do it with diesel, thus exceeding the price of a year ago of gasoline by almost 15 euros and that of gasoline by 12 euros. diesel oil.
Compared to the week of June 21, when summer officially began, both products are around 3% more expensive, while compared to the beginning of summer 2020, when mobility began to progressively recover after the confinement decreed during the first alarm state, gasoline and diesel have skyrocketed 26% and 24% respectively.
The price of fuel maintains a uptrend since November. So far in 2021 gasoline is 20% higher and diesel 19%, and there have only been two weeks in which the price has fallen compared to the previous seven days.
Thus, in a holiday period that traditionally registers a marked increase in mobility, the price registered this week for gasoline is the highest for a month of August since 2013, while diesel marks its highest value for this month since 2015. Despite the rise in prices, both fuels are still far from the historical highs that reached the week of September 3, 2012, almost nine years ago, when gasoline cost 1,522 euros and diesel, 1,455 euros.
Great differences by territories
However, this photograph changes depending on the territory in which you stop to refuel, and the prices that appear in the Oil Bulletin are a national average for the two most frequent fuels in Spain, gasoline 95 and diesel. In fact, the Canary Islands and the autonomous cities of Ceuta and Melilla have different taxation, which translates into lower prices.
Such is the case of Agüimes and Gáldar, in Las Palmas de Gran Canaria, or Adeje, Los Realejos and Santa Cruz de Tenerife itself, where the most expensive gasoline does not even reach the euro per liter, according to data from the Geoportal of gas stations of the Ministry for the Ecological Transition and the Demographic Challenge.
In the peninsula, the cheapest is in the Valencian municipality of Cortes de Pallás, at 1,149 euros per liter, according to the same source. At a significantly higher price, although below the average, it is in Algeciras (Cádiz), where the liter is paid at 1,187 euros, followed by the Jaén municipalities of Torreblascopedro and Sabiote, at 1.2 euros and 1,225 euros, respectively.
Conversely, The most expensive gasoline in all of Spain is found in the Granada town of Baúl, at 1,695 euros per liter; Bembibre (León), at 1,599 euros; and Badajoz and Calonge (Gerona), at 1,569 euros in both cases.
Regarding diesel, on the peninsula the most affordable is in Navalvillar de Pela (Badajoz), at 1,039 euros; Andújar appears immediately, at 1,043 euros, and again Cortes de Pallás, in Valencia, at 1,047 euros. Baúl, in Granada, once again has the most expensive fuel, with diesel at 1,529 euros per liter, followed by Burriana, in Castellón, at 1,444 euros; Montseny, in Barcelona, ​​and Cabanes, in Castellón, at 1,439 euros; as well as Es Mercadal and Santa Eulalia del Río, in the Balearic Islands, at 1,419 and 1,409 euros, respectively.

www.informacion.es
Eddie is an Australian news reporter with over 9 years in the industry and has published on Forbes and tech crunch.