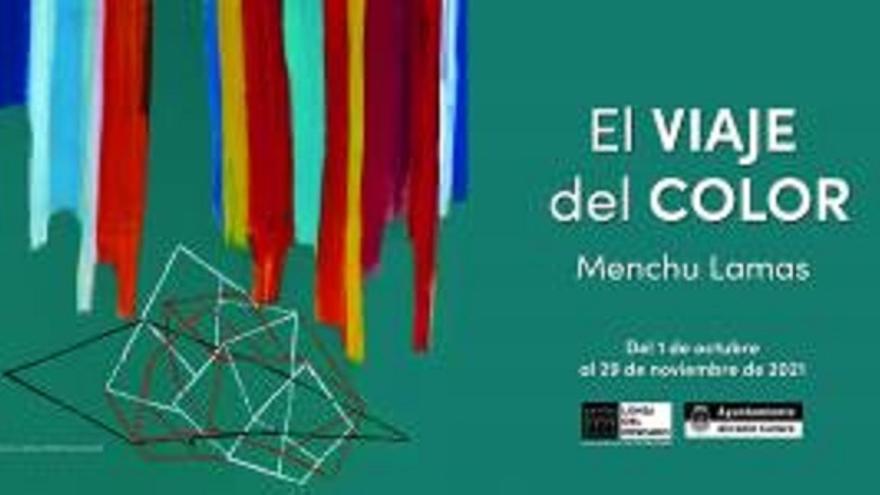 Menchu ​​Lamas' color journey.
Galician artist linked, as founder, to the Atlántica group that, in 1980, arose from the conviction and union of a group of intellectuals and creators, musicians, writers, poets, and visual artists, to claim, from Galicia, a vision generational universalist, connected with the international currents of art. This included a look from the inside out, from the ancestors of Galician culture to the outside, a culture that contemplated what was happening in the world of universal art.
With his arrival in Madrid in 1982, Menchu ​​Lamas began his artistic activity at a national and international level, participating in highly prestigious individual and collective groups, being valued by the most important critics in the country. His works have been selected for important international exhibitions such as Bienal de Sao Paulo, ?? Europalia ??, ?? Five Spanish Artists ?? in New York, ?? Spanish Kaleidoscope ?? and ?? Spansk-Egen-Art ??, ?? Currents ?? at the ICA in Boston, alongside Polke, Leon Golub and Anish Kapoor. Selected in the exhibition ?? Art d´Aujourdhui-Art de Femmes ??, Musée du 20´eme Siécle in Vienna. He has exhibited in museums and galleries in Germany: in Bonn, Cologne, Düsseldorf, Munich, Hamburg, Stuttgart. The CGAC dedicated a retrospective exhibition that traveled to Milan, Naples and Rome.
His work can be found in the most prestigious public and institutional collections in the country, such as the Reina Sofía Museum in Madrid, MACBA, CAAM, ARTIUM, MEIAC, CGAC, Patio Herreriano Museum, La Caixa Foundation, Spanish Parliament and Galician Parliament, Thomas Foundation of Munich, Juan March Foundation, Alicante Provincial Council and other museums and public collections. In 2010 he received the Galician Culture Award, in visual arts. In 2018 he entered the Royal Galician Academy of Fine Arts.
His painting, initially connected to the development of a figurative expressionist art in which the great dimension and those referring to Galician culture prevailed, was little by little assuming the contemplation of abstraction as a way of giving life to broader plastic contents, in the sense of dimensioning artistic activity from other perspectives. As a result of this innovation, without leaving the combined representation of elements of the classical tradition of universal culture, an imaginary of formal elements such as bodies, hands, and other types of representations such as pianos, violas, etc. appears.
As can be seen in this exhibition, a selection of works exhibited in 2018 at the Artium in Vitoria, the vision that Menchu ​​Lamas transmits is that of the use of large size and the preponderance of color, without excluding a whole investigation on the signs and the gesture in abstract forms, as an example of a visual rhetoric where an exhaustive knowledge of art beats.

www.informacion.es
Eddie is an Australian news reporter with over 9 years in the industry and has published on Forbes and tech crunch.