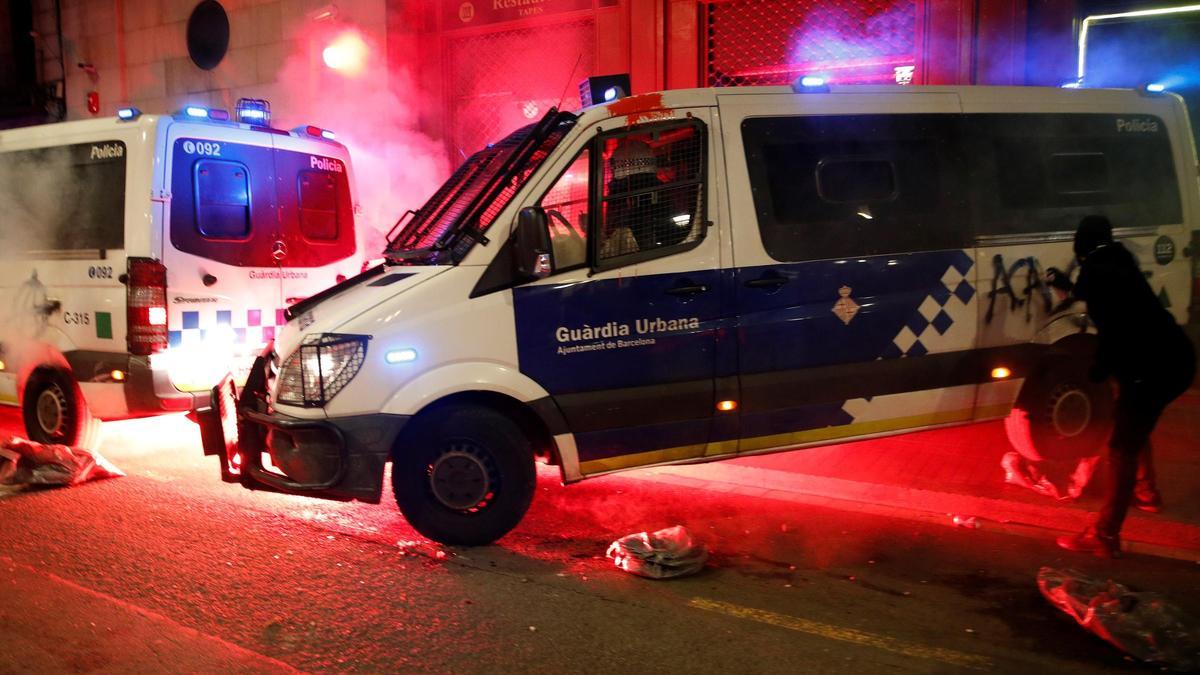 The investigating judge has released the Protester arrested as the alleged perpetrator of the burning of a Guàrdia Urbana van of Barcelona in the protests for the imprisonment of Pablo Hasel, given the doubts about his identification.
As reported by legal sources, the detainee was provisionally released yesterday, with the obligation to appear every fifteen days in court, as a result of the appeal presented by her defense, in which she attached an anthropometric expert report that discards that her description matches that of the woman who threw flammable liquid into the van.
In view of the documentation presented by the detainee's lawyer, Jose Manuel Del Rio, the Prosecutor's Office agreed to her request that the protester be provisionally released.
The protester, an Italian national, remained in preventive prison along with seven other young people whom the Mossos d'Esquadra link with anarchist environments and accuse of acting in coordination to provoke disturbances in the pro-Hasel protests, including the burning of the police van on February 27, when an agent of the Urban Guard was inside.
The photographic report and the expert report provided by the defense have been key for the release of the protester, since it concludes that neither her clothing, nor the color of her clothes nor her height – with a difference of ten centimeters – matches that of the woman described in the police report as the author of the fire.
Another of the elements that have been taken into account in the expert opinion are the tattoos that the detainee has on one arm and that are not seen in the images of the woman who threw the flammable liquid into the police vehicle.
In line with what has been put forward by other defenses, the appeal questions one of the main evidence on which the Mossos are based to attribute a crime of criminal organization to the eight detainees: that all of them had a lighter of the same brand and color.
The defenses have argued before the judge that these lighters are usually in the possession of many young people, since they are sold together with a low-priced brand of rolling tobacco.
For José Manuel Del Río, the fact that the authorship of the van fire has been questioned supposes a "twist" in research, which opens the door for the rest of the incarcerated to go free.
Del Rio is the only one of the lawyers who appealed directly to the investigating judge herself, while the rest did so before the Audience of Barcelona and are awaiting a response.
The detainees, linked to some occupied ships of the Barcelona region of Maresme, They were placed in provisional prison for the crimes of public disorder, damage, attack on a law enforcement officer, illegal demonstration or assembly, belonging to a criminal group, and attempted murder.

www.informacion.es
Eddie is an Australian news reporter with over 9 years in the industry and has published on Forbes and tech crunch.